UK vape sales are continuing to soar at the expense of smoking, but the tobacco category, including cigars, still offers key opportunities to profit.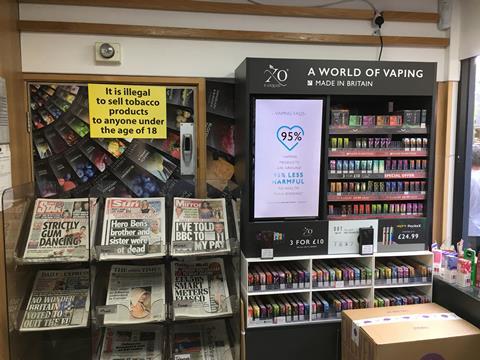 While the US vaping category has been dealt a kick in the teeth in recent months, on UK shores – where vaping products are kept on a far tighter legislative leash – vape sales are on an upward trajectory, growing at 37% in value year on year, according to Juul Labs UK.
In fact, an estimated 3.6 million Brits now vape – about half as many who smoke – new data published by Action on Smoking and Health (ASH) recently revealed.
The growth in vaping sales comes at a time when smoking rates in England also appear to be dropping at their fastest rate in a decade, according to ASH figures, with a fall of 2.2% observed between January and July of this year.
The proportion of vapers who are ex-smokers continues to climb, reaching 54.1% in 2019 with the main reason given for using electronic cigarettes (e-cigs) being to help them quit smoking (31%). E-cigs are also now the most popular quitting aid and have been shown to be nearly twice as successful in helping smokers quit as traditional nicotine replacement therapy when used with behavioural support in smoking cessation clinics, ASH adds.
Crucially for the convenience sector, the survey evidence also suggests "that when bought over the counter in shops and used outside a clinical setting, e-cigs are making an important contribution to declining smoking prevalence by delivering tens of thousands of additional quitters annually."
With the 2019 Stoptober campaign now in full swing, the opportunity for retailers to help convert more smokers into vapers is clear. However, with a third of smokers still admitting to never having tried vaping, it's also evident that doing so remains something of a challenge – especially of late. In 2017 Public Health England revealed that, while evidence showed that vaping was 95% safer than smoking (advice which it still maintains), over half of smokers believed it was just as harmful or simply didn't know.
And that was well before the current outbreak of serious vaping-related lung disease in the US, which has been widely (and not always accurately) reported in the UK's national press, with many stories failing to mention that the UK and US markets are regulated differently.
Vapouriz head of sales Ben Misson elaborates: "The recent negative press coverage is doing nothing to dispel the misconceptions that many consumers still have about the UK vaping category.
"Headlines about vape-related illnesses have not made clear that in many cases these seem to be linked to the use of illicit products."
And while many UK convenience retailers tell C-Store that existing vapers are broadly unconcerned about the US heath crisis, ASH is worried that the negative headlines could be deterring some smokers who would like to quit from trying vaping.
"Those considering vaping should be reassured that e-cigs are regulated in the UK in line with a set of European-wide rules by our medicines regulator, the MHRA," ASH chief executive Deborah Arnott says. "The MHRA also monitors adverse reactions through its yellow card system, which to date has not identified serious respiratory problems similar to those found in the US.
"The outbreak of vaping illness in the US is obviously concerning, but it appears to be linked to the misuse of e-cigs for illicit drug delivery.
"Nothing like this has been seen in the UK to date, where a proper regulatory system is in place for nicotine containing e-cigs, which is not yet the case in the US.
"Vapers should not be scared back to smoking by the news of vaping illness in the US. Nor should smokers stick to smoking rather than switch to vaping," she adds.
As with many convenience stores ideally positioned at the heart of their communities, often with good parking and/or transport links, surely they are best placed to help spread the word?
It's certainly a challenge that's well worth taking on. According to Juul UK sales director John Patterson, while convenience stores still account for about 45% of all tobacco sales in the UK, when it comes to vaping, they only account for around 10% of sales.
"If convenience gets its fair share of the vaping category, ie 45%, that could be worth an additional £1bn to the channel by 2021," he says.
As the US health crisis and global backlash against vaping continues to play out, it's likely that the UK big name brands will move to highlight their unique quality credentials.
"There will, in light of some of the misleading stories in the media more recently, be a much greater focus on the quality of products and their ingredients," Vape Dinner Lady's John Taylor says.
"Vape Dinner Lady only uses high-quality ingredients in all of our premium e-liquids, backed by a professional research and compliance team," he adds.
Vapouriz' Misson tells the same story: "People are becoming increasingly aware of what's going into their lungs and that's why at Vapouriz, the quality of our liquids is our top-most concern.
"We manufacturer all of our liquids in our state-of the-art UK facility and we only use four ingredients – PG, VG, flavouring and nicotine – that's it.
"We strive to source the best quality ingredient possible, even if that means that our products command a slightly more premium price tag than others on the market.
"We're in it for the long-haul, we're not here to get in, make a fast buck and get out and we're going to stick to our guns, quality is and will remain key. We're not prepared to make rubbish," he adds.
Again, with fears about the precise contents of unregulated illicit e-liquids, the market for legal closed system devices, which work in conjunction with tightly regulated pre-filled e-liquid pods, also looks set to keep on climbing.
However, retailers take note, not all e-liquid pods are what they seem. The sizeable opportunity to profit from the UK's growing vaping category is certainly not lost on the criminal underworld and Juul's sales director John Patterson has even seen examples of illicit e-liquid pods which have been designed to be compatible with its own device.
"There are products out there which have been cheaply and illegally made for use with our devices and are being sold as such," he says.
"These products can typically be found in car boot sales and tourist shops, but we have also heard reports of retailers being offered them for sale," he warns.
With reports like that, the need for retailers to stick to their trusted sources of supply is certainly clear.
But back to the legitimate closed pod market which, Juul says, accounted for 75% of the vaping sector's 37% hike in value in the past year.
"The other beauty of closed pod systems is that they are so easy for staff and customers to understand," he says.
The point about simplicity and ease-of-use is a key one, especially when it comes to new vapers, Blu UK head of trade marketing Chris Street believes. "The growing number of dedicated vapers and dualists are increasingly seeking out simple solutions among the array of different devices now on offer. Pod mods offer vapers and smokers a much simpler format to use and an easier experience in the transition from smoking to vaping," he says.
"This, combined with the marketing support that pod mods have been receiving, means that vapers and smokers are more aware of these innovations and curious to try them."
Blu's myblu device launched in the spring of 2018 following two years of "vigorous testing", with the sleek device enjoying growing distribution and availability.
"The channels that have really got behind closed pod systems, such as the multiples, are the ones which are also experiencing the fastest rate of growth," Juul's Patterson adds.
"The independent sector has been slower off the mark with regards to take up of closed pod devices and as a result is experiencing slower growth. However, it's clear that there is a huge opportunity for this to change."
Anita Nye, manager of Eldred Drive Stores (Premier) in Orpington, Kent, says her vaping sales are on the up thanks, in part, to the growing success of closed pod devices.
"There's no doubt that vape sales are picking up, especially sales of the new pod devices which are far simpler for people who are new to vaping to understand," she says.
"Price also seems to be a key driver for people switching from smoking to vaping, particularly in our area which has quite a few families on low incomes. For that reason closed pod products such as Blu's Intense Liquidpods are really popular. Two capsules cost just £5.99 and, as I understand it, that's the equivalent of about 60 cigarettes.
"The capsules contain nicotine salts which I explain to people gives a similar nicotine hit to the one experienced when smoking a cigarette, so it's better for people who are trying to quit tobacco."
An investment in display is also helping to boost sales, Anita adds.
"We removed our tobacco gantry last year and devoted a large space of the back wall to a proper vape display. Tobacco is now stored in draws under the counter while the vaping display is backlit, a change which has also contributed to the sales uplift," she says.
Anita is one of many retailers who are investing in their vaping displays, with a growing number launching dedicated 'shop within a shop' vape services.
"Display is so important when it comes to vaping," Vapouriz's Misson adds. "Especially displays which help to educate the shoppers and demystify the category. However, so many c-stores are still getting it wrong. There are still lots of suppliers out there offering cheap products on a sale or return basis, leaving till points cluttered with messy and confusing counter-top display units. That's not how you're going to switch smokers to vaping.
"Fortunately, a growing number of innovative retailers are turning their stores into vaping destinations. Where once vapers had to visit a specialist store for the liquid of choice, they can now visit their friendly local store, which is so much more convenient as that store is most probably open all week and for much longer hours.
"There's also generally better parking at a c-store compared with vape shops. That's why the forecourt sector is becoming such a big player in vaping.
"In fact, as I understand it, fuel is no longer the main reason that shoppers visit forecourts, with food to go, top-up, and increasingly vape supplies becoming more and more important," he adds.
Heated tobacco growing in distribution and sales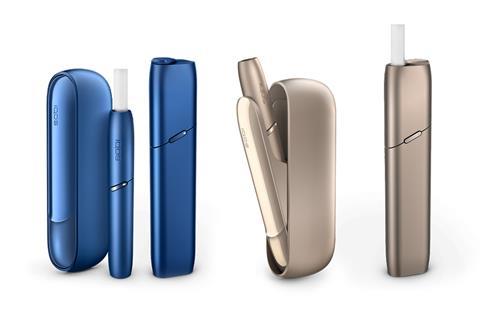 In the past six months the volume of heated tobacco has doubled in the UK, with heated tobacco starter kits actually surpassing sales of traditional vaping starter kits, according to Philip Morris International (PMI).
"Since launching In the UK, we've been busy laying solid groundwork before a wider rollout. It's crucial for us that IQOS and HEETS have a strong foundation on which to grow," PMI director of deployment for the UK & Ireland Konstantina Davou says. "Two-thirds of UK smokers that use heated tobacco products switch away from traditional cigarettes completely (vs. 28% that quit after using a vape), so we need to ensure we are prepared for increased demand."
Over the next six months PMI plans to open a number of new IQOS stores and grow distribution of its HEETs in convenience.
Earlier this year it launched an option which lets smokers try IQOS before they buy the device for a week, an initiative which has produced a 92% uptake.
Destination status
One retailer who can attest to that is Hampshire forecourt owner Oli Lodge, who has invested in vape station displays in his Rusdene Services stores and a dedicated vape store inside his Waterlooville site in a partnership with Vapouriz. Vape sales at the Waterlooville site now "far outweigh" traditional tobacco sales, Oli says.
The investment has allowed his stores to expand beyond new starter kits "and to be able to offer a greater choice of liquid and hardware, making sure we were covering all areas of the vaping community as well as keeping up to date with the constant changes in the market," he adds.
"Across all the sites we have undoubtedly become a destination for vaping. We run a constant promotion of four for £10 on our liquids, which we advertise on our pumps and in light boxes on the forecourts. Introducing new liquids, short-fills, and a much greater range of hardware has both improved our average spend and overall shop margin," he adds.
Another retailer who is gearing up for a bold investment in his store's vaping offer is Sid Sidhu, owner of Budgens in Kenilworth, Warwickshire.
In the coming weeks, Sid – whose vape sales currently total about £2,500 a week and growing – is planning to introduce a state-of-the-art vape kiosk at the front of his store in partnership with a leading vape brand. The kiosk, which will feature large and informative media screens, will allow Sid to significantly boost his range and create a dedicated space for new and existing vapers to educate themselves about the category and stock up on all their vaping needs.
"It's been many months in the planning because it will totally transform the front end of the store and so obviously we want to be sure that we get it absolutely right," Sid says. "Having the dedicated vape space will allow customers who are curious to know more about vaping to take the time to ask everything they want without feeling pressure to move on from other customers.
"Vaping is a category which still requires a lot of discussion and education and having that dedicated space will be such a bonus. People who are looking to switch from smoking to vaping are seeking out that knowledge and reassurance, especially at the moment.
"We will have two dedicated members of staff manning the kiosk and they are both experts in the category, having received training and advice from a number of reputable vape suppliers and attended multiple trade shows. They also both happen to vape themselves and so are naturally enthusiastic about the category."
The kiosk itself will carry a wide range of different devices, accessories, kits and liquids including organic products, CBD, zero nicotine and nicotine shots to ensure it caters for a "truly wide spectrum of demand", Sid adds.
So what is the year ahead likely to bring in terms of device developments?
Further growth in the closed pod device market is certainly expected, Vape Dinner Lady's Taylor predicts. "The future will continue to see a move towards easy-to-use hardware on offer for those people vaping or considering switching to vaping. We firmly believe that this is likely to gain ground in the convenience market," he says.
Vapouriz's Misson agrees that sales of closed pod devices look set to keep on climbing, but, he adds, there could also be a twist.
"Things have accelerated on the hardware side since the rise in closed pod devices, and I expect to see even more closed pod devices coming onto the market in the months to come. However, I wonder if big tobacco has actually made the wrong play? These closed pod devices rely on disposable plastic cartridges which can't be recycled because they contain nicotine, so vapers have no choice but to just chuck them away.
"I wonder if, with such a growing focus on the impact of plastic waste on the environment, people will start to resent these devices somewhere down the line?" he asks.
Pre-empting that possible backlash, last month saw the launch of Vapouriz's first refillable pod device, the Vpod.
"The Vpod is far more environmentally friendly, as the pods can be re-filled and re-used rather than simply discarded in the rubbish as other pre-filled cartridges are, meaning they have a far less impact on the environment," Misson adds.
"It's almost as if the vaping market has come full circle. It started out with small, refillable pen-like devices known as cigalikes, then dawned the age of the big box devices with huge clouds of vapour, before more compact pod devices with pre-filled liquids pods started to hit the market," he continues.
"These easy-to-use pod devices have been the driving force of sales in recent years, but as we enter 2020 the demand for small, discrete pod devices which can also be refilled also looks set to grow."
Environmental credentials aside, a refillable pod option also provides vapers with far greater choice, Misson adds.
"There is currently quite limited choice in pre-filled pods, especially for those wanting a lower strength. Our new 2ml pod gives shoppers far more choice over flavour and strength combined with less mess with refilling and less waste," he says.
Vaping devices also look set to be impacted by the continuing creep of 'smart tech' into the lives of UK consumers.
Says Juul's Patterson: "Smart technology looks set to play a bigger role within closed system devices. For Juul specifically we are gearing up for the launch of the C1 which will hit convenience next year. It's a 'connected' device that is controlled by an app and can perform an array of different functions.
"For example, it can be locked by the individual user to ensure that no-one else in the household can use it, which is clearly important to people with children.
"It can also emit an audible alert should the device get lost or misplaced. (It's small so can easily fall down the back of the sofa). It can also give stats to help the user monitor their usage and puff count. And the app also has a great feature which lets users find their nearest Juul stockist wherever they are.
"We strongly believe that innovation like that will really help to drive sales going forward," he claims.
Demand for value e-liquids grows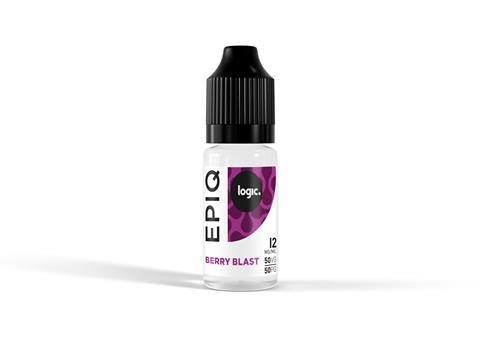 With many smokers choosing to switch to vaping for the cost savings as well as health benefits when compared with smoking, the past year has also seen a continued rise in demand for value priced e-liquids. In fact, according to JTI's head of reduced risk products Nick Geens, over half of e-liquid sales in the independent and symbol channels are selling for less than £3.
"We expect both of these trends to continue into 2020 and urge all retailers to ensure their vaping range is reflective of these key customer demands," he adds.
"They can tap into the increased demand for value e-liquids by stocking the new Logic EPIQ range. With an rrp of £2.50 and available in pricemarked packs, Logic EPIQ is available in two different strengths and eight flavours, reflecting the UK's most popular vaping flavours: fruit (41%); followed by menthol (29%); and then tobacco (19%)," he adds.
Tobacco and cigars
While smoking rates may be on the slide, the UK's tobacco market totalled £18bn in volume for 2018/2019, according to Imperial Tobacco UK&I, with the convenience sector's share of tobacco sales remaining at approximately 55%.
With figures like that, and segments of the market still in growth, the tobacco category remains a really important one for retailers to get right.
In terms of specific markets, Roll Your Own (RYO) has continued to grow its share of the overall tobacco category in the past year.
In fact, since European Tobacco Products Directive 2 (EUTPD) regulations came into full effect in May 2017, banning the sale of cigarettes in packs of less than 20 in the process, the speed of the shift from cigarettes to RYO "has increased significantly," according to Imperial.
In 2017, RYO's share of white stick equivalent (WSE) grew by an average of 0.18% per month, up from 0.07% between 2014 and 2016.
UK RYO market share in relation to factory-made cigarettes (FMC) stood at almost 39% in November 2018, and according to Imperial's head of corporate & legal affairs Duncan Cunningham, "current trends suggest this pattern is set to continue, with FCT market share increasing by 10% in the last year".
Within FMC the capsule segment has also continued to "flourish" and currently stands at almost 20% of the overall FMC market, Imperial says.
However, while its star continues to rise for now, the capsule cigarette segment is on track to crash and burn next May, when –as part of further EUTPD 2 regulations – menthol cigarettes (including capsules) will be banned.
Imperial currently offers a range of "crushball" products, including JPS Player's Crushball and JPS Crushball. Last year also saw it launch Rizla Polar blast, the UK's first filter tip to contain a minty tasting capsule, which will be spared the ban as it doesn't contain tobacco.
Despite the looming deadline, JTI (owner of the Sterling Dual Triple Green and Benson & Hedges Blue Dual Double Capsule brands) is urging retailers to keep the capsule segment front of mind.
JTI head of communications Mark Yexley says: "As the menthol ban is still eight months away, JTI's advice to retailers is 'business as usual' to ensure they continue to benefit from the profit opportunity that capsule and menthol products represent."
Ban on menthol cigarettes to boost vaping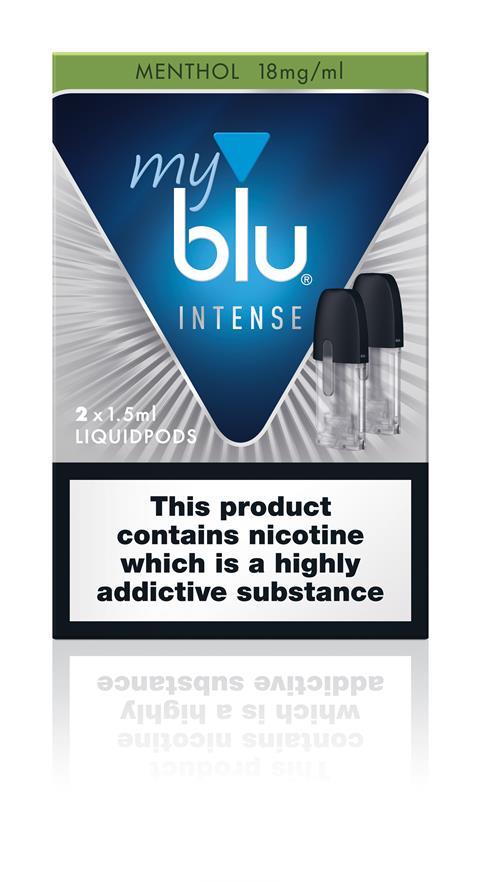 The UK's vaping industry almost unanimously agrees that the approaching ban on menthol cigarettes in May 2020 presents a huge opportunity for convenience retailers to shift smokers into the vaping category, where a broad spectrum of menthol flavours with far higher profit margins than cigarettes, are on offer.
In fact, recent research by Imperial Tobacco suggests that circa 16% of consumers surveyed would consider vaping menthol instead of smoking, "highlighting the potential for cross-category movement," says Imperial Tobacco's head of corporate & legal affairs Duncan Cunningham.
"Menthol currently enjoys a significant share of the UK tobacco category and so we are working hard to educate our retailers about the opportunities available to adult menthol smokers after May 2020.
"This includes adult smokers potentially moving towards the vape category, where blu offers a wide range of both menthol and other flavours," he adds.
Christmas cheer
As the festive season approaches, so too does the opportunity for c-store retailers to enjoy a spike in cigar sales, which sill typically offer three times better profit margins than cigarettes, according to Scandinavian Tobacco Group UK (STG UK).
With a 7.5% rise in cigar sales volume seen in December 2018 versus the previous month, it's an opportunity well worth unwrapping.
Ross Hennessy, head of sales at JTI UK, says: "Every year, cigar sales follow a very similar pattern with a spike in volume in December and during the summer months, so Christmas is the perfect time to stock up to take full advantage of this profit opportunity."
And while the total cigar market has been declining year on year for some time now, propelled by the ban on smoking in public places in 2007 and later the display ban in 2016, that rate of decline does actually appear to be flattening out.
In fact, according to STG UK, which manufactures the Signature brand (formerly known as Café Crème), there has been some small value growth, buoyed by the continued success of the miniature segment which now has an estimated 74% of total cigar sales.
One retailer capitalising on the cigar sales opportunity all year round is David Worlsfold, owner of Farrants in Cobham, Surrey, which features a tobacco room and walk-in-humidor for premium cigars. While sales of these premium cigars have helped turn Farrants into a destination store, David is also enjoying sales success with what he terms his "counter-top" range of cigars which are stocked in draws behind the counter.
"My counter-top cigar range includes well-known brands such as Signature and Hamlet and is being driven by miniatures. However, in recent months I have noticed a couple of interesting trends emerging," he says.
Sales of slightly less mainstream products, such as Moods, which is an "aromatic cigarillo", have been growing.
"The Moods Filter has a filter built into the wrapper and appears to be becoming increasingly popular with people who have traditionally smoked cigarettes and who want to purchase just a small number as they can be bought in packs of five and 10.
"I'm also noticing increased demand for flavoured miniature cigars, particularly those with vanilla and cherry notes. Handelsgold, which is one of the most well-known cigarillo and cigar brands in Germany, is doing well and they feature an aromatic vanilla taste.
"Another brand in growth is the Toscano Classico which is a long thin cigar which lends itself to being snipped in half and shared with fellow smokers, or kept for later. I think the sharing element is proving particularly appealing to adult smokers and I would expect this to gain even more traction as we approach Christmas," he says.
In terms of more general trends, mainstream cigar sales are being driven by adult smokers' continuing demand for good quality value-for-money propositions.
STG UK country director Alastair Williams elaborates: "Despite the obvious challenges of being in a category in long-term decline, STG UK remain optimistic for 2020 and beyond.
"Trends in cigars have tended to be fairly consistent for a while now, and there's been two very clear ones. First, the continued rise in miniature cigars and secondly the consistent growth in adult smokers being price conscious and looking for good quality, value-for-money propositions."
The festive season delivers vape opportunities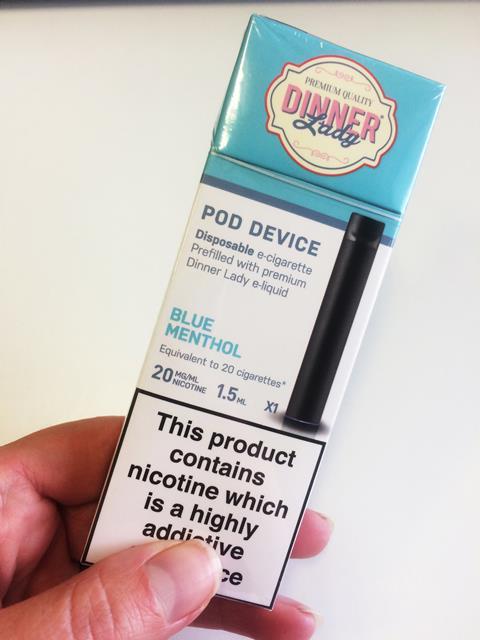 The approaching festive season and New Year's resolutions could provide independent retailers with a specific opportunity to grow their vape sales yet further, Vape Dinner Lady's John Taylor says.
"The continuing shift from tobacco to vaping in the UK means that tobacco gifts are very much under threat this Christmas, as health-conscious consumers may well look to move to alternatives such as vaping," he says.
"Vape Dinner Lady produces a great stocking filler for adult smokers such as the £5.99 disposable pod e-cigarette."
To provide a successful offering during Christmas and into the new year when customers are more attracted to vaping, convenience store retailers should stock a full, consolidated range, says JTI UK's Nick Geens, including Logic PRO, Logic LQD, and the new Logic Compact, which recently launched in the independent and wholesale channels after successful distribution in to grocery last year.