JTI is growing its Logic Epiq range of e-liquids to include nicotine salts and 70/30 e-liquids to offer more choice to a wider range of vapers.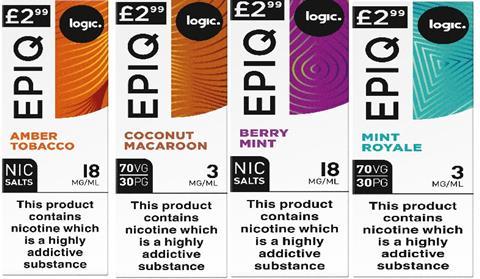 With an rrp of £2.99, the new formats will be rolling out across wholesale and independent channels to tap into the growing demand for high quality e-liquids at an affordable price point.
The Logic Epiq nicotine salts range (18mg/ml) offers a smoother and more intense flavour delivery in a variety of flavours including: Amber Tobacco, Peppermint, Berry Mint and Forest Fruits.
The 70/30 e-liquid range (3mg/ml) offers more experienced vapers, who regularly use MOD devices and want a bigger vapour plume, a higher VG proposition.
Flavours in the new 70/30 range include: Coconut Macaroon, Mint Royale, Berry Crumble and Cherry Apple.
JTI head of Logic and reduced risk products Nick Geens said: "The new additions to the Logic Epiq range offer more choice for existing adult vapers and smokers who might be looking for a range of new alternatives with the upcoming menthol and capsule cigarette ban.
"Alongside this, value e-liquids continue to grow in popularity, therefore we've expanded our range to offer a more enhanced experience as vapers become more experimental in their choices."