Independent retailers can now stock a new range of flavour pods from JTI's Logic vaping brand.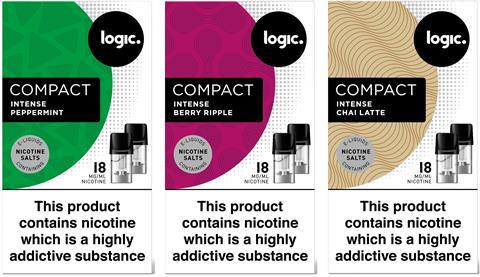 The new Logic Compact Intense flavour pods contain nicotine salts which offer a smoother and more intense vaping experience.
The range development recognises the "growing popularity" for nicotine salt e-liquids in the market, as vapers become more experimental in their vaping choices, JTI said.
The range will be available in 18mg and five flavours: Amber Tobacco, Peppermint, Berry Ripple, Banoffee and Chai Latte.
The pods will be compatible with JTI's Logic Compact device and will join the Logic brand which was worth £27m in the last year in traditional retail, with growth of 34% year-on-year according to JTI.
Head of reduced risk products Nick Geens said: "We're pleased to introduce the range of nicotine salt flavour pods into the independent and convenience channels to extend and develop our Logic portfolio.
"We are continuing to innovate to ensure we meet the needs of existing adult vapers, and the Intense range offers a great profit opportunity for retailers catering to those customers looking for an enriched vaping experience."