Philip Morris Limited (PML) has launched a new financial impact calculator to help retailers assess how much the ban on menthol and capsule cigarettes could cost them after it is imposed on 20 May.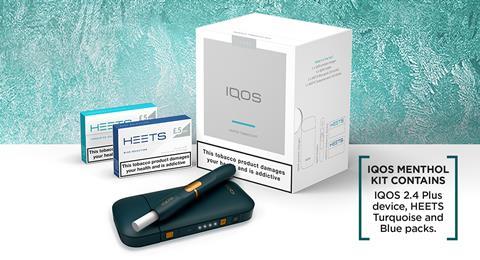 The calculator, which can be seen here, uses epos data from a nationwide study of 2,600 stores which analysed local spending habits of menthol cigarette smokers.
Retailers can put their postcode into the calculator to see the potential impact the ban could have on their business over a week, a month or a year.
The 'revenue generator' also allows retailers to see how stocking alternative products, such as menthol heated tobacco, could help to generate sales following the ban.
PMI's IQOS heated tobacco device uses tobacco sticks called Heets, which come in a variety of menthol flavours and are unaffected by the ban.
According to PML research, 51% of menthol smokers said they would consider switching to IQOS when menthol cigarettes are no longer available, while 80% of smokers who try IQOS for seven days switch completely from cigarettes.
PML's head of field force Kate O'Dowd said: "With COVID-19, retailers are already under considerable pressure and face great uncertainty in the months ahead.
"The upcoming ban on menthol cigarettes will add to this pressure. Our calculator is a valuable tool to help retailers to take the necessary steps to protect their business during this critical time.
"By stocking a range of alternative products, stores have a great opportunity to generate sales when they are no longer able to sell menthol cigarettes.
"This is clearly reflected in the results generated by our new financial impact calculator," she added.
Convenience retailers can now stock the IQOS device including a special menthol kit designed specifically for convenience retail.