Independent retailers wanting to stock PMI's new IQOS Menthol Kits are being encouraged to sign up to the manufacturer's new Menthol Hub.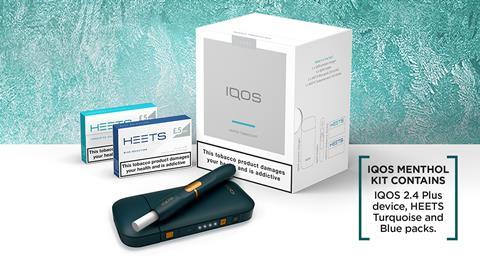 The kits, which have been specifically designed for convenience retail, feature one IQOS 2.4+ device and two 20-stick packs of its menthol tobacco sticks known as 'HEETS.'
The rrp for the kit is £49 which drops to £39 if customers register their device with PMI.
The kits, which feature simple fold-out instructions for new users, have been designed to be as easy as possible for retailers to sell.
Retailers can register to buy the kits via the new retailer hub and additional packs of HEETS can be sourced via the wholesale channel.
As a 'novel tobacco product' the IQOS heated tobacco device and its HEETS are exempt from the ban on menthol cigarettes and capsule products, which is set to be enforced on 20 May.
PMI managing director Peter Nixon said: "Retailers need to be prepared for the menthol ban by having as full a range of alternatives as possible and IQOS is the closest thing to a menthol cigarette.
"Our research tells us that only 15% of menthol smokers will quit tobacco after the menthol ban, which suggests that many people will be looking to change to alternatives.
"In addition, 51% of menthol smokers who learn about IQOS say they would switch to it following the menthol ban, while 80% of those who trial it for seven days switch completely from cigarettes," Nixon added.