Republic Technologies UK is launching its biggest ever NPD programme with the introduction of six new filters into the tobacco accessories market under its Swan brand.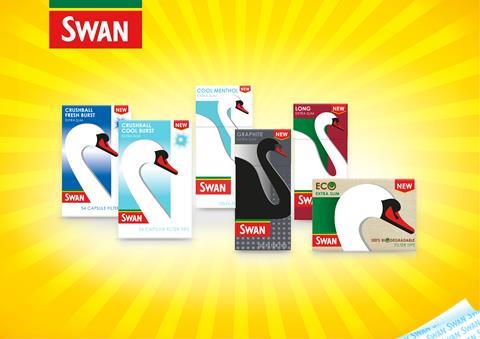 Three of the products are being introduced in advance of May's menthol ban. Swan Cool Menthol Filter is a sister product to the existing Swan Menthol Filter, delivering a "cooler" menthol sensation. The rrp is £1.09 per box of 120.
Swan Cool Burst Crushball Filter features an embedded capsule to release a menthol flavour, while Swan Fresh Burst Crushball Filter is a similar product delivering a strong peppermint flavour. The rrp is £1.29 (54 per pack).
Three further filter products have been launched to increase choice in the category.
Swan Graphite Filter is an extra-slim product is made with carbon paper to maximise filtration of tar and other impurities. The filter is 100% biodegradable (rrp £1.14, 120 per box).
Swan Long Extra Slim Filter is 50% longer than the standard 14mm Extra Slim Filter, developed to reduce the amount of tobacco required per cigarette and align a hand-rolled cigarette more closely with a factory-made one. Rrp £1.03 (80 per box).
Finally, Swan Eco Loose Filter is a 100% biodegradable product made with unbleached paper and described as the most environmentally friendly filter on the UK market. The rrp is £1.39 (200 per box).
The new products will be promoted in cash and carry depots and at trade days, and the Republic Technologies sales team will be calling on around 3,000 retail outlets in a series of week-long "blitzes" to raise awareness and hand out samples and PoS materials. A counter-top display box is available for many of the new lines.