Philip Morris International (PMI) is to make its heated tobacco Iqos device available to UK convenience retailers, alongside its Heets, which come in a range of menthol variants, in time for the menthol cigarette ban.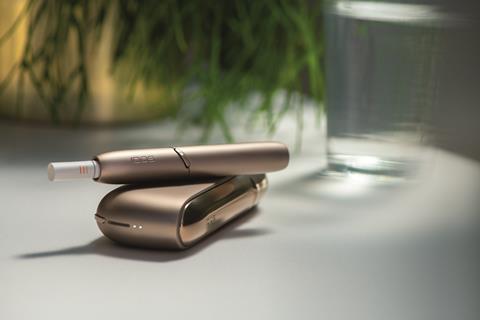 Due to their 'novel' classification, heated tobacco products such as PMI's Iqos device and Heets, are exempt from the EU-wide legislation banning menthol cigarettes, which is set to come into force on 20 May.
A specially priced "Iqos Menthol starter kit" will be launched for the convenience industry, and retailers who sign up at the new site https://menthol-ban-retail.co.uk will be able to buy it directly.
The starter kit will include the Iqos device and two menthol variants of its Heets: Turquoise and Blue.
PMI is also planning to launch some additional menthol variants in time for the ban, one of which will offer a stronger menthol flavour, PMI's managing director Peter Nixon told C-Store.
Retailers who are signed up will also receive a raft of digital and financial support "and of course there will also be visits from reps and a dedicated call centre," Nixon added.
"We still have relatively low awareness of Iqos so for us this is an opportunity to grow that, and for retailers to keep hold of those crucial menthol sales and footfall once the ban comes into force," he added.
The site will also provide an online resource for advice and support around the menthol ban.
Heated tobacco products currently account for 70% of the global tobacco alternatives market and sales of PMI's Iqos device and Heets are growing in the UK, Nixon added.
"2019 was another very good year for Iqos globally, in 2018 we had 9.5 million Iqos users around the world and at the end of 2019 it was just over 12 million," he said.
"It's also doing well in the UK. It's not on the same scale as in some other countries but we turned a corner in 2019.
"Because we can't advertise in the consumer press we rely to a certain extent on word of mouth, and only when you have a certain number of consumers do you start to see a real impact.
"I think we have reached a tipping point now and it's really starting to grow."
The fact that heated tobacco products were granted a separate tax category in the UK last July had also "helped the market" by driving down retail prices, Nixon added.
"Heated tobacco products now have to pay far less tax that cigarettes so we can sell Heets now for an rrp of £5.00 – half the price of a pack of 20 cigarettes.
"UK retailers are starting to see the benefits of this too now as before a lot of Iqos users were buying their heats in Europe or via online sellers so the change has brought those people into UK retail and it's growing," he added.