Having witnessed their retailer parents working long hours in convenience stores, many would run in the opposite direction. But Amit Puntambekar, Jason Sichel and Faraz Iqbal (pictured) have all opted to take on the family business. C-Store quizzes them on what made them choose convenience retail as a career, the changes they have made since being in charge, and their plans for the future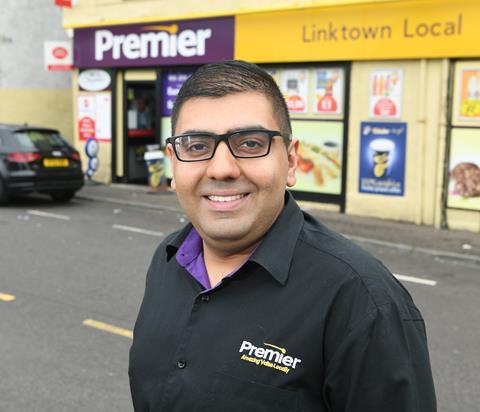 Faraz Iqbal, Linktown Local, Kirkcaldy
At 28, Faraz has been running his family's Linktown Local store in Kirkcaldy for four years and his appetite for developing the business and keeping it up to date is unabated
No sooner has C-Store started taking photos of Faraz outside his store than he is approached by a frail, elderly lady. She'd like to buy a few bits of shopping, but doesn't want to leave her dog outside. No problem – within an instant a member of staff is on hand to do her shopping for her.
There's no doubt about it, Linktown Local is a store that puts its customers at its heart and Faraz is most definitely leading by example."This morning I spent three hours in the community hall for a local area meeting, talking about housing and improving the area," says Faraz, who is a member of the Local Residents' Association. "My Mum and Dad have always taught me to help where you can."
He explains that customers often come into the store for help, advice or a friendly ear. Just over a year ago, an elderly gent who had recently lost his wife admitted to staff that he would be on his own for Christmas, so Faraz popped round for a chat with a hamper of goodies and arranged for a roast dinner to be delivered to him. Faraz's eyes well up as he describes the customer's situation and the gratitude he showed for the kind gesture. "It's not just about giving money, it's about seeing people," he says. "We're such a community store, that's our bread and butter."
The Iqbal family has been at the store for 20 years, so it's no wonder the store has become ingrained into local life. But owner Faraz has only been running the shop for the past four years. "It was always the perception that I wouldn't work for the store," he says. "My parents wanted me to get an education."
He did a masters in civil engineering at Heriot-Watt Uni, working at the store in the holidays. "The summer is a big gap, so I got more involved in the store," explains Faraz. "When I left uni, I had to make a decision whether to go into the shop, or whether the business would be sold."
He threw himself into the business, re-designing the layout to encourage shoppers to journey through the store, rather than make a bee-line for the post office, and installing a coffee machine.
He also introduced epos. "I remember before shouting out to Dad and him checking cigarettes – it was all done by judgement. It worked, but I'm good with computers and I wanted to know what was going in and out and make sure that ordering could be done via epos."
Faraz explains that his parents were happy to give him control over the business, but he still talks over his decisions with them. "They've done business for 20 years so obviously I go to them for advice," he says. "I do what I want, I've got free rein, but Dad will remind me if something didn't work. He always gives me a hard time – he's strict." However, he claims this isn't necessarily a bad thing. "Because I have him, I have to prove him wrong! So I'll re-evaluate what's gone wrong and make sure I get it right next time."
His father wasn't a fan of the latest tech Faraz has invested in. "My new epos was installed last month, but it didn't go smoothly," he admits. "I got gyp from Dad for that. We needed another stocktake. I cut down deliveries and we did it across two days."
Positive feedback
Other changes have had his father's seal of approval, however. "Dad's old school – he never had Facebook, but now if something comes in he'll say: 'Put that on Facebook'. It's a prime example of new and old," grins Faraz.
He has grown the platform steadily over the past few years and has more than 6,200 followers thanks to a constant stream of community announcements, npd posts and competitions.
Faraz continues to develop the store at a steady pace. A year ago he welcomed Stuart's Bakery, installing a branded bread fixture by the entrance and a display cabinet built into the counter, showcasing a tempting selection of iced buns, meringues and tarts.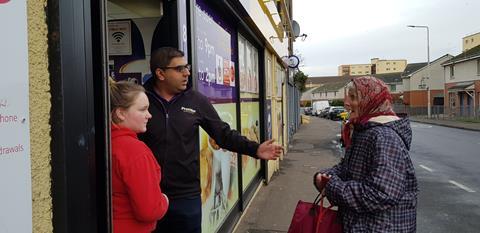 He claims that introducing the new features was a no-brainer. "Obviously with the decision behind Stuart's, margin was key, but also we didn't have food to go before," he says. "It's the best solution for a store of our size. Customers here have a real attraction to it. If someone wants something quick to eat we have it. It also complements our coffee machine."
The sales speak for themselves: It took £1,500 in the first week and has maintained that for the past 12 months.
Had it not been for his father, Faraz concedes that he would have just installed it without hesitation. "But instead I went into much more detail with planning so that there were no hiccups and I didn't get any gyp for anything," he says. "It's good to have someone to run ideas by. It makes you eliminate problems before you get to them."
This summer, Faraz removed the cigarette gantry and doubled his spirits offering to four metres. A whimsical selection of brightly coloured bottles now line the shelves behind the counter. Products such as Bathtub Gin, Pilgrim's strawberry & pepper gin liqueur and OVD demerara rum might have you thinking that Faraz has gone for a haphazard approach, but he claims that "every single line has been researched".
They are then promoted on the store's Facebook page, which acts as a showcase for those looking to impress with a specialist tipple.
Since Faraz has been at the helm, the store's turnover has grown 40% and sales are up 20% year on year. But he continues to search for new ways to boost business. "There's still more we can do in food to go, but the biggest challenge is to integrate it," he says. "If we do something bigger it needs more room and more people probably." He's also considering expanding his Stuart's range with a chiller of ready meals.
The store measures just 1,000sq ft, which means Faraz has become extremely disciplined with his ranging. "I do get annoyed with the lack of space, but it makes you come up with good ideas you wouldn't have done if you'd had the space and could do whatever you want," he says. "That's where my epos comes in because I regularly take out an everyday line when the figures show it's not as popular as something else."
His epos system is supplied by TRDP, who he works very closely with. "I work with them on development," he explains. "With track and trace on tobacco all the codes changed and it was me that identified that there was a problem because self-ordering wasn't doing what it needed to do. So we worked out a solution that meant creating dummy codes that linked two products together and then pressing a different button." Not willing to settle for TRDP's suggestion of using the work around, he convinced the firm to go the extra mile and simplify the process so that other retailers using the system would be able to process tobacco orders easily.
Faraz uses this style of problem-solving to tackle every challenge. "I always stick with it to the end, until I get an answer that I'm satisfied with," he says. "I might not get the answer that I wanted, but at least I know why. If something's not working properly then I'll find out why it can't be done."
He takes a philosophical approach to retail. "When you do things wrong, you mustn't punish yourself too badly," he says. "We all make mistakes, you just have to learn from them. I think there's still a lot of opportunities in convenience. A lot of retailers think it's going downhill, but you've got to keep up."