Simply Fresh Surrey University is scoring top marks with its student customer base and claimed the Innovation Award at the 2018 Convenience Retail Awards - and a final spot in the Food to go Retailer of the Year category.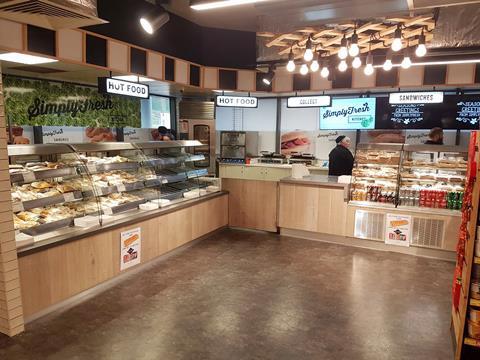 Campus life. At Surrey University in Guildford, as with many others, it's all about innovation and discovery, the pursuit of high standards and pleasing results and, of course, it's also – just a tiny little bit – about fun. Little wonder, then, that one of the main hubs of student life, the 5,400sq ft campus convenience store, embodies that ethos.
With an average customer footfall of 10,000 a day and sales of about £105,000 a week, it's clear that the university's 16,000-strong student body is a big fan of its convenience store. And from the moment you step inside, it's pretty easy to see why, and the reasons it made it as a finalist in the Food to go Retailer of the Year category and winner of the Innovation Award at the Convenience Retail Awards.
Accounting for 45% of sales, food to go is the jewel in this Simply Fresh store's crown, offering customers 300 main meal food-to-go options each day – almost one for every day of the year and certainly one for every day of term.
The front of the store is all about grab and go and encompasses more than 80 varieties of pre-packed sandwiches, plus a vast range of store-made filled baguettes, including a range of halal options.
Store facts
Simply Fresh Surrey University
Manager: Ricky Turner
Store size: 5,400sq ft
Weekly turnover: £105,000
Opening hours: 24-hours during key term times
Refrigeration: 40 metres
Services: Post office, ATM, mobile top-ups, Amazon Lockers, coffee loyalty card
For caffeine junkies and those students who may have stayed up late into the night 'studying', there are two coffee offers, including a Costa machine and a Simply Fresh-branded unit which tenacious store manager Ricky Turner (pictured above) personally designed in partnership with Tchibo.
Customers, and that includes the 2,000-strong staff body working at the campus, are equally well-served when it comes to a hot bite to eat, where a large serve-over hot food-to-go counter at the rear of the store plays a starring role.
The range includes all the usual toasties, paninis, hot dogs, burgers and pastries, as well as curries, pasta dishes, and even roasts on a Sunday for students to take away. During term times and exam periods, in particular, the store and its range of hot food to go remains open 24 hours, meaning that hungry bookworms can keep studying and satiated throughout the night.
Keen to meet student desire for healthy food to go, Ricky has also developed a unique Hot Pot range with one of his catering 
suppliers. Each pot uses steam valve technology and raw ingredients to deliver a tasty meal for under 500 calories and provide one of your five a day.
As a responsible retailer, Ricky truly believes that it is his duty to provide students with healthier options and this is felt throughout the store, including in the BWS aisles where social "not binge drinking" is promoted. "It's about enjoying alcohol with friends, not getting drunk, so we don't sell many multipacks of cans, but we do sell large sharing bottles on deals such as 'three for £6'," Ricky adds.
Ricky's desire to promote healthy living is also felt in the till queues, where low-fat and low-sugar snacks are prominently merchandised.
"If you want a chocolate bar then we have lots of them, but the way the store is merchandised means that students have to deliberately walk to that aisle to get one," Ricky explains.
Another healthy food-to-go innovation is Chinese Steam Buns (large hot dumpling-style buns, filled with a variety of meat and vegetable options), which Ricky introduced as part of his drive to better cater for the store's large Asian student body.
The store also offers a well-shopped Chinese Meal Deal fixture including a steam bun, plus a drink and a snack, for £3.40.
Away from food to go, a large range of frozen and ambient Chinese groceries also help the university's Asian students to feel a little more "at home", including a number of products that Ricky imports directly from China that can't be sourced from the UK.
These products have to have their food labels translated into English to comply with EU legislation before they can hit the shelves. It's a lot of extra work, but as Ricky says: "Why should we expect Chinese students to eat beans on toast?
"It's my job to stock what they need. To an overseas student who won't see their loved ones for many months, home comforts mean the absolute world. If I can get a certain product in for someone, I will try my hardest. It's about more than just food."
Interestingly, Ricky has also noticed that the Chinese food range is also receiving growing interest from UK students who are increasingly buying into its wide array of noodles and healthy snacks.
And while the store may look visually striking with its smart wooden counters, cool lighting fixtures and Asian-themed decorations, keeping it looking that way is no mean feat for Ricky and his staff. While Ricky has worked with the university to stagger lecture breaks in a bid to slow the rush of shoppers, at peak times the store gets swamped. The sheer volume of customers creates a number of challenges, including speed of service, availability and cleanliness – thousands of students using self-serve coffee machines can make quite a mess if not managed properly.
"There are times when we can have 300 people in the store. When it's busy like that, the store gets ransacked!" Ricky says. "We have to run a really tight ship to keep standards high and ensure that availability and cleanliness are always on point."
Helping to keep the queues in check is a bank of five recently-upgraded self-service tills which work in harmony with the store's 11 manned checkouts. This combination keeps the average waiting time down to below four minutes, pretty speedy considering that up to 100 people can be queuing at peak times.
The store also features an automated Navarra tobacco unit, which also helps to speed up tobacco service times, while the screens are used to promote special offers across the store and university events.
But, of course, this high-tech functionality and the stringent store standards certainly don't preclude fun, which the store also has in the bucket-load. During term times Ricky and his team pull off a packed calendar of fun in-store events, including Easter Egg hunts, fancy dress competitions and even a hugely popular 'supermarket sweep' competition to incentivise students to do well in their exams.
An active WhatsApp group and termly customer focus groups (held in the student bar) also ensure a strong sense of community on campus – so much so that 150 students attended the last one. "The students are at the heart of everything we do here. We respect their opinions and as such they have a genuine fondness for and interest in it," Ricky says.
With store sales up by 41% year on year, that "fondness" is pretty clear to see, and with even more exciting plans up Ricky's sleeve for 2018 and beyond, this is one store that looks set to graduate with top marks.
WINNER
Innovation Award
The judges agreed that Simply Fresh Surrey University capitalises on business opportunities by introducing products and innovations to cater specifically for its customer base. The impressive hot and cold food-to-go options, which contribute 45% of sales, demonstrate a commitment to innovation.
They also commended the store's technological innovation such as self-service tills, WhatsApp groups and the automated tobacco unit.
Sponsored by Republic Technologies