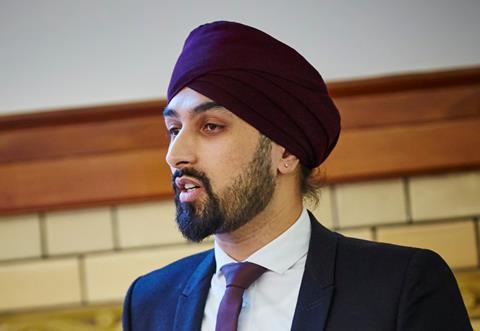 Simply Fresh's brand and creative director Davinder Jheeta is to leave the group after nine years.
Simply Fresh director Kash Khera said Jheeta and the group had parted ways by "mutual agreement". He said: "We would like to thank Davinder for his time at Simply Fresh and wish him the best for the future."
The announcement follows Michael O'Loughlin's departure as Simply Fresh's chief operations officer in December.
High profile retailers Steve Bassett and Harj Dhasee also left the group earlier this year to join Morrisons Daily, following Sainsbury's decision to end its partnership with Simply Fresh in 2021 when it closes its wholesale arm.
In December 2021, the group announced the relaunch of the LittleFresh model with sites opened in London. Khera went on to say that the group would be continuing with its expansions plans with 12 stores in the pipeline. "We continue to open stores and no other group can match us in terms of range and offering."
Having joined the symbol in December 2013, Jheeta played a central role in its development.
In a LinkedIn post, he stated: "I created the brand as you know it today, taking an obscure single site retailer all the way to the offices of Sainsbury's. Of course there were many ups and downs along the way, and thereafter."
He spoke of how he had moulded the Simply Fresh model. "The start up phase at SimplyFresh allowed me to really shape the business and I take huge pride in hearing from esteemed industry colleagues that I changed the face of convenience retail. When I originally created the brand for the shareholders I had limited exposure to the UK convenience channel. Turns out that massively worked in my favour, I didn't conform. In fact, more often than not, I refuse to conform. Creatives rarely do. I stripped stores of livery, I opened them up, made them welcoming and followed it up with a clear concise brand message. It worked."
Simply Fresh is well known for its theatrical interiors and eye-catching product displays, using wooden crates, planks and artificial privet hedging to create a unique shopping experience. Jheeta previously told Convenience Store: "If you can create an interesting interior environment with specific areas and products you can manipulate a customers' sense of time, and effectively you are buying dwell time. Time is very important to our customers' experiences, but equally important to us. Because, for however long they are in our stores, we want to maximise the exposure to product and add to basket spend."
He claimed on LinkedIn that his work had impacted the sector as a whole. "Viewing the convenience landscape today, I'm really happy to see positive influence from my work, the industry looks and feels better for it," he said. "From one store, came 96! Not only did I create the brand, I was responsible for recruiting the first "franchisee" and then the second. I went on to win business with thought-provoking industry presentations and found myself as the brand guardian."
Jheeta cited being recognised as Top New Talent by The Grocer in 2014 as a personal highlight, as well as securing the largest single site to the group
He thanked all of the independent retailers he had met during his time at the group. "You do some tremendous, unheralded work in your local communities and I hope I was able to do you justice in your brilliant local stores," he told them.
He wished his Simply Fresh colleagues well and told national store development manager Michael Boakes to "keep up the good fight" as he leaves them to seek new opportunities.