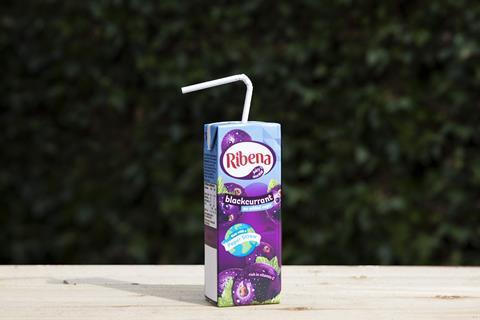 It really is the last straw for plastic in Ribena cartons as the brand announces a permanent switch to 100% recyclable paper straws. The new straws will be rolled out in April, following a successful trial at Tesco, which began last May.
This will save up to 16 tonnes of plastic from being produced per year in another step towards the company's ambition to reach 100% sustainable packaging by 2030.
Plastic straws are currently hard to recycle in the UK, largely due to their size. If people don't push the straw back into the carton when finished, it can get lost in the recycling process, often falling through gaps on recycling centre sorting belts, claims Suntory Beverage and Food (SBF) GB&I.
Ribena's trial of the paper alternative was met with positive feedback from customers. One Ribena fan commented that they "love the new addition of a cardboard straw instead of the usual plastic ones you get", commenting favourably that it creates "far less plastic waste and is better for the environment". Another customer was pleased to see that the straw was strong enough to pierce the hole effectively and that it didn't go soggy when they were drinking from the carton.
Jo Padwick, transformation manager at SBF GB&I, said: "It is great to see our years of hard work getting such positive reviews from Ribena drinkers. We have taken into account all of the feedback to help us improve the new paper straw that is now being launched on the range across all stores.
"Saying goodbye to the final plastic straw is a great step on our journey towards 100% sustainable packaging by 2030."
SBF GB&I is continuing to develop a hygienic wrapper for the new straws from alternative materials that will still stand up to the rigours of rucksacks and refrigerators.
This announcement follows the launch of SBF GB&I's new Ribena bottle, which made it the UK's largest soft drinks brand to use bottles which are made from 100% recycled plastic and 100% bottle-to-bottle recyclable.