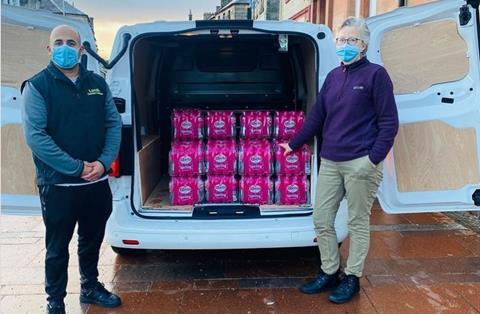 Independent retailers have been spreading festive cheer to community groups thanks to some help from Suntory Beverage and Food GB&I.
The soft drinks manufacturer supplied pallets of Ribena Sparkling 500ml to independent retailers to donate to charities of their chosing in the run-up to Christmas. And despite it being the busiest week of the year, retailers took time out of their schedules to transport the drink to charities and groups in their communities.
One Stop Mount Nod donated the drinks to Midland Langar Seva Society which organises a Christmas dinner for the homeless.
Thanks to @SuntoryBF_GBI for their generous donation of a pallet (132 cases) of @RibenaUK sparkling. We decided to give it to @MidlandLangar charity who will distribute at homeless feeds in Coventry and also use them as part of hampers. 🙏 #Seva #RibenaTogether #GrowingForGood pic.twitter.com/Fx8tDlxwIi

— One Stop Mount Nod (@OneStopMountNod) December 18, 2020
Nisa Local High Heath offered up the drinks to a variety of local groups including Brushstrokes Community Project which provides meals for 350 families a week.
Massive shouting to @SuntoryBF_GBI @RibenaUK for allowing us to distribute 20 pallets of Ribena sparkling to amazing causes across our area! We won't let you down! Watch this space videography come soon on the journey from you through us to the people that need it the most! pic.twitter.com/lKTCDdjAzD

— Amrit Pahal (@AmritPahal) December 22, 2020
St. John's Budgens also rallied the troops to praise the amazing retailers involved in this project.
So much to admire from the support, scale & scope from @SuntoryBF_GBI in collaborating with us indi retailers to bring a little Xmas cheer to our communities The response, mobilisation from retailers has been nothing short of legendary Thx @AtulSodha for being the driving force🙌 pic.twitter.com/Gb04cqbFUp

— Avtar Sidhu (AKA Sid) (@asidhu007) December 18, 2020
Notay's Convenience Store dressed up for Twitter to invite community groups to get in touch about donations before heading to Batley Food Bank to drop some Ribena Sparkling off.
We will be spreading a little #sparkling #ribena today. @BatleyFoodBank @Batley_News @HeartYorkshire @RibenaUK @CStoreTweets #ribenaman pic.twitter.com/geI76EfXAO

— surjeet Singh notay (@notays) December 21, 2020
Londis Junction made several donations including one to Carstairs Junction Welcome All Hub and one to Clydesdale Food Bank.
One of the driving forces behind the project was Atul Sodha of Londis Harefield who praised the retailers for their efforts on social media.
That's how is independent retailers role😎🙌🏾🙌🏾 #collaboration #localbusiness #Connectingcomunity #Sparkle #booyakasha https://t.co/JnINpXnzUN

— Atul Sodha (@AtulSodha) December 22, 2020
While Budgens Broadstairs donated some of its allocation to Our Kitchen Thanet.
Are you part of the Ribena Sparkling initiative? Let us know by emailing your pictures and videos to aidan.fortune@wrbm.com.