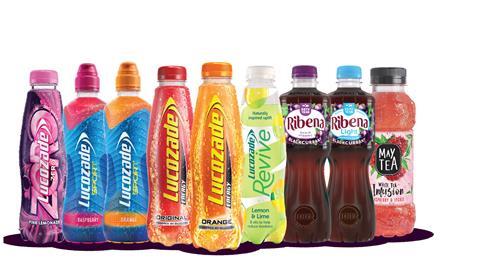 Suntory Beverage & Food GB&I (SBF GB&I) has identified four trends within the soft drinks category that could help retailers create an additional £1bn in sales over the next five years.
Broken down, this means a potential £8,992 in soft drink sales could be unlocked by each one of the UK's convenience, symbol, and independent stores.
Unveiled as part of its category vision, the four trends identified are:
ENJOYABLE REFRESHMENT
SBF GB&I suggests that retailers can inspire shoppers to consider a drink with or without food at key moments throughout the day by activating 'meal for tonight' options and flagging cross-category links. Disrupting and exciting shoppers with PoS materials and reminding shoppers to visit the chiller is key to unlocking an extra £340m of growth of this category.
UPLIFT & ENERGISE
With health and well-being a key focus for consumers, retailers can bring in new shoppers by increasing the visibility and presence of 'better for you' energy options, and championing sugar-free, natural and emerging segments through merchandising and in-store activation. SBF GB&I recommends a destination aisle to cater for those with sporting and active lifestyles to unlock an extra £244m of growth.
SPECIAL MOMENTS
The category vision predicts that the biggest potential category win for retailers comes from encouraging shoppers to choose a favourite soft drink when they are taking a moment in their day to enjoy a little treat, or by enhancing mealtime occasions. Retailers can help deliver £343m of category by better catering for drinks to accompany 'meals for tonight' and delivering drink options to lift the mood of consumers.
POSITIVE CHOICES
By supporting shoppers' wellbeing by helping them to find more balanced and natural drink choices, with a positive force on society, retailers can help unlock an extra £235m in category sales. SBF GB&I recommends educating shoppers and targeting the right formats and flavours to unlock new drinks occasions to tap into these trends are crucial.
Sales director at SBF GB&I Alpesh Mistry explains how the trends will help retailers grow sales.
"The trends we've seen develop during the Covid-19 crisis, such as increased in-home consumption, are set to continue. We also know that in recessionary times, people buy smaller packs more frequently. It is crucial that retailers understand these trends and make room for products that cater for these changing habits to continue to see category growth.
"The soft drink category needs to cater for these changes. We know one-in-four shoppers are consuming more soft drinks, and that £143M has been added to the category through increased multipack sales during lockdown."
Working with retailers
Speaking to Convenience Store, Mistry explains how the business has had to adapt to Covid-19 and that includes working more closely with retailers.
"We've done things differently as opposed to previous years. There's a Japanese word we use in the business called Gemba, which means being in the market and being close to customers. We've tried very hard to make sure we've listened hard to our consumers, shoppers and customers, as we looked to the start of this year and last year.
"The closeness the retailers have to their communities was vital for us. We underestimated how important independent retailers were for listening to shoppers so having a direct line in was key."
The brand's focus on range also had to shift due to changing consumer habits. "55% of our business was in the drink now/on the go category, and we've had to pivot at speed while talking with customers. Over the last 12 months we've launched a number of drink later formats, gone into cans and brought out Ribena Sparkling which was a concept to delivery period of just 12 weeks. We've made some big strides in our processes as well as spent more time in the market. I've galvanised the organisation to listen closely to our customers.
"We launched Lucozade Revive and have more to go on that and we redesigned Ribena to make the bottles more sustainable. We also dropped our PMPs which allowed retailers to remain competitive."
One of the brand's launches over the past year was Ribena Sparkling which Mistry explains came from retailer discussions and was taken from concept to delivery in 12 weeks. "We challenged every process in the business to get it done in 12 weeks."
Another development that came from talks with retailers was a donation of product that was distributed to community organisations by some of the top store owners over the festive period. "This example is a great illustration of the teams working closely with their suppliers and the supply chain to identify initiatives that help communities. It was retailers identifying who needed support and they are the closest to the communities. We had 50 retailers involved who distributed a huge amount of stock to groups that we wouldn't have been able to reach from our centralised base.
"This isn't just a one-off and when we do return to normal, we will continue to support our retail partners. Our teams will continue dialogue with retailers about when and what product should be involved for any future initiatives. And I urge any retailers interested in getting involved to get in touch."
Changing legislation
Looking ahead to 2021, Mistry says the brand will continue to work with retailers and help them prepare for any changes to legislation that might be coming and well as focusing on sustainability in the supply chain.
"We're taking the learnings from last year and applying them to this year. Firstly, we want to ensure our core brands are always available. We learned that shoppers trust core brands. We're also seeing acceleration of drink later packs. We launched a Raspberry and Rhubarb Squash last year and we'll continue to accelerate that because we're seeing trends of squash coming through."
Although Lucozade bottles are already 100% recyclable, the business aims to improve transparency on sleeves so bottles will be able to be detected as clear by recycling sorting machines and technology which will enable them to be recycled back into bottles more easily.
"By the end of this year bottles of Lucozade Energy and Lucozade Sport will be 100% bottle-to-bottle recyclable which is huge for us."
Product siting and Deposit Return Scheme are two challenges that Mistry is focusing on. "Legislation is coming at speed and it's important we work with our retailers to understand how we combat any changes. The good news is that HFSS is in a technical consultation but it does talk about an exemption for small stores which is important for our independent retailers. And we have DRS coming in 18 months which will create huge change for the way our retailers operate. To help with this over the next 12 months, we're recruiting a lead that will report into me for the DRS to work with retailers to see how we can make it a positive and smooth process. It'll be a big change for us and we need to be ready for it.
"We've got learnings from Brexit and it's been a smooth transition for us with our supply chain remaining steady. So we're doing lots of planning on DRS but that's required. Covid-19 has meant we've become very short term and we need to get back into the long term thinking."