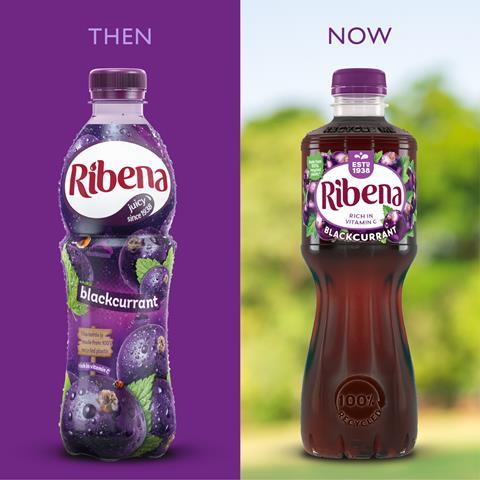 Suntory Beverage & Food Great Britain and Ireland (SBF GB&I) claims that the innovation makes Ribena the largest soft drinks brand with bottles that are made from 100% recycled plastic and are 100% bottle-to-bottle recyclable.
The new 500ml bottle's design features a reduction in the plastic sleeve, making the bottles more easily detected as clear plastic to be recycled by existing UK recycling infrastructure. This packaging change has removed 202 tonnes of plastic and is the most significant brand design update in the past decade. This major change has been made possible only after a two-year development programme and investment of £1.6m in new manufacturing equipment, as well as in research and design.
Every new Ribena bottle will feature a number of recycling messages embossed on its bottle, as well as featuring on the bottle label, to encourage consumers to recycle. The brand will also include recycling messaging on its advertising and invest six-figure sums, the biggest campaign for Ribena next year, to encourage consumers to recycle. The marketing campaign will help make the redesign unmissable to consumers and will include a TV advert, social media and POS materials.
Charlotte Flook, head of brand, Ribena, at Suntory Beverage & Food GB&I said: "We want to continue to use the positive power of our iconic brand and our long history of leading the way in sustainability to encourage drinkers to recycle. 67% of shoppers say they have become more aware of the environmental impact of plastic packaging over the last 12 months [Mintel 2019], and we're proud to take this huge step forward to ensure everyone's Ribena bottle can be recycled back into bottles.
"We set ourselves incredibly high standards for this design and we didn't settle for anything less than perfect. Consumers told us we're onto a winning design, boasting extremely positive scores across important metrics like environmentally friendly, modernity and naturalness [The Big Picture Quantitative Research November 2019]."
The new bottles also offer clear visibility of the drink itself. "Another significant change is that we are now showcasing Ribena's distinctive liquid which consumers tell us they love," said Flook. "It isn't just the packaging of Ribena that's focused on sustainability, we have a full-time agronomist and partner with the Farming & Wildlife Advisory Group so that each of our growers has a resilient biodiversity plan tailored to the individual habitats at each farm. With 90% of blackcurrants grown in the UK destined to go into Ribena, we wanted to show off this uniquely British asset."
Over the years, the brand has removed more and more plastic from the bottle's design, with 527 tonnes of plastic taken out of circulation. This year Ribena, which SBF GB&I claims is the UK's number one juice drink [EXT IRI, MarketPlace GB, Value, latest 52 weeks to 29.03.20], became the first major UK juice drink brand to introduce a paper straw to its drinks cartons.
The redesign ties in with the Suntory vision of Growing for Good – the bigger we are, the greater our positive impact can be. The company has an ambitious target to move to using only 100% sustainable plastic bottles by 2030, as part of a wider 2050 environmental vision, aiming to achieve net zero greenhouse gas emissions across the entire value chain.