Retailers reveal what students stocking up at the start of term have on their shopping lists, and how they keep them coming back for more.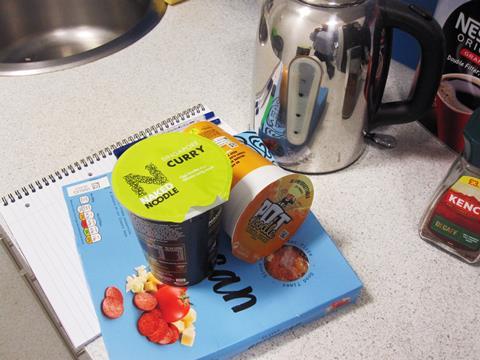 Whether it's starting out as a fresher, or returning for their final dissertation hand-in, students will be looking for quick, cheap and easy-to-cook solutions when they arrive back at university, and c-stores need to be ready.
"It's well-known that students can often be on a budget and shop with convenience and price in mind," says Global Brands brand controller Christian Sarginson. "Ensuring that retailers stock a range of student-focused products means that they can make the most of the student consumers that choose to shop with them."
For Richard Inglis, who owns three Welcome Co-op franchise stores in Southampton, that starts with advanced planning.
"When the students return it is a very busy time of year for us," he says. "We have a plan that comes into action each year when the students arrive back from their summer break, and it hasn't failed us yet.
"If you are in a student-based area, especially in a big city or on a campus, you must make sure you are ready for their arrival."
Stephen McClune, owner of Spar 27 University Avenue in Belfast, agrees. "Planning is important in the run-up to the back-to-term time period, to be prepared for the sudden increase in footfall. Knowing the previous year's numbers helps when planning the stock volumes needed for key lines," he says.
"With our store being situated within a popular area for student accommodation, footfall increases by 55% as Fresher's Week arrives. The largest uplift in sales still remains around categories such as soft drinks, confectionery and ready meals, however students during this time are also stocking up on store cupboard, frozen food, household, toiletry and stationery items while they have money in their pockets."
Premier Foods convenience channel director Steve Kelly says the start of the new term now has a much bigger presence on everyone's calendar – with Fresher's Week included. "Retailers can make the most of this time of year by siting secondary displays in store and stocking up on the right products to appeal to those heading back to college," he points out.
Stephen advises c-store retailers to stock up on the essentials students will need to start the new term. "Stocking up on essential lines usually takes place the week following Freshers' Week once the loans are in the hands of the students. Our store offers a wide range of everyday value, core range products," he says.
Offering good value on those essentials is key, he believes, to avoid losing out to the multiples. "Competing with the discounters can be difficult for independent stores, so being able to offer value on everyday essentials has become more important than ever.
"By ensuring everyday items are seen to be price competitive the student can be confident they are not paying inflated prices and are more likely to stay loyal to your store rather than making the extra journey to the bigger discounters.
"Our store offers a two-litre milk deal alongside highly competitive bread promotions and so on. Value products are also highlighted throughout the store with pricemarked packs (PMPs) and bus stops to draw attention."
Richard also ensures he has extra stock of all the essentials at the start of term. "The main thing that we do when the students return for term time is make sure we have all the basics," he says. "We increase our orders and stockholdings in key areas. Our view is that it is so important you never run out of basic lines, as then students might associate you with that and go elsewhere.
"It sends the wrong message if you cannot sell a new customer milk or bread on day one. When the new students arrive, that is our opportunity to impress and gain new customers for a whole year and beyond. We step up our orders of milk, bread, fresh meats and cereals, as all of these are student favourites."
Despite food and drink seemingly taking the lead upon students' arrival, the non-food category is just as important, according to Elena Margiotta, merchandiser and operations manager assistant at Margiotta Food & Wine stores in Edinburgh.
"Stationery in our student-based stores sells rather well. Products such as notebooks and pens and so on sell well everywhere, but tenfold in student areas, especially at the start of term time."
Mike Bamford, retail manager of three Spar stores at the University of Essex, says retailers shouldn't forget areas such as stationery, but doing your homework on exactly what students need might be prudent, he warns. "Stationery and greetings cards are very important, but be careful as there are rules on what students can use in exams. For example, here at the University of Essex there is only one type of Casio calculator allowed in an exam, all other types of calculator are banned, so check first before ordering."
At Stephen's stores, stationery isn't the only non-food product that students are after. "While a range of stationery is important, there are other product groups across the store that the student shopper will depend on us for, such as toiletry and household items," he adds.
"We stock up on cleaning products, bedding and kitchenware such as cutlery and saucepans, and, most importantly of all, lots of toilet roll. With the store being so close to student accommodation these products become a vital part of our core range."
Toys and tech can also be winners. "Don't be scared to stock summer items like footballs and frisbees, too," advises Mike. "And with no student managing to survive without the latest smartphone they will expect stores close to universities and colleges to be able to offer products such as phone chargers and headphones."
Alongside getting the essentials sorted, Mike will pushing the food-to-go and impulse categories more so than ever before.
He highlights the "quick and easy" student mentality. "Make sure you concentrate on food to go," he asserts. "Students are always in a rush, and time is key. They often want something quick and easy, therefore your meal deal is probably your most important product."
One product that certainly fits the bill for quick and easy is instant noodles. The cheap, easy and 'just add water' aspects make them appealing to any cash-conscious and time-poor student, according to Matthew Trembath, channel category manager at Unilever.
"The instant hot snacks market is growing. With 82% of pot snacks being bought on impulse, the category presents a great opportunity for retailers to increase overall basket spend among students," he says. "The pot snacks category offers a quick, value for money, hot meal solution, which customers often choose as a convenient low-cost option.
"With the typical customer pushed for time, retailers can capitalise on impulse purchases by making sure that pot snacks are highly visible and located in high traffic areas. Visibility is a key driver of sales. To maximise pick up and impulse purchases, maintain presence in highly visible locations."
He says that retailers can avoid out-of-stocks by ensuring that the top-selling flavours have the most space. "Chicken & mushroom, curry and beef & tomato flavours are the most popular with students," he reveals.
Stephen caters for the student impulse market with an extensive range of soft drinks, including the self-serve Tango Ice Blast slush. "It proved extremely popular with students last year, increasing its category sales by almost 20% on the previous year," says Stephen.
Coffee is another key area that grows in popularity each year. "The store is fortunate to be able to offer the very popular Barista Bar coffee exclusive to Spar [in Northern Ireland], alongside daily fresh-baked treats," he notes.
Ready-to-eat products are also in demand. "Food to go is the driving force within the store, boasting a vast range of pre-packaged options alongside a full hot food deli serve-over at the rear of the store under our own Kitchen Quarter branding," he says.
"Our store offers a large range of hot food, sandwiches and salads including a burrito bar, self-serve chicken bar with vegan and free-from options available."
While there are numerous opportunities for cross-promotion deals such as sandwiches, drinks and snack promotions, Stephen says product placement can prove just as important as the deals themselves. "As an example, the store offers a range of impulse drinks and fresh snacking products such as small fruit pots and cheese/cracker snacks placed directly beside the sandwich and salad ranges," he explains.
Pricemarked packs (PMPs) also have a role to play in attracting the cash-strapped student. "PMPs have a value appeal and attract attention on shelf for students, many of whom are in charge of their own finances for the first time," he says.
"They create a clear price point without confusion for the student who is just learning to manage their finances and may be wary of overspending.
"While we always ensure pricing and promotions are clear across all of our store, students still perceive that the PMP is better value," he adds.
Amy Fisher, shopper marketing controller at Saputo Dairy UK, says that with students both time poor and typically working to a tight grocery budget, PMPs can be a great way "to instil value reassurance and prompt quick product choice at shelf".
She adds: "Value for money appeals to just about everyone, and especially appeals to students, and there's no doubt that the appearance of a good deal does a lot to turn a browse into a purchase. Though not all categories benefit equally, pricemarking can prove particularly effective as a means of driving impulse purchase in categories such as confectionery and soft drinks, and on the whole PMPs are a proven way of bringing in sales."
This year Stephen is not only concentrating on his in-store offer, but his marketing, too. "We plan to build on the success of last year with a bigger focus on advertising special promotions surrounding our 'feed me now' offering, coupled with an interactive approach using Adshels [bus shelter ads] and social media," he explains.
The publicity could help to draw in students not necessarily living on campus. "While we are fortunate to be situated within a student accommodation area with high footfall outside, it is also important for us to reach out to the wider university community who do not necessarily reside within the immediate area," says Stephen.
"With the use of Adshels, alongside social media, we hope to promote all that the store has to offer in a fun and interactive way to entice the student shopper into engaging with the store team."
Richard has come up with his own way to target the students new to his area. "This year we have introduced a sampling table," he says.
"So, for us, it is all about the shopping experience and getting students, and other customers, to sample our food products. If it is the start of term, it is an opportunity to keep them as a customer for that whole year onwards.
"We have also just added two new Ben & Jerry's freezer units, which have been customised with lighting and display screens. With these, alongside our Cook fridges and new F'real machine, I believe we stand out as a very different store compared with our competition, which is what students and young people look for. Every year our student customers tell us how nobody else they've seen stocks the range of different products that we do, so they keep coming back."
Quick and easy dinners from Bestway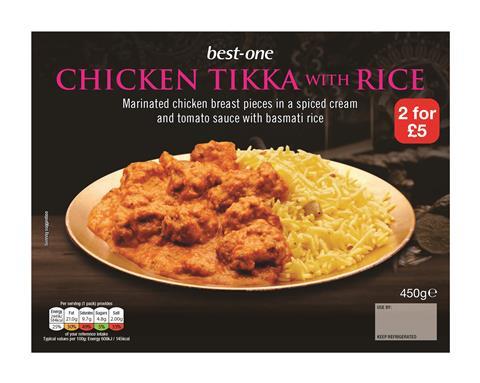 There's no faster solution for dinner than a microwave meal and Bestway Wholesale introduced a line-up of 10 chilled ready meals under its Best-one own label earlier this year.
The range spans traditional, Italian, Indian and Chinese, with meals such as sausage & mash, beef lasagne, chicken tikka and sweet and sour chicken.
All 450g meals, which have an rrp of £2.99 and are pricemarked with an offer of '2 for £5', can be cooked in the oven or microwave and are suitable for freezing.
The range has been designed with the need to combat wastage in mind and all products boast "a longer shelf life compared to the average ready meal," according to Bestway. The move reduces waste from approximately 5-15% on average to 1-2% for the meals in the Best-one range, it says.
Bestway director of trading for the chilled category Steve Carter says: "We've prepared these dishes using 'steam fresh cooking' – this means the products are cooked under high pressure in a steam cooker.
"Prior to cooking, all chicken is marinated for at least 24 hours, the beef is slow cooked, dumplings are made by hand and oven baked, the mash is prepared fresh for each batch, and all spices are blended in-house."
Health
While pizza and Pot Noodles may be on the shopping list, the move towards healthier eating hasn't been lost totally on students.
Continental Wine and Food marketing assistant Jessica Smith says: "Millennials are fuelling rapid growth in sales of healthier and innovative snacks. With Fresher's Week looming, we recommend retailers start considering alternatives to traditional snacks and confectionery in order to embrace snacking trends among student consumers. People are increasingly health-conscious and constantly seek guilt-free snacks."
Richard has seen first-hand an increase in the number of students caring about their health.
"Students nowadays are into healthy eating and a healthier lifestyle than ever before, so having large stocks of fresh fruit and vegetables is still vital," he says. "Students love to cook in larger groups compared with an average customer, so they often buy vegetables in bulk. Make sure you don't just stock the stereotypes."
Amy at Saputo Dairy UK agrees. "Demand for products that satisfy consumers' increasingly varied health needs continues to grow, with 63% of adults trying to eat healthily all or most of the time, up four percentage points in the past two years (Mintel).
"Healthier alternatives are driving significant growth across many grocery categories and space on shelf to support these lines continues to grow in convenience. C-stores have an imperative to track and respond to these evolving consumer needs around health if they are to remain competitive in today's marketplace.
"According to figures from Mintel, about four in 10 adults now regularly buy free-from food and drink, with younger demographics driving the trend. Mintel cites 30% of under-25s claim to have purchased products within the sector in the past six months."
Eat Real director of commercial sales and marketing Debbie King adds: "The rapid rise in demand for free-from snacks is making its presence felt both on and off campus where more and more convenience operators are realising that healthier snacking can deliver healthy sales.
"Students are definitely seeking out free-from and vegan products in a much bigger way than ever before, and they're looking for tasty snacks which really deliver on health benefits and flavour. Many students now have health at the top of their agendas and are actively seeking out great-tasting healthier snacks in preference to more traditional products."
Matthew suggests giving alternative lines a try. "Make the most of the growing trend for healthier options by including different carb types such as quinoa, rice and so on, and free-from and vegan offerings by keeping on top of npd in the category."
While it may not be considered healthy, there is no denying students' love of alcohol.
"With alcohol, spirits are big sellers," says Richard. "The vast majority of students nowadays seem to swing more in the direction of vodka. We make sure that we always have a few extra cases in the back, as if we were to run low or even run out, you don't want them looking elsewhere.
"That is not to say beers and wines are not important, too. Fully stocked levels of beer and wines are key. The real winner for us when students arrive back is boxes of beer. It is so important that we have good levels of boxed beer as they often bulk buy at the start of term."
Mike adds: "Fresher's Week isn't only about alcohol, but it's worth stocking up on the fruity ciders, Strongbow dark fruit, rosé wine, and keep the vodka well stocked up."
Also worth considering are some unusual non-food, but still alcohol-related, items that only students may demand, as Elena explains: "My older sister, who also now works for the Margiotta brand, went to university in this area of Edinburgh and said students are always looking for red cups to use for drinking games with ping pong balls. She said every university student is looking for them and we have to get them in.
"Now two or three of our stores are in major student-based areas of the city and they sell a lot of red plastic cups."
Kepak offers a big breakfast with Rustlers campaign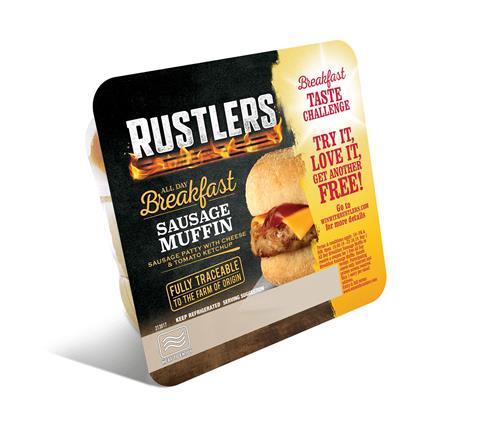 Kepak Consumer Foods is rolling out a nationwide campaign to encourage trial of Rustlers All Day Breakfast Sausage Muffin and help retailers boost their breakfast sales.
The Breakfast Taste Challenge, which runs from September 23 for a month, offers consumers a second free All Day Breakfast Sausage Muffin when they buy the product.
The offer will also be promoted on packs of Rustlers Quarter Pounder.
The promotion is estimated to reach 2.8 million shoppers and will be supported by an in-store activation and a national sampling campaign in partnership with student sampling company, Dig In.
Some 16,000 Rustlers All Day Breakfast Sausage Muffins will be placed directly into the fridges of students at eight universities across four cities.
Kepak Consumer Foods shopper marketing manager Monisha Singh says: "Widely viewed as the most important meal of the day, breakfast – whether at home or on the go – is eaten by 95% of the UK. This figure has risen 6.9% in the past four years, highlighting the opportunity for Rustlers to meet the growth in demand with hot, quick and tasty breakfast options.
"Since the product launched last year, the All Day Breakfast Sausage Muffin has quickly risen to become one of the most popular skus in the Rustlers range."