Unilever is bringing back its Brooke Bond Tea in a celebratory pack to recognise the brand's 150 years of history.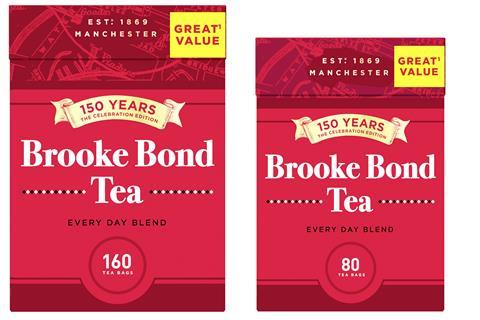 Available to convenience stores and independent retailers, the tea comes in two formats containing either 80 or 160 teabags (rrp £1 and rrp £2 respectively).
Fiachra Moloney, marketing director for tea at Unilever UK & Ireland, said: "We've been in the tea business since the 1800s and if there's one thing we know, it's that Britons love tea! By reintroducing Brooke Bond, we're ensuring that tea lovers across the UK can enjoy a quality cup of tea, no matter their budget.
"Returning to shelves in time to celebrate its 150th anniversary, the relaunch will not only warm the hearts of those who loved Brooke Bond previously, but it will also appeal to a completely new set of tea lovers. We can't wait to see the iconic red van back on shelves!"