Global Brands has extended its range of pricemarked cocktails in a can with a Flare passion fruit martini.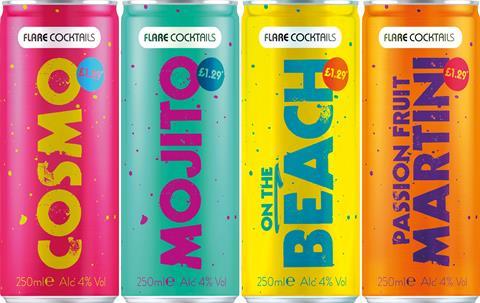 The new product features a revamped can design, which is also being rolled out across the rest of the Flare portfolio. The passion fruit martini flavour has an abv of 4% and comes in 250ml cans (£1.29 PMP).
Christian Sarginson, brand controller at Global Brands, said: "In cocktail terms, passion fruit really is the on-trend flavour, and is the number one on-trade cocktail serve according to CGA.
"The new addition fits the Flare range perfectly, sitting alongside other top serves; mojito; cosmo; and on the beach, meaning retailers can give consumers exactly what they're looking for when searching fridges for lightly sparkling cocktails full of flavour."
"The colourful new can designs will really stand-out in retailers' fridges, while the larger, bolder fonts make it easier for consumers to find popular cocktail flavours they're familiar with, helping to drive sales," Sarginson added.