The Co-op has become the exclusive retail grocery store franchise partner for the National Union of Students (NUS) as part of a deal which could see it serving seven million students over the next five years, as more Co-op franchise stores open on NUS member campuses.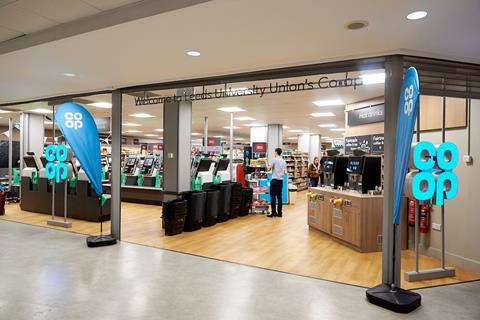 The expansion programme aims to create a significant number of new Co-op branded stores under its new franchise offering, as part of its plans to open 100 new stores in 2019.
The new stores will be run and managed independently by individual NUS members and will give access to a tailored range of 2,500 Co-op own brand products, with a wide range of fair trade, free-from and vegan options.
Co-op head of new channels Martin Rogers said: "We are delighted to partner with a like-minded organisation, like NUS, and to support the health, wellbeing and employment of students.
"Young people are hugely important for us and we look forward to working closely with NUS members and serving campus communities up and down the UK.
"We've a strong track-record in delivering for our customers and we know that when we work together to achieve a common purpose, great things can happen.
"This is a pioneering opportunity to grow our brand, share our values, and get our products into the hands of the next generation of customers and members."
NUS vice president of union development Erica Ramos added: "This new agreement with the Co-op builds on our existing relationship and the shared values that sit at the heart of the Co-op, NUS and students' unions and associations across the UK.
"I'm very pleased that we've been able to strike this agreement with one of our long-standing partners and look forward to seeing these new franchises taken up by our members."
The Co-op has so far opened seven franchise stores, with four based at universities, including Leeds (pictured) and Newcastle.
With a Co-op Membership card, students also get 5% back on purchases of Co-op products and services and TOTUM cardholders get an additional 10% off their shop.