Masala Waala is targeting consumers in a hurry with its range of premium Indian spice-based meal solutions, designed to balance the authentic flavours of Indian cuisine with the speed and convenience of ready-to-cook kits and mixes.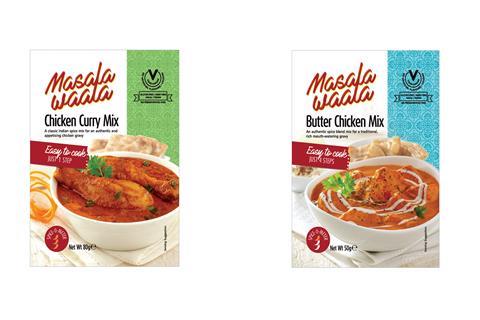 Made using all-natural ingredients, the line-up of finely blended spice mixes (rrp £1.50) and complete meal kits (rrp £2.99) are suitable for vegetarians, vegans and are Halal-approved and certified.
All products contain no artificial flavours, colours, preservatives or MSG and are available for retailers to purchase through Dhamecha and Bestway / Batelys.
Masala Waala founder Nimisha Chotai commented: "With today's busy and hectic lifestyles, it can be hard to find the time to cook genuine curries without compromising on flavour and healthy nutrition.
"At Masala Waala, we're all about making it quick, easy and economical to bring families and friends together over tasty and nutritious home-cooked meals. We intend this premium range to do for Indian cuisine what Old El Paso did for Mexican meals.
"We want to enable home cooks to combine value, convenience and authenticity with their choice of main ingredients to serve up superb family meals that are perfect and irresistible, every time," Chotai added.