After a tough 2020, consumers will be looking for ways to celebrate whatever the pandemic throws at them, and that includes going all-in for Easter.
1. Easter confectionery sales fell £84.4m in 2020
2. Premium gifting will be in demand
3. Social distancing offers more display opportunities this Easter
4. Off-trade alcohol rose 29% over the Easter bank holiday weekend
5. Consumers will seek out premium alcohol to celebrate Easter
6. Covid restrictions mean more Easter home baking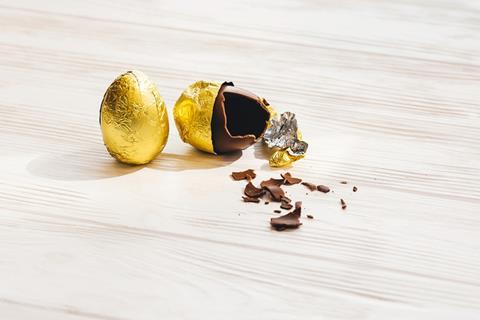 1. Easter confectionery sales fell £84.4m in 2020
IRI described total Easter confectionery as a "category casualty" with greatly reduced spend last year. "Compared with 2019, the Easter confectionery category alone declined by £84.4m in the seven weeks up to and including Easter week," says director client growth Tim Dummer.
Ferrero claimed that 2020 gifting sales were a far cry from previous years. "Gifting occasions at Easter looked very different this year, particularly as the occasions fell earlier on during lockdown while family gatherings were being cancelled," says Ferrero's customer development director Levi Boorer.
Mondelez International agreed that it had been a challenging season. "It has been a difficult year for us, but with the strength of the brands in our portfolio we've done better than our competitors," says Creme Egg & Easter brand manager Raphael Capitani.
Meanwhile, Swizzels recorded "better than expected" sales last year, growing its Easter range +26% [IRI Total Market data 4wks to 12/04/2020, Sugar Confectionery, Value sales].
At the time, a number of c-stores aired their frustration at not being able to source enough Easter stock.
However, Londis Culverhay Stores in Wiltshire reported a fair performance. "Our Easter went ok, Creme Eggs do really well," says store manager Megan Harper. "A lot of people weren't venturing out so they shopped here. We don't go for a big range of shell eggs, we have small and medium shell eggs. All of ours sold, which is good."
Spar Bruton in Somerset also sold out of shell eggs. "We had the small Malteser and large Cadbury Dairy Milk eggs," says sales assistant Matthew Butler. "We had a bigger selection than normal - one shelf of smaller eggs and a range of bigger eggs."
2. Premium gifting will be in demand as shoppers look for affordable springtime treats
Following a challenging year, and particularly given the challenging context of Christmas 2020 for many, upcoming spring occasions present an opportunity for shoppers to treat family and friends, states Ferrero. "While we don't know how restrictions will look when it comes to Mother's Day or Easter yet, with the new vaccination there is a sense of hope and people are looking forward to the possibility of celebrating upcoming spring occasions," says Boorer. "This may be in smaller groups than in past years, but we anticipate shoppers wanting to mark these events, making them even more special and gifting loved ones with affordable luxuries – such as premium confectionery, to add a little sparkle."
He advises larger stores to offer a broader range of premium Easter eggs to encourage people to trade up. "For example, we are increasingly seeing our Kinder 220g egg being given as a main present," says Boorer. The 220g eggs were up 47% during Easter 2020, and will receive a Minions update to celebrate the launch of "Minions 2: The Rise of Gru", out next summer.
Hames Chocolates, agrees that there will be hunger for premium "With this year set to be another challenging one, we predict that people will continue to look for premium food options to brighten up everyday life, says director Carol Oldbury. The firm has just launched a 5-strong range of premium lines.
Megan saw good sales of premium children's eggs. "We stocked Thornton's children's eggs with footballs and butterflies on them, which are quite pretty," she says. "We do the nice Ferrero Rocher Collection box, which does well."
Spar Bruton stocks a selection of larger eggs around the eight pound mark. "I think it's good to have options - I wouldn't rule out premium," says Matthew. "A lot of grandparents will come in to treat the grandkids and they'll spend more."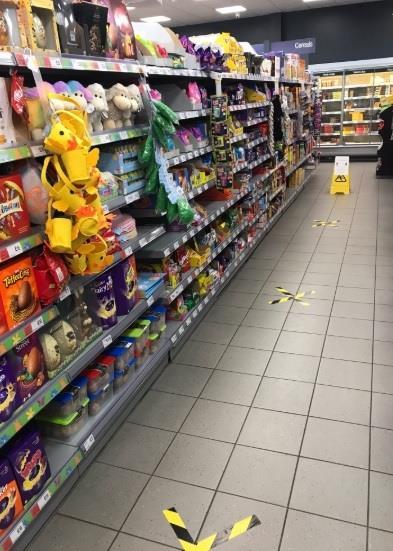 3. Social distancing offers more Easter display opportunities
Mondelez International claims that the introduction of one way systems within c-stores as a form of social distancing provides more opportunities for seasonal displays. "Stores with social distancing have to change how people walk around the store," says trade communications manager Susan Nash. "Customers are walking more of the store and that gives us more display opportunities."
Premier Foods also urges retailers to make the most of displays because the increase in online shopping could result in distress purchase missions. "Online shopping is expected to remain popular, and people will have to plan ahead to secure any supermarket slots ahead of events such as Easter weekend," says Courtney Lewis, customer director for independent convenience & wholesale. "This means impulse purchases may be forgotten, giving local stores the opportunity to come to the rescue. Items like Bisto gravy, Paxo stuffing and Ambrosia custard, will need to be particularly prominent in-store to grab attention. In the final month leading up to Easter, remind your shoppers to pick up the essentials with a dedicated display and point of sale material. Dual site favourites such as Bisto, Oxo, Paxo, Ambrosia and Bird's to drive sales at a time when we anticipate more shoppers turning to their local store."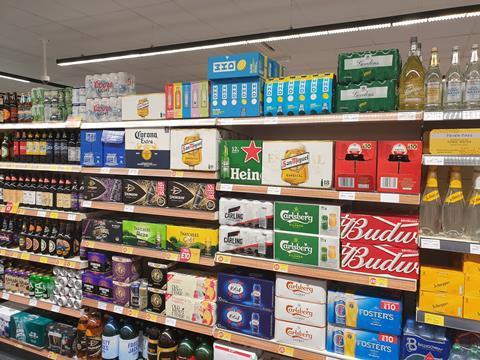 4. Off-trade sales of alcohol rose 29% over the last Easter bank holiday weekend
With the pubs shut, demand for take home alcohol rocketed over last year's Easter bank holiday weekend, with Nielsen reporting off-trade sales of 29% over the Easter bank holiday weekend.
Londis Culverhay saw a rise in sales. "Alcohol sold well over the Easter bank holiday last year," says Megan. "People were in and they wanted to drink alcohol and eat chocolate and crisps!"
Budweiser Brewing Group is hopeful that Easter will produce strong sales again in 2021. "Easter is one of the key selling moments for the beer category, with sales spikes coinciding with the bank holiday weekend," says head of category management Neil Baker. "We can expect an even larger boost in sales this year, as many Brits plan celebrations during the four-day Easter bank holiday weekend to compensate for an underwhelming festive period."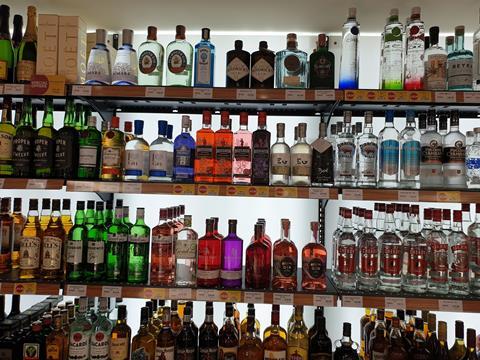 5. Consumers will seek out premium alcohol to celebrate
Budweiser's Baker notes that world beer typically spikes during the Easter weekend and recommends Corona as a "stand-out choice".
There is a growing market for more premium world lagers, according to Molson Coors Beverage Company. "Brands like Staropramen can bring new options to retailers' lager range and give people a chance to experiment and explore new tastes over the Easter bank holiday," says Kevin Fawell, off-trade sales director, adding that premium ciders like Aspall Cyder, cater for different consumer tastes.
Aston Manor Cider concurs. "Many will be forced to socialise at home this year and as a result they may choose to trade up to premium ciders to enhance their experience." The firm's popular on-trade Friels vintage cider is now available to the off-trade in a 5.5% ABV can.
Premium spirits are also predicted to do well, according to Ten Locks. "Offering premium spirits for at-home drinking occasions gives shoppers inspiration and ideas for creative drinks, whether as an impulse buy or a planned purchase for the Easter breaks," says head of commercial Becky Davies.
Londis Culverhay is hoping that its new and improved spirits selection will get consumers spending this Easter. "We had a shop refit in August and we now have a massive range of gins, rums and flavoured vodkas, whereas before we only had a smaller range," she explains. "We hope people have Zoom get togethers if they can't get together in person."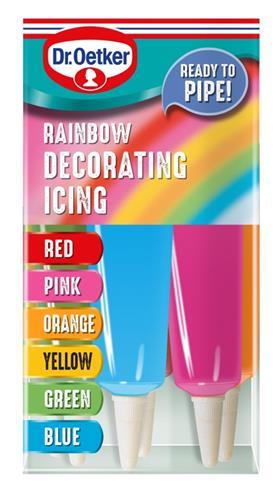 6. Covid restrictions mean more Easter home baking
"Spring is a huge season for the Home Baking market," says Jen Brown, head of marketing for cake & dessert at Dr. Oetker UK. "By Easter it is predicted that we may be emerging from the worst of the Coronavirus crisis, yet life won't be entirely 'back to normal'. Special occasions, including family reunions throughout the first half of 2021 are highly likely to be spent at home, meaning families and couples will look to make them as memorable as possible. A great way to make an occasion even more special is to prepare a meal, bake a beautiful celebration cake or make an indulgent dessert.
"We also expect baking together occasions to increase, whether this is a romantic activity between partners, or as a way to spend time with the kids throughout the half term and Easter school holidays."
Easter indexes at 125% vs. the category average with top performing products including Wafer Placements with an over index of 202%, Chocolate at 185%, Cases at 171%, Sugar Placements at 141%, Soft Icing at 148% and Marzipan at 141%, claims the company. "Dr. Oetker's Wafer Daisies, Chocolate Bars and Inclusions and Colours all perform well throughout the Easter period, with Yellow and Green colours proving most popular," says Brown. "Retailers should look to promote baking as a way to bring the whole family together, whether that's to celebrate Mum with breakfast in bed, or getting crafty in the kitchen with some Easter whole cake recipes."
Dr. Oetker has launched a brand-new pack of six decorating icing tubes, featuring six bright and bold colours. The Rainbow Decorating Icing pack joins Dr. Oetker's extensive range of home baking supplies and is perfect for adding colourful writing and intricate detail to bakes throughout spring.
"People make cakes for Easter and mini egg cheesecake is popular too," says Megan. "Home baking is definitely a big one for Easter. Lots of people make things and they come in and buy flour and other ingredients."