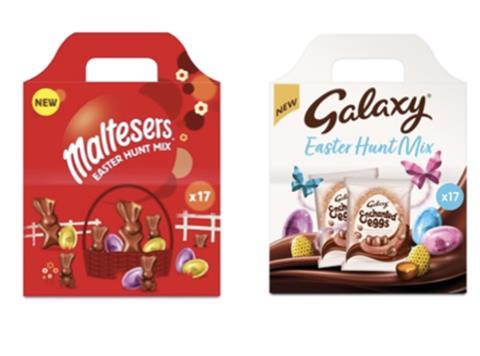 Mars Wrigley UK hopes to capitalise on late season sales with new Easter Hunt Mix packs from Maltesers and Galaxy.
In the four weeks leading up to Easter Sunday, purchases are often planned and intended to fulfil an Easter ritual such as egg hunts, baking and gifting, states Mars. The firm claims that it expects these rituals to evolve in 2021, as with fewer social gatherings to exchange gifting, there will be more egg hunt events hosted at home and Easter activities such as baking and crafting will become more popular.
New for 2021 are Maltesers Easter Hunt Mix and Galaxy Easter Hunt Mix, both of which retail at £6.99 and offer an assortment of treats for entertaining the family.
The new lines join Maltesers Easter Mix and Celebrations Easter Mix.
The Maltesers Truffles Luxury Egg, a top 10 NPD for 2019, alongside the Galaxy Truffles Luxury Egg, will both return for 2021 with an rrp of £11.99.
Mars is also expecting its Galaxy Caramel Mini Eggs, which boast a new packaging design, and Galaxy Enchanted Eggs 'More to Bake' lines to be a hit following the popularity of home cooking and baking during lockdown. The firm states that 30% of consumers are cooking or baking more than they did before lockdown and more widely 60% of shoppers enjoy baking (Kantar Lifestyle and FMCG panel).