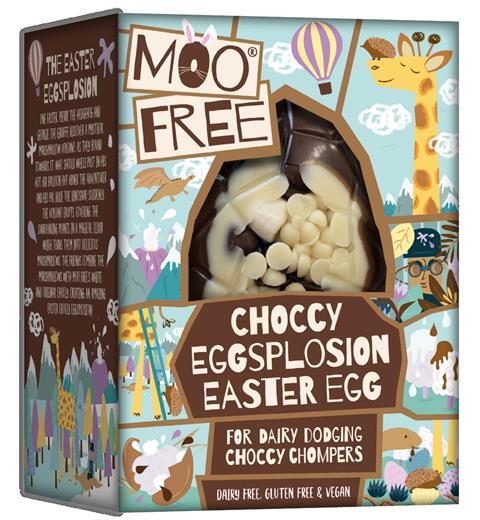 Devon-based Moo Free has revealed its free from Choccy Eggsplosion Easter Egg (95g, rrp £3.50). The striking vegan friendly egg is made using Moo Free's 'milk' chocolate and splashings of 'white' chocolate, with marshmallows and choccy drops.
"Seasonal occasions, like Easter, offer the chance for retailers to be more experimental," says chief executive officer Andrea Jessop. "Our range allows retailers to provide Easter treats to their customers who are actively seeking out Free From and vegan friendly products during this time."
Choccy Eggsplosion joins Moo Free's existing lineup, which includes its best-selling egg of 2020, the Original 'Milk' Chocolate Easter Egg, Bunny Comb Easter Egg (vegan honeycomb), White Easter Bunny, 'Milk' Chocolate Orange Hammy, Organic Mint Choccy Easter Egg and Organic Sour Cherry Easter Egg.
To increase Moo Free's visibility, this year they have invested in a PR and marketing strategy for 2021, which will aim to help expand their loyal fan base and increase purchase frequency.