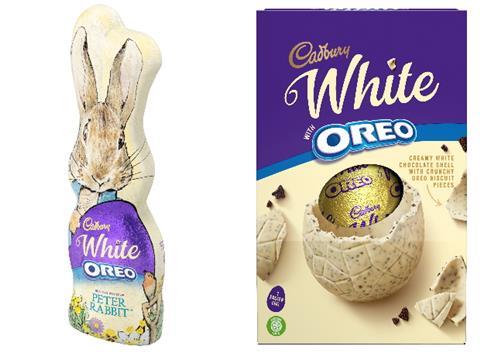 As part of its Beatrix Potter partnership, is Peter Rabbit hopping on to more than 87 million Cadbury packs, including small and medium shell eggs, Cadbury Dairy Milk (CDM) tablets and Bunny, and Cadbury Hollows, including a new White Oreo Hollow Bunny (rrp £2.99). CDM Plush Toys will feature a soft toy character of Peter Rabbit alongside a small Cadbury Dairy Milk shell egg.
Cadbury is also tapping into the £179m white chocolate category (Kantar Wordpanel, we: 14.06.20) with the Cadbury White Oreo Shell Egg (rrp £6). Containing one white chocolate egg infused with Oreo pieces, the gift is aimed at consumers shopping for adult family members aged 18-35.
Another new line for 2021 is the Cadbury Fruit & Nut Shell Egg (rrp £8), containing one giant egg alongside three Fruit & Nut 49g bars. The brand has seen 9.7% growth (Nielsen NIS MAT we: 21.03.20 Total Market including Discounters / Kantar MAT 19th April 2020) and the egg is targeted at those buying for over-45s.
2021 sees the return of CDM Bunny Orange and Vanilla Mousse variants, as well as CDM Egg'n'Spoon original and Oreo lines; the 50g and 100g hollow CDM Bunny; and the 50g hollow Popping Candy CDM Bunny.
The group is launching a campaign based around its Cadbury purple egg, encouraging consumers to "Show you care…hide it!" This is expected to reach around 98% of all adults during the Easter season through TV, video on demand, out of home and digital PR, in-store activations and experiential marketing. A new digital activation will enable consumers to hide an egg virtually for someone they love anywhere in the world.