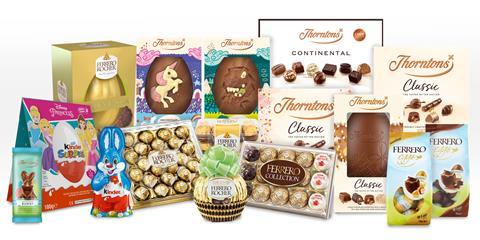 The firm is focusing on the importance of core range alongside seasonal in 2021
Ferrero has revealed its Spring line-up for 2021 with updates for its top selling Kinder, Thorntons and Ferrero lines. This season Kinder Surprise 100g comes in mixed cases featuring Marvel heroes Black Panther, Thor, Spiderman and Captain Marvel alongside Disney Princesses including Rapunzel, Belle and Ariel.
Large Kinder Surprise 220g eggs saw 47% growth in 2020 and in 2021 they will be celebrating the launch of Minions 2: The Rise of Gru, due out next summer. Meanwhile, Kinder Flame Eggs (150g) will carry licenses from Toy Story and Marvel.
Thorntons' unicorn and dinosaur eggs are returning for 2021. Before the first national lockdown Thorntons experienced growth of 6% (Nielsen Total Easter Confectionery 15 wks to 11.04.20 vs. 15 wks to 20.04.19) and was the only confectionery brand in the top seven to grow in terms of both value (+6.3%) and volume (+21.2%) in that initial period (Nielsen, Total Easter Confectionery, 10 wks to 14.03.20 vs. 10, wks to 14.03.19).
The luxury Ferrero Hazelnut and Cocoa eggs saw double-digit growth during Easter 2020, growing by +29% and +24% respectively [Nielsen Scantrack; Total Easter Confectionery; 15wks to w/e 11.04.20]. Ferrero Rocher Golden Easter Egg and Ferrero Collection Milk Egg will both receive a makeover for 2021 to provide greater stand out on shelf, while also highlighting the quality of the products inside. The Ferrero Rocher range will be supported across multiple channels at each occasion throughout spring.
The company is confident that consumers will turn to premium lines despite the challenges posed by the pandemic and current economic situation. Levi Boorer, customer development director at Ferrero, said: "Despite the context of spring 2020, having to remain away from our loved ones during the pandemic has left shoppers feeling sentimental and more appreciative than ever. While upcoming spring occasions may be enjoyed in smaller groups depending on any restrictions, people will likely be eager to make the events even more special and turn to more premium brands to add some sparkle.
The company is urging retailers to concentrate on core lines. It highlights that Thorntons Classic was the fastest growing boxed chocolate brand at both Valentine's Day and Mother's Day [Nielsen; Boxed Chocolate; Value sales growth; 3 wks to Valentine's Day & Mother's Day; Top 10 brands]. Alongside this, Ferrero Rocher T16 (200g) also saw growth of +24% and Ferrero Collection of +15% [Nielsen Scantrack; Total Boxed Confectionery; 3wks to w/e 22.03.20]. Ferrero Rocher T24 (300g) also remains the number one boxed chocolate SKU at Valentine's Day [Nielsen Scantrack; Total Boxed; Give to Share; 3 wks to w/e 22.03.20].
For 2021, the Thorntons Classic gift-wrapped 'With Love' packs will benefit from a more premium design.
"Although there has been physical distance, gifting has remained key, with shoppers happy to spend extra in order to treat loved ones and themselves during what has been a challenging year," added Boorer. "Both Rocher and Collection are performing ahead of the category, with the former in value growth of +2.6% [Nielsen, Total coverage, 52we 05.09.20]. Our aim will be to focus on this success, with our trusted brands and products helping to ensure retailers can provide exactly what shoppers are looking for in store as we approach Valentine's Day, Mother's Day and Easter."