Find out the winning formats across seasonal self eat, sharing and gifting
1. Christmas Confectionery grew 9.4% in indies & symbols in 2020
"Christmas Confectionery 2020 in independents & symbols finished +9.4% driven by core Christmas products," says Mondelez International's trade communications manager Susan Nash. "In the run up to Christmas basket spend is 49% bigger from shoppers purchasing Christmas confectionery so is a key focus for your store."
Peter Patel, who owns five Costcutter stores, took full advantage of changing shopper missions last Christmas. "It was the best xmas we've had," he says. "Where we went into another lockdown it meant people stayed locally. We went big because the same thing happened at Easter so we anticipated that there may be an opportunity. The gifting side of it went down, but self eat was good, and blocks, and we sold out of advent calendars."
St Mary's Supermarket in Southampton was caught out by strong demand for Christmas confectionery. "We lost out," says owner Meten Lakhani. "Last year we did better than we thought. We thought there'd be none of that because people will stay at home and people who work nearby weren't coming in to work."
However, he quickly discovered that lockdown wasn't going to stop people chasing festive chocs. "We cut our order," he says. "We cut tubs down by 30%. Normally we order 360 odd tubs of chocolate, but we only ordered 260. But we sold loads!" In fact, he was forced to restock at the multiples. "We sold out two weeks before Christmas! We had to order from Tesco online to get stock. Normally I get Booker on the phone offering me things, but they'd sold out."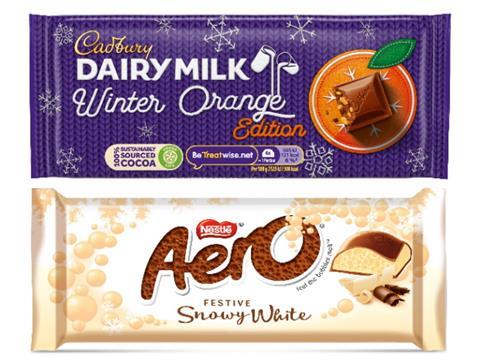 2. Seasonal blocks grew 43% in symbols and indies in 2020
2020 saw an increase in consumer demand for seasonal bags and blocks, claims Nestlé. Indeed, in the convenience channel sales of seasonal blocks grew an impressive 43% (Source: IRI, Symbols & Independents, 20 w/e 26th Dec 2020 YoY). The firm wants a taste of the action with its new Aero Festive Snowy White Block (rrp £1), which follows the successful launch of Aero Dreamy White Snowbubbles last year.
Mondelez agrees that sharing formats did well, stating that Christmas Sharing grew +35% in Indie and symbol stores. CDM's Winter Wonderland edition was the number three sharing line and the firm is hoping to capture consumer interest with its new Winter Orange variant.
Chocolate tablets were one of "the big winners of the season," concurs Storck md Andy Mutton.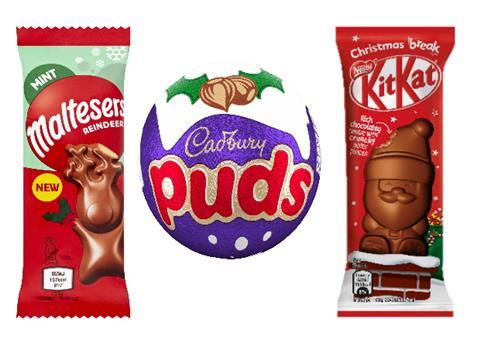 3. Over 50% of Christmas products sold early in Christmas are self eat
"It's really important to get a fast start," says Mondelez's Susan Nash. "50% of Christmas products were sold in the early part of the season and they were the smaller eats." She urges retailers to focus on self-eat lines, such as the firm's new Christmas Puds and the Cadbury Dairy Milk Snowman, which is the number three seasonal self eat. "Focus on bestsellers and make sure you have something at every price point and concentrate on self eat," advises Susan. "There's a lot of anticipation about on the go, which will drive self eat. If you have a range of price points you can encourage trade up."
Last year Meten cut his festive self-eat order in half, fearing that people wouldn't buy as much during the pandemic. "We halved our order of things on the counter," he says. However, he was pleasantly surprised as sales were strong and he is increasing his orders this year. "We're expecting a big one," he says.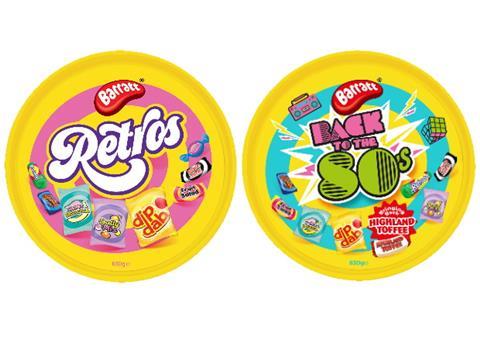 4. There is strong demand for affordable adult gifting
According to the Nestlé Blueroom Study for Christmas 2020, 60% of shoppers say they want to see more adult confectionery gifts in the market under £5. The firm has launched an After Eight giant tube (rrp £1.38) in response to this, which joins existing tubes from Rowntrees, Smarties, Milkybar and Rolo.
Also appealing to cash conscious adults might be the retro ranges from Valeo. 63% of sweet eaters agree that retro sweets are a cool gift for adults and 68% of sweet eaters enjoying sharing sweets they had as a child with their family (Mintel Sugar Confectionery Report 2020), states Valeo. "This informed our decision to bring back Highland Toffee in our new Back To The 80s tub [rrp £3.50] and expand our tub range alongside our Barratt Retros Tub [rrp £3.50] which was our most popular seasonal line last year," says Russell Tanner, marketing and category director at Valeo Snack Foods.
Peter needs no convincing that affordable gifting is an opportunity. "There's definitely a market for that," he says. "Because we don't have a massive range available, we have a member of staff who makes up cellophane gifting packs filled with chocolates. Smaller ones start at £2.99 and they go up to £20. The adult ones can include a miniature bottle wine. We make about 35% on them. We've found it's mainly men who buy them - they like them because they don't have to think about it, it's already wrapped for them."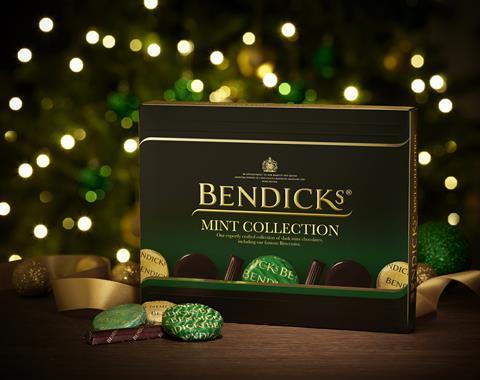 5. 61% of 2020's After Dinner Mint sales within convenience occurred between Oct and Dec
As 61% of After Dinner Mint (ADM) annual sales occurs between October and December [IRI Convenience GB Value Sales we 27.12.2020], it is vital to ensure boxed chocolates are stocked well throughout this period, states Storck, which claims that Bendicks saw almost +20% growth in shopper spend last year. The brand's Mint Collection box is its best seasonal performer and this year sees the addition of Bendicks Mint Fondants combining peppermint fondant with 50% dark chocolate.
Peter is of the opinion that ADM could be a hit over Christmas 2021, noting that there are more products available than in previous years. "I think the suppliers think that [ADM will be big] as there were a few new brands this year - there were After Eights, but also tertiary brands."
Nestlé believes that flavours will continue to create added interest in the area. "In 2020 flavours drove the growth in the After Dinner Mint category, adding £3m in value sales (IRI 20w/e 26th December 2020, Value sales)," says the company. "Last year's After Eight Gin & Tonic flavour generated £2m of this value and was bought by over one million people, 50% of whom were new to the After Dinner Mint category." Capitalising on this trend, After Eight plans to generate more buzz this year with its new Mojito & Mint flavour, which is expected to appeal to younger consumers.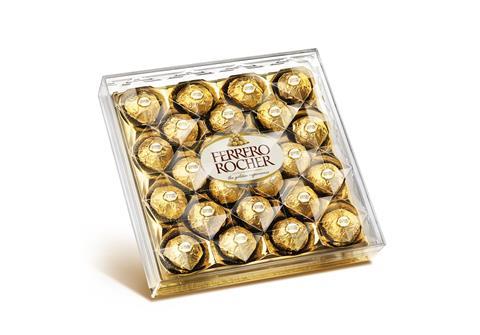 6. 86% of consumers continued to gift something special last Christmas
Last year presented an unusual and challenging Christmas, states Mars Wrigley UK. "Despite the skepticism around Christmas 2020, from a sales perspective, the retail and confectionery sector saw better-than-expected sales," says Alison Berry, senior brand manager, seasons & gifting, Mars Wrigley UK. "Likewise, throughout the season, shoppers continued to give gifts to loved ones, with 86% of consumers continuing to gift something special – despite a turbulent Christmas period [Mintel Christmas Gift Buying, UK - February 2021]."
Ferrero claims that the gifting occasion saw increased growth. "This was likely down to loved ones being unable to see each other and turning to gifting instead," says customer development director Levi Boorer. The firm saw its boxed chocolates put in a strong performance, with its 300g packs selling especially well. "Having had huge success last Christmas, the product is the number one in classic boxed chocolate with growth of +31% and adding +£5m to the range (AC Nielsen Total Christmas Confectionery, Total Coverage 18 weeks to 26.12.20)," notes Boorer. The company is expanding its gifting range with Grand Rocher Dark 125g.
Peter saw strong sales of Ferrero and Thorntons last Christmas. "Premium boxed chocolates like larger boxes of Thorntons and Ferrero performed better than standard boxes of chocolate," he says. "After the year they'd had, people just took it as a time to treat themselves."
Boxed chocolate was also a major pull for Kenninghall Stores in Norwich. "We'll do 20 or 30 cases of boxed chocolate," says owner Mike Humphreys. "If it's a really good line eg boxed chocolate - 360g Dairy Box for £2.75 - it bombs out so we get loads in."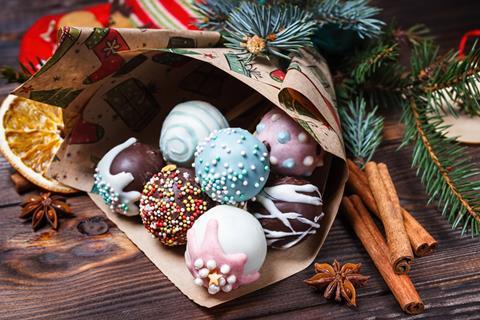 7. Christmas confectionery shoppers likely to spend more in 2021
"Following last Christmas in lockdown, we expect shoppers to be much more active in stores this year in order to stock up for family filled fun this Christmas," says Hancocks marketing communications manager Chris Smith. "As customers are making more and more trips to the shops to stock up on groceries and festive decor, the opportunity for independents to sell a range of boxed confectionery for gifting has never been greater. Retailers should ensure they stock a small selection of boxed confectionery alongside other festive lines. To cater to all customers, retailers should stock gifting ranges from sugar confectionery to traditional chocolate." The wholesaler's 2021 festive range contains around 600 lines.
Mondelez International is equally positive. "There will still be people worried about going into city centres so there will be growth in local," says Nash. "It's a good opportunity for retailers his year."
Valeo Snack Foods is expecting consumers to "go all out" with celebrations given last year's muted festivities and Tanner therefore expects gifting will be bigger.
Lir Chocolates agrees: "With this the first Christmas that shoppers hope to be normal in two years, consumers are predicted to splash out, with 30% planning to spend more (Ebay ads 2021)," says brand manager Katie Byrne. The firm has launched a Baileys Chocolate Bombe, which can be made into an indulgent hot chocolate by pouring over choice of milk.
Ferrero also has high hopes for the season. "This year, with restrictions hopefully eased, Christmas celebrations should be able to return and support in driving the seasonal confectionery category as a whole," says Boorer.
Meten is preparing for a strong 2021. "People's last [proper] Christmas was 2019, no one's seen family or friends or had a New Year's Eve party," he says. "We're already selling tubs and special boxes of Rocher."
Peter is also expecting sales to grow. "This year we've gone big again and we've increased our orders," he says. "I think we'll see gifting go up."