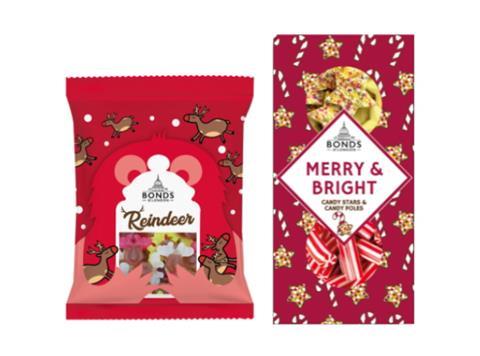 Confectionery wholesaler Hancocks has revealed its Christmas 2021 range, containing around 600 lines from over 50 global suppliers, with new launches from Bonds of London, Warheads, Nerds and exclusive Vimto products.
Bonds has a sackful of Christmas lines, including its 'Merry & Bright' and 'Happy Hour' Pun Boxes, containing candy stars and candy poles; Bonds Candy Stars 140g and Reindeer Jellies 140g share bags; and 'Festive Mix' Shaker Cup from Bonds.
Also new to the range is Bonds Sweet Sprinkles - a gift set of six jars of sweets to go on cakes, milkshakes, hot chocolates, ice-creams and desserts.
Exclusive to Hancocks for Christmas 2021 is the Vimto North Poles 140g sharing bag.
Also new is a Nerds Advent Calendar and Warheads Sour Candy Canes.
Giant Nerd's 250g boxes are another new addition to Hancock's Christmas range for 2021, available in Lemonade and Strawberry or Grape and Strawberry flavours.
This year's Christmas Brochure also contains a variety of niche brands available online from Hancocks, including Joe & Seph's, Tony's Chocolonely and Booja-Booja.
The pick and mix range at Hancocks has numerous new sweet treat additions this Christmas including the Jelly Snowflakes, Santa Belt Foil Chocolate Coins, Santa and Christmas Tree Mallows and Crème Filled Golden Bears.
There's also an exclusive pick and mix bulk line from Haribo. Giant Trees are available in 2.75kg bulk bags.
In addition, Hancocks is offering a 850g Giant Share Bag of Pick & Mix'd Winter Mix.