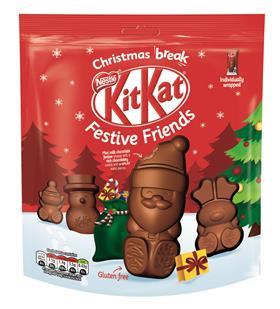 New festive blocks and sharing bags from KitKat, Aero and Milkybar feature amongst Nestlé Confectionery's Christmas line-up. KitKat Santa is back for 2021 and this year sees the addition of the KitKat Festive Friends Bag 220g (rrp £3.50). Designed for sharing with friends and family, the bag features 12 mini KitKat Santas and a mix of 10 other shapes, including a Christmas tree, elf, gingerbread man, snowman and reindeer. The new bag joins the 29g impulse bar (rrp 65p), a five bar multipack (rrp £3) and a 55g bag of individually wrapped mini Santas (rrp £1).
Nestlé claims KitKat Santa was the number one product launch last Christmas (IRI 20 w/e 26th December 2020, Value sales), with sales of the impulse bar attracting over 450,000 new shoppers (KantarWorldPanel 20 w/e 27th Dec).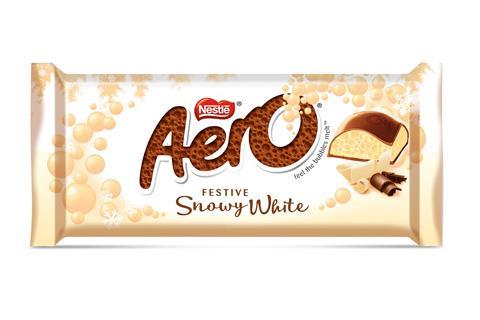 The firm aims to capitalise on the popularity of blocks with its Aero Festive Snowy White Block (rrp £1). This follows the successful launch of Aero Dreamy White Snowbubbles last year and features the same white and milk bubbly texture, with a white centre enrobed in milk chocolate. The Aero Dreamy White Snowbubbles 80g bag (rrp £1) also returns to the range for 2021, after becoming the No.1 new bag launch at Christmas last year (IRI, Symbols & Independents, 20 w/e 26th Dec 2020 YoY) .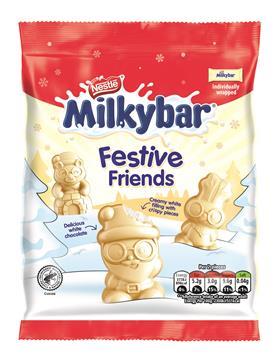 For the kids, Milkybar has unveiled its Festive Friends Sharing Bag (rrp £1) containing an array of individually wrapped white chocolate festive shapes with a creamy white filling and crispy pieces. Each bag contains seven pieces from an assortment of seasonal shapes such as a gingerbread man, bauble, Christmas tree, stocking, snowman and Santa.
Another new launch is the After Eight Giant Tube (rrp £1.38) packed with bitesize pieces of dark chocolate filled with mint fondant. The new tube joins the existing range, which includes Rowntree's, Smarties, Milkybar and Rolo. This year, Smarties Giant Tubes will move to fully recyclable paper packaging.
This year Nestlé is bringing together its wealth of iconic brands to launch the brand-new Christmas Selection box (rrp £3), including KitKat 4 Finger, KitKat Chunky, Aero Peppermint, Aero Milk, Yorkie and Rowntree's Fruit Pastilles.
Twistwrap favourite Quality Street will benefit from a £2m media spend, including TV, video on demand and social media activity. The brand is introducing a new mix of sweets across its range of formats to include more consumer favourites. A new Quality Street 2kg Tin (rrp £18.99) will be available nationally for the first time.
Plus, the Quality Street Purple One and Strawberry Delight novelty gift boxes (rrp £6) will benefit from a makeover which sees them reduce their plastic packaging and move to fully recyclable cartons.
For Christmas 2021, Quality Street Intrigue Orange Truffles are available nationally, as well Salted Caramel Truffles, both rrp £5. Intrigue will benefit from a £2+m media and shopper spend targeting key gifting occasions across 2021, including Christmas.
The 400g After Eight Christmas tin (rrp £6) has an "eccentrically British" design for 2021. The eye-catching 400g tin (rrp £6) is ideal for trading shoppers up. A PR and social media campaign across the festive season will also keep the brand front-of-mind with consumers.
Aero Bliss Peppermint is now available after launching exclusively with Tesco last year, where it became the No.1 new boxed chocolates product (IRI 29.12.20 4 wks Value Sales Tesco Segment). Aero Bliss Peppermint joins the Aero Bliss Mixed Selection, which includes milk chocolate, salted caramel and praline flavours (rrp £5). The brand will be supported by its biggest media spend to date across the path-to-purchase, including out-of-home advertising, social media, PR and in-store media, encouraging shoppers to 'Gift a little Bliss'. The Dairy Box sweet range has also been revamped to include Salted Toffee for the first time, juicier and tangier flavours in the Orange Surprise and new Strawberry Kiss, plus new shapes for the Chocolate Velvet and Cookies & Crème sweets. What's more, the box and tray are now fully recyclable. The Dairy Box Winter Collection (388g, rrp £8) will also return to the range with a refreshed design.