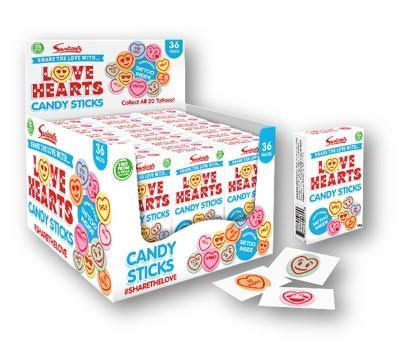 British sweet manufacturer, Swizzels, has extended its Love Hearts brand into candy sticks. Packs contain plain white candy sticks with a temporary tattoo featuring a positive and 'feel good' message. There are twenty different tattoo designs for customers to collect. Love Hearts Candy Sticks, rrp 35p, contain no artificial colours and are available in 36 count shelf ready packs.
Currently, 1.75 billion Love Hearts are produced every year and Swizzels is confident that strong brand awareness and loyalty from a wide demographic will help ensure Love Hearts Candy Sticks become a popular product in the market.
Sarah-Louise Heslop, Marketing Manager at Swizzels said: "Our Love Hearts brand has been around for nearly 70 years and is still as popular today as it was when it first launched. We're always looking for new and exciting ways for our fans of all ages to enjoy Love Hearts in any form, and the brand-new Candy Sticks are the perfect way to do just that.
''We ensured that our Love Hearts messages were made prominent across the collection as they are the essence of the brand – especially in our current climate. The 20 temporary tattoos featured throughout the range is a great way to achieve this and provide a sweet 'pick-me-up' for our customers!"