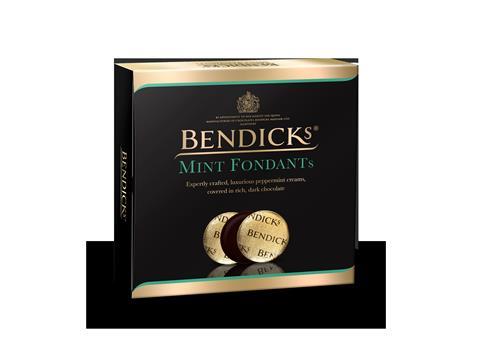 Bendicks is to add new Mint Fondants to its range.
Available from later this month in an 180g box (rrp £4.11), the new line combines soft peppermint fondant with 50% dark chocolate. The launch hopes to tap into the growing trend for indulgent options as more shoppers buy into darker chocolate.
Rebecca Robert, marketing director at Storck UK, said: "The introduction of our new Mint Fondant pack is an exciting launch for the brand. Having monitored consumer behaviour, we see an increased demand for dark chocolate, dairy-free and vegan options, as well as indulgent flavours and softer textures. Bendicks Mint Fondants use the highest quality ingredients, and are Kosher Pareve, gluten-free and vegan so certainly deliver against these consumer desires. We're confident that the new pack will be enjoyed by our existing Bendicks customers, but will also encourage new shoppers to buy into the finest, quintessentially English after-dinner mints.
"Stocking products that balance health and indulgence claims offer the greatest potential to drive value. The new Mint Fondants provide retailers with an opportunity to offer their customers great flavour and texture combinations as well as catering to shoppers looking for allergen-free chocolate treats."