Track all the trends that can help you hit your customers' sweet spots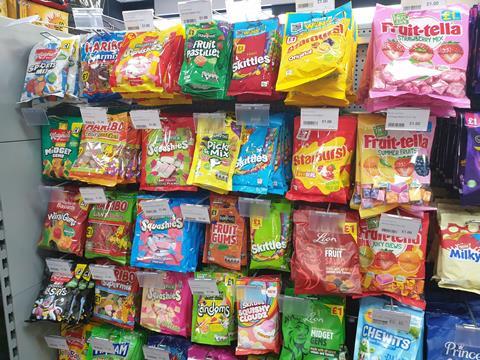 1. Sugar confectionery sales in convenience are up £9m versus pre-covid
Total Sugar Confectionery within convenience has grown by £9m since May 2019 (IRI), observes Storck. "This growth has been driven by Bags, which has grown by £36m in the same time frame," says Andy Mutton, managing director at Storck UK. The firm is driving awareness of its Werther's Original brand with a £3m media campaign targeting a younger audience.
Valeo Snackfoods says that sugar confectionery value growth in convenience compared to pre-covid is outperforming supermarkets and the overall market (IRI). "Much of this is driven by gums and chews in hanging bags," says marketing director Russell Tanner.
Perfetti Van Melle has seen success in this area with its Fruittella sharing bags, which are growing 18.3%, driven by the core range of Juicy Chew and Duo Stix bags (IRI).
The category's resilience is reflected in sales at Sanjay Chandarana's three Budgens stores in Hertfordshire and Bedfordshire. "Sugar confectionery is a pretty strong category for us," he says. "All confectionery is selling really well, even more so the American stuff."
Over at Nisa Local Bellshill in North Lanarkshire in Scotland, Daniall Nadeem runs a tight ship. "We don't stock a massive range - Haribos, Maoams, Maynards, local supplier, and Co-op lines. It keeps it simple, there are no dead sellers. We stick to what we know," he says. "We have a bit more play room with the sugar confectionery [margins] compared to chocolate. With chocolate we get an offer every six months, but with Haribo and Maynards you can always pick it up on offer from somewhere and get a 45% margin." He also makes strong margins on his American confectionery.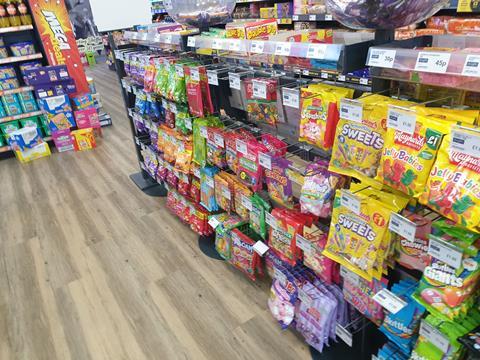 2. HFSS product location will have more impact than pricing deterrents
From October 2022, display restrictions on products high in fat, sugar and salt (HFSS) will mean they are not so visibly displayed in affected stores and the volume price promotion restrictions from October 2023 will reduce the level of impulse purchase. "[Larger] convenience retailers should look to create feature space at other locations within the store, for example, in aisle or on the back wall dependent on store space," says Mutton.
Daniall has been exploring alternative display options at Nisa Local Bellshill. Despite Scotland not being subject to the legislation, Daniall has been working with Mondelez International to try and prepare for the restrictions, which he expects will impact him further down the line. "We've recently partnered with Cadbury for the HFSS legislation to get us on board as quickly as possible," he says. "We converted a whole promotional bay to pound blocks, boxed chocs, biscuits and jelly sweets."
The bay was trying to push customers to the back of the store, he claims, but it has so far failed to have the desired effect. "We've given up a promo bay opposite the aisle for confectionery," he says. "But if you want me to be completely honest, we're not selling any more or less. It's difficult to say until it comes into play, but I think HFSS will hit quite hard."
Sanjay agrees: "I think it is quite a big issue - when the promos are on they [sweets] sell five times as quick on promotion," he says. However, he remains confident that location is the most important factor. "As long as your sweets are in a good location anyway and your shop is set out right, they'll get what they need to," he says.
Recent research from GS1 UK found that moving HFSS products to less-visible locations in stores is more likely to have an impact on consumer shopping behaviour than pricing deterrents.
"Retailers should keep in mind that clever merchandising can help customers find the products they know and love," says Valeo Snackfoods' Tanner. "This can include shelf ready packaging which allows a brand to stand out continually, even at low stock levels, they also make it easier for retailers to replenish stock. Shelf labelling is another way to ensure products aren't being missed, stand out branding and clear signage can help customers navigate the store easily (IGD)."
ADVERTISEMENT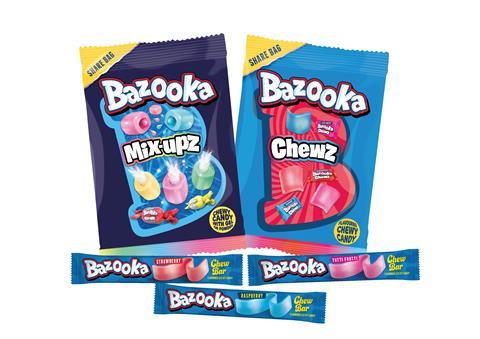 Bazooka Chewz, Chew Bars and Mix-Upz burst onto the scene
Introducing new and improved Bazooka Chewz and Bazooka Chew Bars. Candy that is irresistibly soft and delectably chewy. Currently available in three mouth-watering flavours – Raspberry, Strawberry and Tutti Frutti.
Bazooka's latest addition to the Bazooka Range. Bazooka Mix-Upz is the only Bazooka chew mix that offers a choice of both gel and powder-filled chewy candy in one bag. This soft chewy candy is perfect for sharing! Offering a variety of fruity flavours that is individually wrapped. Powder-filled chews comes in 3 flavours such as apple, lemon and sour cherry. Gel filled chews also comes in 3 flavours such as watermelon, strawberry and raspberry.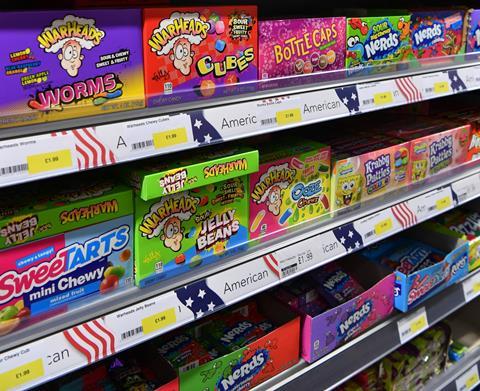 3. American sweets appear to be immune to cost of living crisis
Despite a number of consumers cutting back on spending of late, it appears candy is dandy, with people happy to pay a premium for American brands.
Daniall was early to the trend and notes that the sub-category is becoming more crowded of late. "We jumped on board with US confectionery, but the more retailers who came on board killed the demand slightly, but I would 110% say it's worth having," he says, even though he has had to increase the prices of certain items by a third. "We used to get away with selling a bag of Jolly Ranchers for £2.99. I had to increase my selling price by a £1 to make a margin, but people will happily pay £4 for Jolly Ranchers."
Sanjay is also a champion of stateside sweets. "When it comes to sweets in the UK it gets pretty boring with Haribo and Rowntrees and that's it. But America has such a wide range and the packaging is good," he says. "Because a lot of it's on social media and a lot of social media is American, that's where the kids see Jolly Rancher, Mike & Ike, Sour Patch. Even the adults come in and buy it every day, rather than just going in to get it for a special treat, it's become a normal sweet purchase."
Mondelez claims that The Sour Patch Kids range is growing exponentially in the UK. "In the past year alone, sales have grown by 56% making it the fastest-growing joyful candy brand on the market [Nielsen] ," says trade communications manager Susan Nash.
Sanjay recommends displaying American confectionery alongside the standard confectionery offer if space allows. "In two of our stores - Meppershall, and Watton-at-Stone - we have it in the sweet bay and then we notice more regular purchases," he says. "I'd always say get it within your sweet run and you'll sell a lot more. In Walkern [where it is displayed separately] it's more of a special purchase."
He keeps a close eye on TikTok to spot up-and-coming products, highlighting Jelly Blast and Nik L Nip sweets as popular lines. "We're selling a lot of those, you have to stay on the pulse," he says.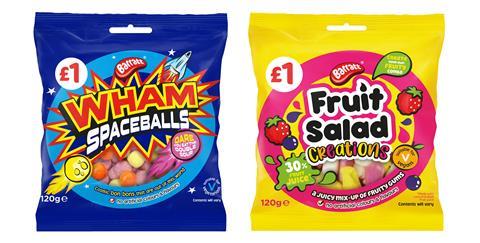 4. PMPs make up 28% of sugar confectionery value in convenience
Given the current cost of living pressures, it is unsurprising that price marked packs (PMPs) are a popular, fast growing pack format, notes Valeo Snackfoods. "PMPs are particularly important in the convenience market, making up 28% of total sugar confectionery value (IRI)."
The group offers a wide range of PMPs, including Whamtastics, Wham Spaceballs, Fruit Salad Creations, and its newly launched Poppets range.
Pricemarked sweets are a big draw for Daniall's customers. Despite shoppers being happy to pay more for American confectionery, they are unwilling to part with a few extra pennies for household names. "They'll cry if you add 9p on to a bag of Haribo," he says. "A few months ago we tried to get rid of PMP and go to non-priced to give us more flexibility on margin as there was a lot of concern on Haribo stock lines at the tail end of covid. We put them out at £1.09 and £1.19 and we couldn't shift them. It depends on your demographic. In a neighbourhood community store, it's difficult to change the price."
Nisa Local Belshill has also seen demand for sweets in PMPs. "We've had to move across to PMPs in recent months," he says. "C-stores had a really good two or three years. Where people are going to be tight this year, I like to give a bit back. I don't mind if I lose 3-4% margin on confectionery because customers have supported us when we needed them. On American confectionery there's a 50% margin, whereas with Haribo it's 25-30%."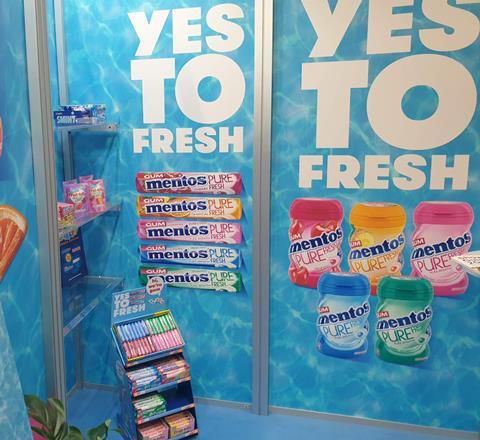 5. Sugar free confectionery has doubled in value sales
GS1 research revealed that four in ten (41%) consumers would be more likely to eat a product that had been reformulated to reduce its fat, sugar or salt content, revealing a willingness to swap familiar products for healthier alternatives.
Storck claims that Total Sugar Free confectionery has doubled in value sales since March 2021 (IRI). Werther's Sugar Free has helped drive this growth, by growing 87% in the same time frame (ibid), states Mutton. "Werther's leads the Sugar Free category with a market share of 46% [IRI] IRI Unify, Convenience, 52we 21.05.22," he adds.
Perfetti, which exhibited at the National Convenience Show in March, was surprised that more retailers attending the event hadn't heard of the HFSS regulations. Marketing and trade marketing director Mark Roberts believes there is "a clear opportunity" to provide shoppers with more sugar-free products that offer a healthier alternative and can help with portion control. The firm's sugar-free range is growing +22% YoY (IRI) and supports the government's proposed guidelines of under 150kcal per pack.
Daniall agrees that people are starting to eat healthier, but isn't convinced that this is mirrored in sugar confectionery. "Our cereal bar sales are going through the roof and low alcohol is doing extremely well," he says. "In terms of confectionery, it's a difficult one. We've had some low sugar confectionery lines we've had to get rid of. Fruittella does low sugar lines, but we stick to full sugar as we can't have a slow selling line. We know it would be beneficial to diversity, but we're trying to make every square inch of the store work. In student areas they'd do a lot of free from and gluten free, whereas the elderly generation are lost in their ways, they feel it's too late to change."
Sanjay agrees that sugar-free lines aren't fast movers, but he believes they are a crucial part of the product mix. "They're pretty slow," he says," But you have to give the option. It's the same with some vegan lines. They don't always sell that well, but [if you stock them, then people will come to you to] buy other products. Where we have space in the free from/vegan area we have a row of low sugar chocolate bars and sweets."
Mondelez adds that vegan sugar confectionery is in demand. "Plant-based alternatives have never been more important," says Nash. Maynards Bassetts' Fizzy Fish are now certified as vegan and the firm recently unveiled Sour Patch Kids Watermelon, which are certified vegan.
Kervan Gida's senior brand manager, Gabriella Egleton, echoes this view. "Social Media has helped to fuel the interest in veggie/vegan lifestyles with the growth of food-related accounts and influencers," she says. "Vegan approved options, palm oil free formulations and reduction of plastic packaging are just a handful of examples of improvements brands like ours are making to meet consumer demand for more sustainable products."
6. Immunity-boosting confectionery set to grow
Functional confectionery is due to make a splash, according to Perfetti Van Melle and Kervan Gida, which owns the Bebeto brand.
"Consumers are taking a growing interest in health and wellbeing, which is making added benefits - such as immunity and gut health – key in the confectionery market," says Roberts. "In fact, 76% of global consumers say they will eat and drink more healthily due to COVID-19, with 65% now more concerned about immunity [FMCG Gurus]. We have plans for new products addressing these concerns – to be launched later in 2022."
Egleton concurs that functional sweets will capture consumers' imaginations this year. "We predict that citrus flavours and ingredients will gain major interest in 2022, particularly functional lines with added vitamin C, antioxidants, and immune support given consumers' increased interest in immune boosting foods and supplements during the pandemic," she says. "Exotic citrus flavours like yuzu, blood orange, dragon fruit, kumquat, and tangerine will feature as more unique flavour profiles in the year ahead."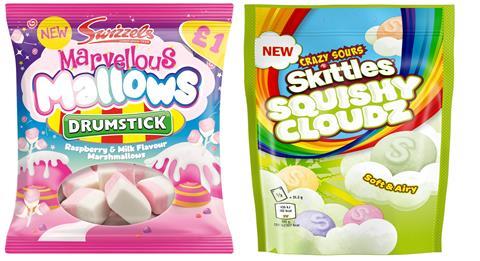 7. Mallows are making their mark
Swizzels entered the Mallow market earlier this year with Drumstick lolly flavoured Marvellous Mallows. "Mallows have continued growing over the last year and the category is now worth £24.7m [IRI]," says sales director Mark Walker. "The market is clearly popular with consumers and retailers should stock up on mallows to help drive sales."
Meanwhile, Mars Wrigley has been experimenting with gummy marshmallow combinations, with Squishy Cloudz. "The aerated gummies maintain the intense fruity flavours of Skittles, whilst offering a different texture to recruit new consumers," says fruity confections UK brand director Victoria Gell.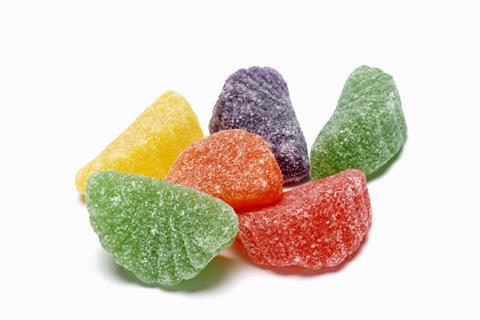 8. Fruit flavoured sweets have grown 12.7% in five years
Currently, the biggest flavour category is fruit, which is worth £0.8 bn, up 12.7% from the last five years (IRI), according to Tanner.
Mars Wrigley claims that last year, fruity gum outperformed the segment in the UK. "Mars Wrigley has added two new fruity flavours to its Extra portfolio this year, Apple and Blueberry, that supports this trend, helping retailers drive sales," says Gell. "With Apple being the most popular fruit in the UK, and Blueberry being a leading flavour for confectionery [Kantar] these flavours are positioned to become consumer favourites, especially amongst the next generation of gum consumers, with fruit-flavoured gum over indexing with under 25-year-olds (Kantar).
Mentos has already seen success with fruity gums, having launched Tropical and Cherry flavours to its Pure Fresh range back in 2020, which Perfetti claims has attracted teenage and young adult shoppers to the brand. The company says that Mentos Gum is currently driving two thirds of the growth of the fruit gum market (IRI).
The firm is also using fruity flavours to liven up its Mentos roll packs with the unveiling of Mentos Fanta last May. In a bid to drive impulse sales of single packs in the convenience market, Perfetti has worked closely with retailers to launch a tailor-made £2m loyalty program.