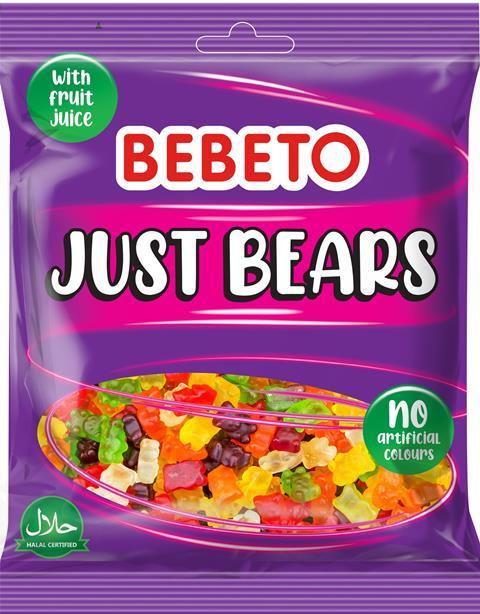 Just Bears are the latest sweet sharing bags launch from Bebeto, the leading confectionery challenger brand from Kervan Gida UK.
Bebeto Just Bears contain real fruit juice and no artificial colours, and are 100% Halal Certified. Each pack contains up to 12 flavours, including Apple, Lime, Blue Raspberry, Watermelon, Pineapple, Mango, Lemon, Orange, Cherry, Strawberry, Grapefruit and Grape. Bebeto Just Bears Gummies 150g are already stocked in One Stop and are available via leading wholesalers, including Dhamecha, Parfetts and Kids Kandy Co. The bears come in a case size of 10 and are launching in £1 pricemarked packs.
Described by the firm as the 'gold standard of gummy bears', they join the existing Bebeto Gummies 150g sharing bags range, which comprises: Fizzy Watermelons, Big Fizzy Mix, Strawberries and Big Mix.
"We're very excited about this latest launch, it's the latest step in our vision for Bebeto, which is to drive it into the top five worldwide sugar confectionery brands by 2023", says Gabriella Egleton, senior brand manager, Kervan Gida UK Ltd.
The brand held a sampling day with a difference at Marble Arch in London. "We didn't just hand out bags of our delicious Just Bears we also gave away 'free bear hugs'," says Egleton. "It was a fantastic success, we received so much love and some amazing feedback from fans."
Bebeto will continue boost awareness of Just Bears with a social media campaign including promoted content and giveaways on Instagram.
PMPs are also a great way for retailers to underline their store's value offering, with over two thirds of consumers agreeing that PMPs provide a guarantee that they are not paying more than they should (Lumina Intelligence 2021), claims Egleton. "According to the research [Lumina Intelligence 2021], £1 PMP ranges are the main driver of confectionery sales growth in convenience and impulse, and represent 70% of the sharing segment," she says.
"It's all the more reason for retailers to stock up and highlight the new Bebeto Just Bears sharing bags in store and help make sharing moments extra special."