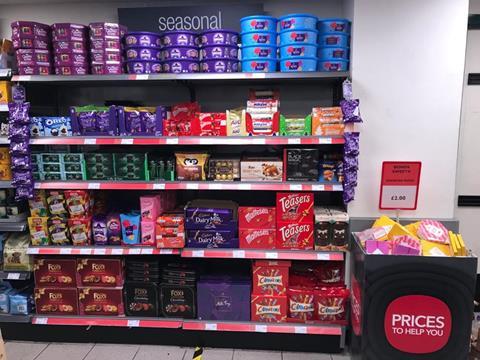 1. Seasonal spend in c-stores is expected to be strong following lockdown
Storck UK, which supplies Toffifee and Werther's Original, believes shoppers will support their local stores when buying seasonal produce. "In the lead-up to Christmas this means that more people could potentially turn to their local shops for seasonal treats and the all-important confectionery gifting," a spokesman says.
Pladis agrees that things are looking positive. "Many people tend to travel abroad during the festive season; however, with more countries being removed from the government's travel corridor list, it's likely that even more Britons will be enjoying the festivities at home. As a result, convenience stores can expect to see higher footfall, with more consumers relying on their local convenience outlets than usual during this period."
Richard Dance, whose display is pictured above, owns six Welcome stores operated as a franchisee partnership with Southern Co-op. He claims that his stores have retained a percentage of the new custom gained over lockdown and his Christmas order reflects this. "We did our Christmas order in March/April and sales were really strong," he says, claiming that he didn't hold back. "It's like going to the supermarket when you're hungry!
"We're hoping for a good Christmas. Early signs are good. I think we're going to be at the forefront again and I'm hoping we'll be justified in maintaining orders."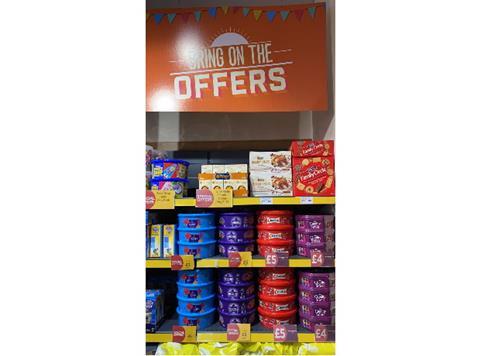 2. Early season shoppers were central to driving sales in 2019
"The season begins in September and October, when stores can kick off with a 'Season Start' for sharing confectionery as the nights draw in," says Mondelez International trade communications manager Susan Nash. "The opportunity in these earlier months is huge, with a third of early season shoppers accounting for over half of total season spend [Impulse Convenience; Nielsen w/e 28th December 2019 vs w/e 29th December 2018].
"To make the most of it, we recommend retailers signpost the season early, focusing on self eat and sharing products such as Cadbury Heroes and the new Cadbury Roses by Emma Bridgewater."
Heroes and Roses are already starting to shift for Ronak Patel, who owns three stores in Cambridge. "Our Christmas confectionery has already started to sell earlier than previous years," he claims. Ronak's Budgens Arbury site, which took home Best Large Store at The Convenience Awards, has tubs on a special offer bay with Roses, Heroes and Celebrations at £5 and Quality Street at £4 (pictured above). He also has tubs stacked around the store highlighted with special street sign style Quality Street POS to add theatre. "Our tubs came in in the last week of August," he says. "We have them on display straight away and they started selling immediately."
Richard has also seen promising early sales. "We started getting stock in early September," he says. "We've got both Christmas bays in most of our stores already. It's definitely been proven over the years that the volume of Christmas stock increases the earlier you get it in."
Strategic phasing is important, agrees Bestway. "Signpost well in September - this is when self-eat and sharing begins, and repeat purchase too," says Kenton Burchell, trading director at Bestway Wholesale, noting that 62% of shoppers start buying in September and October.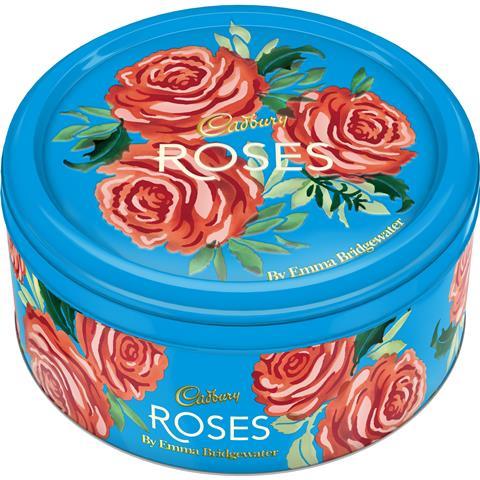 3. Retailers are ordering more, larger sharing formats for Christmas 2020
Almost half of retailers (46%) state they're going to stock larger, sharing formats than last Christmas, according to Ferrero's research.
Mondelez's Nash suggests that retailers can test the water with year round sharing formats that won't result in wasted stock post-Christmas. "You can always do a bit of test and learning, using generic packs is a good way of trialling it reducing risk. We hear feedback from retailers who do that. Generally where retailers have tried, they're positively surprised."
Richard has opted for more tins over tubs this year for his Welcome stores. "The tubs are a bit of a loss leader for us so we've scaled back on those a bit," he says. "We've gone for tins more this year, which are bigger and more traditional. People might keep them for cake afterwards. Also the tubs are plastic, which we're trying to keep away from."
Pladis concurs that larger pack formats are a necessity. "Although especially important for the festive season, 'togetherness' has become a routine part of everyday life nationwide," says Snell. "As a result of Covid-19, consumers have been spending more evenings in with their households, and snacking has formed an integral part of this. This means that it's more important than ever for retailers to stock popular Christmas products in larger formats this year." He highlights McVitie's White Chocolate Digestive Nibbles as a key sharing line, as well as the McVitie's Victoria Assortment, which is worth £15m (Kantar Worldpanel 52 w/e 29.12.19).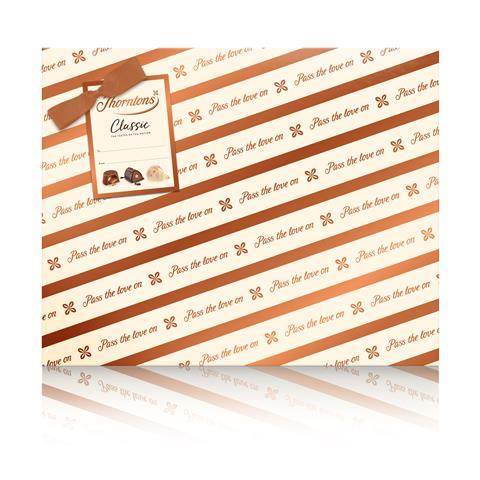 4. Premium boxed chocolate grew 19% last Christmas
Luxury boxed chocolates are worth £202m, +19% yoy (IRI and Kantar all outlets inc. discounters, 52 w/e 28.12.2019).
Nestle Confectionery is hoping to capitalise on this with its Quality Street Intrigue in the range. The products are available in two flavours: Salted Caramel Truffles and Praline Truffles (rrp £5).
Fine food distributor Cotswold Fayre claims that coronavirus will have made consumers even more keen to trade up. The firm's Christmas range accounts for 18% of its annual sales, with confectionery representing around 40% of this."Consumers will really want to treat themselves and loved ones, after the year we've all had!" says CEO Paul Hargreaves. "So, think ultra-premium, special gifts with a touch of quirky that can't be found in mainstream retailers. For example, the perfect Italian Truffle range from La Perla."
Brian Moorey, store manager at Budgens Arbury in Cambridge believes that consumers are likely to trade up when it comes to gifting in order to compensate for covid restrictions on socialising. "If the rule of six manifests itself and carries on, people will want to give more because they can't see each other," he claims. "If I can see my nan, instead of Quality Street, I may well go to Thorntons."
Thorntons had a successful 2019 festive season with the newly redesigned Classic box growing 20% over Christmas (Nielsen; Boxed Chocolate; Total Coverage; 18 weeks to 4th January 2020). This year, Thorntons Classic is introducing new and remastered flavours, with revamped recipes for Nutty Caramel, Tempting Toffee and Creamy Fudge as well as the inclusion of a new Orange Blush option.
Thorntons Continental also had an impressive Christmas 2019, with the Continental Winter Markets box (278g) growing at +216% (Boxed Nielsen Database full S1 @4.1.20, Total Groceries). The 142g box also performed particularly well, driving +25% growth (ibid). Meanwhile, Ferrero Rocher will look to build on its strong performance in the boxed chocolate category, having grown by +2.4% (Nielsen; Total market 18 weeks to 04.01.2020) by launching an updated marketing campaign.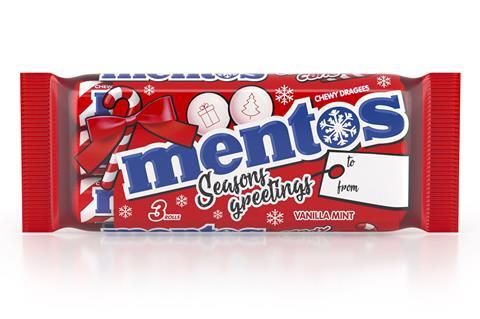 5. Sugar confectionery outperformed total confectionery over Christmas 2019
Sugar confectionery is seeing a rise in popularity at Christmas time with sales growth of £1.9m in 2019 vs. the previous year [IRI Christmas Tracker 2019]. "Christmas is an important time for sugar confectionery, growing +3.4% and outperforming total confectionery at 1.3% [ibid]," says Perfetti Van Melle trade marketing manager Mark Roberts. "Sales of £1.4bn went through the tills on the Saturday and Monday before Christmas last year [ibid], so any retailers that stock seasonal lines are likely to see increase of sales as shoppers shop more and more locally." The firm is capitalising on the growth of sugar confectionery at Christmas with its new Candy Cane variant. The limited-edition multipacks, containing three rolls filled with printed vanilla mints (rrp £1).
With chocolate normally being the go-to confectionery treat for so many over the festive period, Swizzels is raising awareness of why sweets can be an equally popular choice and encouraging consumers to make their own traditions in its Christmas 2020 campaign. The firm claims that its Swizzels' Sweet Shop Favourites 750g tub, which is designed for family sharing, is the number one sugar confectionery line at Christmas (IRI Total Market data, Sugar Confectionery, 8ks to 29/12/2019, value sales).
Richard is confident that festive sugar confectionery will appeal to his customers. "The Co-op range doesn't include so much sugar confectioner, it's all geared around Mars and Mondelez," he says. "We're stocking a traditional range of candy canes, jellies and turkish delight from Bonds. They're quite reasonably priced, the jellies and turkish delight are £2 each."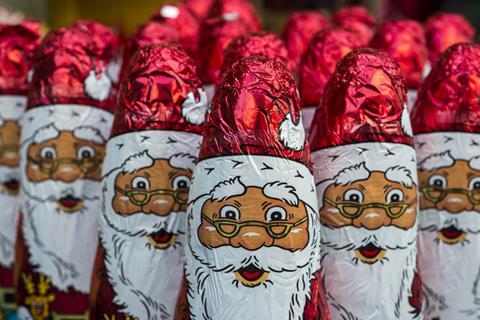 6. 20% of adults bought into Christmas novelties last year
The novelties category is worth a huge £77m, with one in five UK adults buying into it [IRI Grocery Outlets + Kantar Discounters, Xmas Confectionery, Value, Xmas 2019].
In 2019 Nestlé Confectionery claims to have delivered 100% of the growth in the category with its new Smarties Penguins range [ibid].
Ferrero states that convenience retailers will take a bigger bite of the market this year. "Retailers are looking to drive incremental sales by offering a greater selection of novelties and selection boxes – sub-categories that have typically been skewed to grocery – with 40% of retailers looking to stock more of those products this Christmas," says customer development director Levi Boorer. "With shoppers still set to support their local convenience stores, we're confident that retailers will continue to work hard to retain these loyal shoppers well into the future."
Novelties and selection boxes weren't big hitters for Richard last year and he was left with lots of 200g Thorntons Cheeky Elf and Polar Bear novelties after Christmas.
However, he feels that this year will be different, with gifting lines set to score high. "I think if people aren't going to see each other, they'll catch up with some sort of gift or present to say merry Christmas."
He also believes that continuing restrictions are encouraging people to shop locally. "I'm hoping that we'll have a really good Christmas this year on the basis that in this area I know the Southampton Christmas market has been abandoned and the Winchester Xmas market isn't going to happen either," he says. "People aren't going to have anywhere to go to buy their gifts and they may pick up confectionery locally."