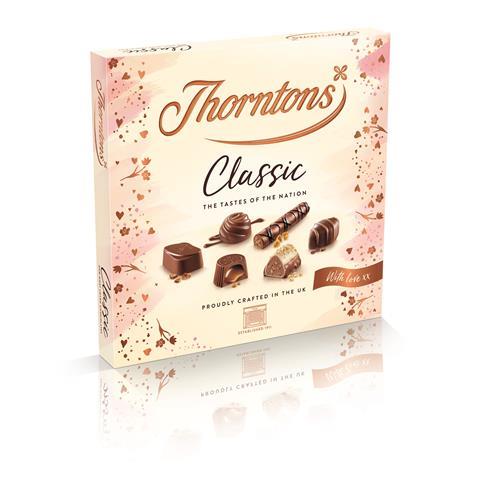 To celebrate Mother's Day, Ferrero UK has launched a Thorntons competition especially for convenience retailers. A total of 220 Thorntons FSDUs will be available via Your Perfect Store and Shopt to help signpost in-store and create a focal display that customers will not miss as they shop. The company claims that this will drive awareness of the importance of stocking lines such as Thorntons Classic in the lead up to key seasonal occasions including Mother's Day.
Three lucky winners will be chosen and rewarded with two trade units of Thorntons Classic 262g Gift Wrapped and one trade unit of Thorntons Classic 150g With Love, as well as a Piglet's Pantry afternoon tea for two worth £30 delivered to their door, to share with their loved one.
Retailers can enter in a variety of ways. Entries open on the 1st March and close on 7th March:
1. Retailers can enter by visiting Ferrero's dedicated trade website – and ordering a free Thorntons FSDU. They will then be entered into the competition automatically; or
2. Alternatively, they can share a picture of their current Thorntons fixture in-store via @FerreroYPS on Twitter or via email to ferreroyourperfectstore@cirkle.com
The three winners will be chosen at random, once the competition has closed to receive their stock and afternoon tea bundle ahead of Mother's Day celebrations.
Judith Smitham of Pydar Stores in Truro, Cornwall, entered Ferrero's Valentine's Day competition to gift Ferrero Rocher-inspired bouquets to customers at the beginning of the year. "What an amazing promotion, the red rose bouquets studded with Ferrero Rocher looked incredible," she said. "The uplift in sales was brilliant – we have never sold as many Ferrero products in three days – 44 in total. 69% of category sales were from Ferrero, a quality product which will make us look differently at the category in the future. Entering and winning the competition has had a positive impact on our store in many ways and we are already planning to do our own promotion using Ferrero products for Mother's Day."
Levi Boorer, customer development director at Ferrero, said: "We know that Mother's Day will be celebrated differently this year as Covid-19 restrictions continue, but one thing is for certain, consumers will still want to celebrate the occasion. Convenience stores, particularly during the pandemic, have been at the heart of communities, providing shoppers with their essential items as they try to avoid larger crowds. Our Mother's Day competition looks to reward retailers with an afternoon tea treat and support them in catering for the seasonal demand with some Thorntons stock – the fastest growing boxed chocolate brand at both Valentine's Day and Mother's Day last year [Nielsen, Boxed Chocolate, Value sales growth; 3 weeks to Valentine's Day & Mother's Day; Top 10 brands]."