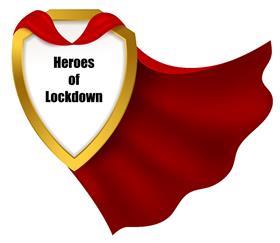 Still smiling
In its 170 years in business, Dike & Son, has never witnessed anything quite like the challenges that 2020 brought, but the store drew on its wealth of experience and rich supplier network to ensure locals were looked after.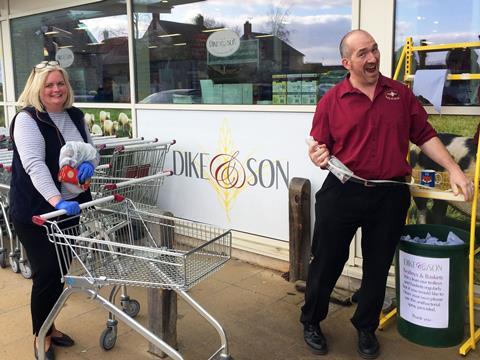 Whereas many retailers only delved into delivery in 2020, Dike & Son is well-versed in this area. "Going back to horse and cart we ran home delivery," says company director Adam Vincent. Thankfully, the business has come a long way since then. "We do Amazon Fulfillment for a lot of stuff in store and have been posting across the UK," he says. "We have our own website where you can do a full shop like Tesco and we deliver chilled and fresh. It's not a good business model from the point of view that if you come and do shopping with us and want it delivered to Stalbridge we do it for free because that's one of our ways of giving back to the community."
The service was put to the ultimate test when the UK went into lockdown. "We're a very rural area and there is a high elderly population," explains Adam. "With covid, family visits were removed overnight. We had people in tears because they'd relied on the multiples for their food deliveries and they weren't able to get on and book a slot. We had relatives phoning in from outside the area and we were able to help."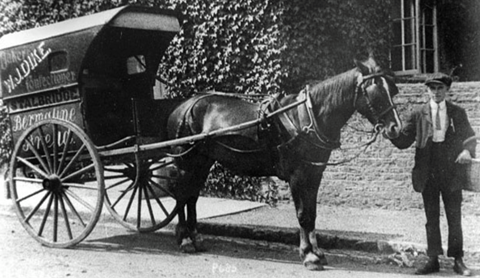 The store was extremely flexible in accommodating the high level of orders. "We took orders over the phone, handwritten orders, fax orders - any way … maybe not carrier pigeon but you get the idea!" jokes Adam.
Processing so many orders, especially via phone, meant that home delivery was particularly resource heavy. "You have 10 mins of conversation and then a different member of the team picking it, someone else packing it, someone else delivering it," says Adam. "It's probably one of the biggest flawed business models in the world!"
But flawed or not, the delivery service proved invaluable to masses of local residents. "Food is so important, it's so emotive, it can make and create memories and it gives you comfort too," says Adam. "Suddenly a £4 chicken isn't just a £4 chicken, people are really, really grateful."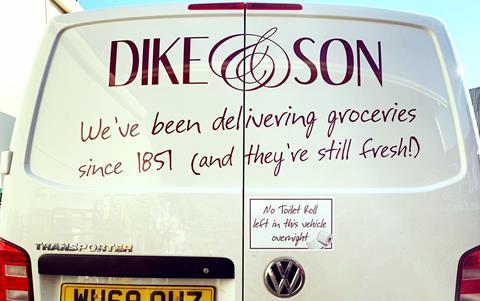 The key challenge was sourcing goods to meet with the increased demand. "The beauty of being an independent retailer and doing what you want and making your own decisions," observes Adam. "We were able to speak to suppliers who had big catering companies who had yeast - all of it was sat in warehouses not doing anything. We were able to do that from day one whereas the big boys were very slow to catch on. We were doing it with pasta from the second week."
However, it was small suppliers that literally brought home the bacon. "Our local suppliers have to have a massive mention," he says. "We stock over 100 local suppliers on top of Nisa/ Co-op lines. It was definitely local suppliers that made the difference - the relationship we've had with them over the last 150 years - our egg suppliers rallied and we never ran out of stock which is unheard of. And to get hold of that fresh meat was a real buzz - lamb chops and whole chickens - using our local suppliers we were able to do it."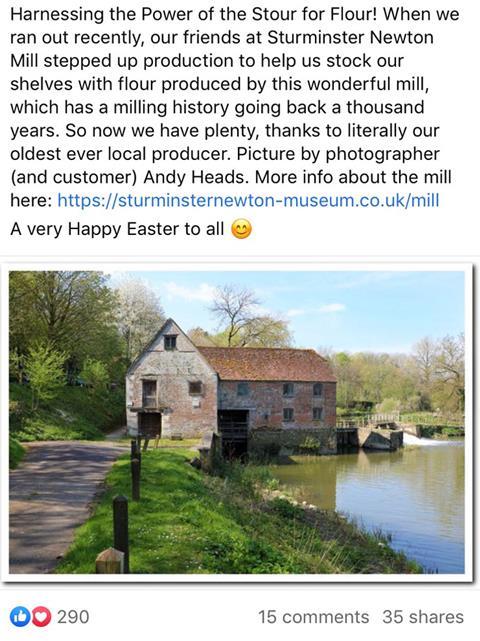 While many stores had difficulty sourcing flour, Dike's found an unlikely supplier. In nearby Sturminster, an ancient flour mill, which is mentioned in the Domesday Book, and usually operates a tourist attraction, was fired up and supplied the store with flour. "We sold it and never ran out!" says Adam. Customers loved the fact that not only could they buy flour, but also that it was made locally, and news of the mill's revival was even picked up by BBC Television. The store was then visited by British sprinter Iwan Thomas and Adam was interviewed for The One show. A Facebook post on the store's website telling customers to watch out for Dike's on the One Show racked up over 500 likes, with many customers thanking the store for doing such a good job.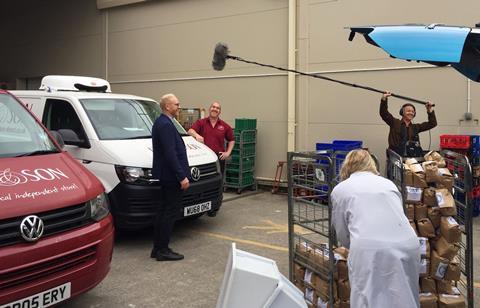 As demand continued to skyrocket, new staff were taken on to cope with the challenge of feeding the locality. "We've employed three new drivers, two new pickers and bought a new van. Our cafe was closed so cafe staff helped with picking so we could ramp it up."
But even with a beefed-up team, they were stretched. "At one point it got so busy we had to stop doing home delivery of specific lines," explains Adam. "Rather than picking 20 unique orders with one bottle of vinegar, Sauvignon Blanc and a TV times, we made up bulk orders. We could make up four or five the amount doing it that way. We'd deliver two different food boxes. A £20 box and a £40 box with meat and fruit and veg - all you needed to survive." The boxes were packed in the store's café, which was closed down at the time.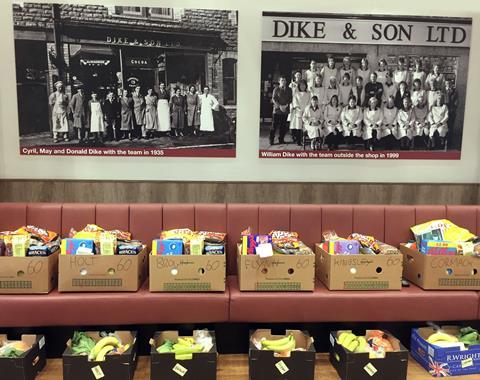 Health & safety was made a top priority. "We have three sets of cleaners in three times a day and clean everything from trolleys to basket handles and freezer doors," says Adam. "Home delivery vans are cleaned before and after use.
"Members of the team stand at the till to restrict access, and everyone wears masks - even in the back office."
He has also updated his payment technology. "We changed our till systems so we can take payment over the phone, which we weren't able to do before because we stopped taking cash at the door," he explains.
Staffing has been a major headache for Adam because it's impossible to predict when people may need to isolate. "You aren't just thinking of the employees, but their families too," he says. "We have staff who have youngsters at school who may need time off if there's a case of Covid in their bubble. Or an employee who has a member of the household receiving cancer treatment, they could be putting that person at higher risk so they can't come to work - all these things change constantly and affect staffing. You come into work and you basically see rotas torn up. We used to have rotas a month in advance and you laugh now we're lucky if it's a week in advance!"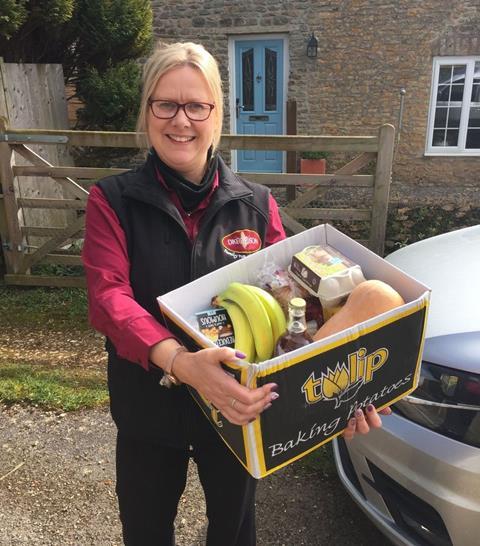 Adam has also done his best to ensure that staff work in bubbles as far as is possible. "We're lucky because we are a big store so ultimately you end up in bubbles anyway," he says. "But we're a local store for local people run by local people - a lady who works on our fruit and veg is married to the grocery department manager and their son works for us too; a bakery manager is dating a lady from our cash office and they're living together - there is only so much you can do."
He claims that having student workers was extremely fortunate. "I had students who were due to go to uni and travelling who all stayed with me - they were doing four hours at a weekend and ended up doing 30 hours a week."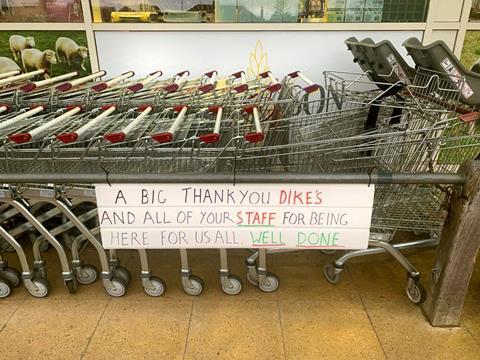 Adam's careful management has ensured that the store has been there for the community when they needed it most. Customers are hugely grateful, with many sending letters of appreciation, artwork and even a poem. "The most emotional one - when we were all very scared at the height of what was going on - was when I walked in at five o'clock one morning and saw someone had put a big sign up in front of the store saying thank you to everyone at Dike's," he says. "As an employer you can say thank you, but the fact that someone who isn't paying the wages made the sign when they didn't need to really means something to people."
Adam is immensely pleased with his staff's efforts. "I'm really proud of the team throughout all of this," he says. "Every single member of the team has more than excelled - making sure things are stocked up and gone above and beyond in uncertain times. We wouldn't have achieved anything without them."
Although costs have undoubtedly increased, the business has performed well as result of the pandemic. "Sales are definitely up," says Adam. The store's high turnover enabled Dike & Son to give an incredible £35,000 to community groups, including the local primary school and cricket club, via Nisa's Making A Difference Locally initiative earlier this year. But the family-run business, which has been operating since 1851, knows that it takes more than money to stand the test of time. "Grand gestures and massive donations are great, but sometimes it's the little things that matter," says Adam. "Sometimes it's the jumpstarting the car and going above and beyond with customers."
The store has certainly gone above and beyond for its customers in recent months, and Adam is confident that it has a bright future. "This is a moment in time where we all pulled together," he says. "Goodwill has taken us through the last 170 years and hopefully it will take us through the next 170 years."

Sarah is Deputy Editor for conveniencestore.co.uk.