Wilson Rea is reaping the rewards of a newly-installed hot food-to-go and milkshake station. The savvy retailer tells C-Store about his innovative offering, which has more than doubled his hot food turnover, and lets us in on the smart cost savings he has made along the way.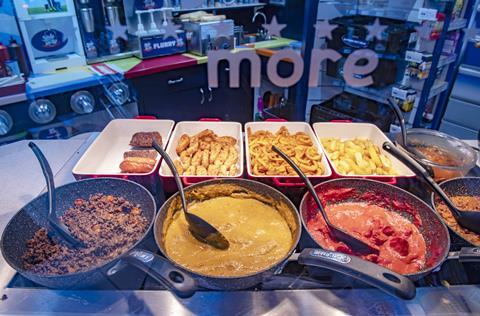 You can't fail to miss the swanky new food-to-go installation at Keystore More in Lanark. Comprising a milkshake counter, introduced in September last year, and a hot food area, which followed in December, the new addition has become a huge draw.
"It's something I've always thought about," says Wilson, "but there are three chip shops, a Subway, a Costa and four independent sandwich stores nearby, so there's a lot of competition."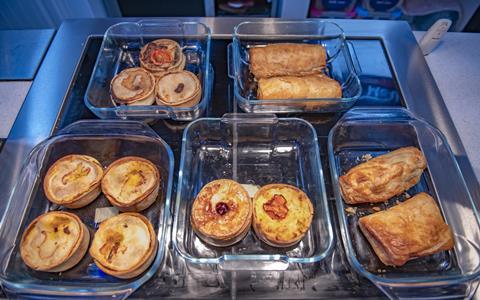 Nevertheless, having already operated a basic hot food offer, he was convinced that there would be strong demand for a hot lunchtime offering. "Food to go has always been the heart of any of my convenience stores. I wanted to go the next step. I was already getting the breakfast customers in the morning, so I knew there was a market for it," says Wilson.
The new area is much more open and inviting for customers. "Before, we had an enclosed heat counter. Breakfast rolls were in bain maries and customers couldn't see what they were getting. I've done away with that," he explains. In its place, he has purchased two glass-fronted hobs, and three display units. "It cost £5,500 in total," he says.
However, he has made some clever savings along the way. Suspended spotlights add a touch of urban chic to the cooking area. "I was on the internet searching for fancy suspended bulbs, but they were £30 or £40 each," he says. Instead, Wilson opted to fashion his own lampshades from £5 plant pots from Lidl hung upside down, drilled and painted to look the part.
The hot food-to-go area serves a tempting array of meals, including macaroni cheese and chips, lasagne, curries and pies, sourced locally and heated up in-store. Displaying the food in saucepans gives off a foodie vibe and Wilson delights in telling C-Store that the saucepans cost a mere £5.99 each from a B&M bargain shop! "It makes it look that much more professional," he says.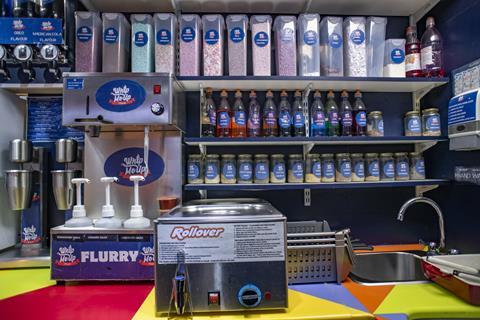 The savings continue in his milkshake area, where he came up with his own 'Whip Me Up More' branding, as well as using the logo of popular Graham's Dairy to show where milk is sourced. "We have an ice cream machine, which holds a pergal (24 pints) of milk. It's made by Carpigiani – the Rolls Royce of the sector," says Wilson. "They are £8,000 new, so I went on Ebay and bought it for £1,800. The only downside was I had to collect it from Devon."
The quirky multi-coloured work surface wouldn't look out of place in a trendy London restaurant, but was in fact pieced together from scrap material. "It would have cost £1,000 new," explains Wilson, "so I asked the joiner what he had lying around. We came up with a triangle design and I got it for £200."
Wilson then challenged each member of staff to come up with their own milkshake. "We have more than 25 different flavours of milkshakes and the toppings are in glass jars on the top shelf, which look like a sweet shop. I gave staff an incentive to see who could sell the most of their own shake, which worked well – they were coming in when they weren't working and putting the blender on."
The milkshakes sell at £2.99 for a regular and £3.49 for a large, making a healthy 200% margin. "Once you get the equipment in it costs very little," reveals Wilson.
He claims that the milkshakes are "ticking over nicely", but summer will be the main opportunity to grow sales.
However, the hot food has been flying out. "I can't believe the uptake there's been," says Wilson. "My hot food sales used to be £1,500-£1,600 a week. Now it's £3,500 and the margins are round about 100%.
"People will come in at 6am or 7am for a bacon roll, then come back for a curry and chips for lunch."
The lunchtime offer has also led to increased breakfast sales. "Before, I was selling 700-800 breakfast baps a week, but since installing the hot food to go I'm now selling 1,200. The average basket spend has gone up, too, as people come in for food to go and buy other products."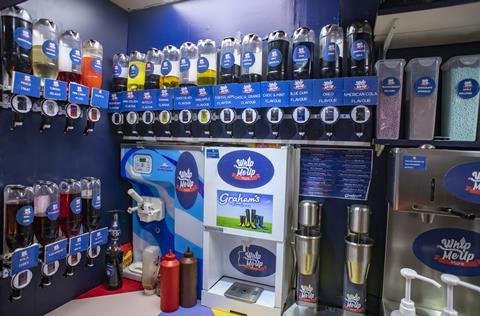 What's more, there's a Whip Me Up More app where customers can order ice cream, milkshake, coffee and hot food. "You place an order, pay by card or in-store and tell the store what time you'll be in to collect it. I've promoted the offering through Facebook, plus 2,000 Whip Me Up More leaflets."
With sales already off to an impressive start, Wilson is now hungry for more. Next stop evening meals.