As we approach summer, it's important to not undersell impulse ice cream and focus on getting decent margins for in-demand lines.
Retailers across the UK rejoiced last summer as the sun made a welcome and prolonged appearance, and ice cream sales soared.
"Last year Wall's must have had their best year for I don't know how many years because we had that summer for so long," says Richard Barron, who owns six Spar stores in and around Chesterfield. "It was an exceptional year for ice cream, because we had the lovely weather, which was very good for us."
Harj Dhasee, owner of The Village Store in Mickleton, Gloucestershire, says last summer's impulse ice cream sales were "magical".
Dave Hiscutt, manager at Londis Westham Road in Weymouth, Dorset, is equally enthusiastic. "Last year was one of our best years for ice cream sales. The hotter it is, the higher the percentage of ice cream sales."
Froneri, which manufactures Nestlé and Cadbury ice cream, couldn't agree more. "Ice cream has seen a phenomenal 2018, holding itself strongly as the largest category in frozen foods and delivering an incredible 84% of frozen growth last summer," says Charlotte Hambling, head of UK marketing.
Within convenience, the take-home ice cream market is worth £184m and growing 16% year on year, while the impulse ice cream market is worth £124m and growing 24% year on year (Nielsen Scantrack and Kantar WPO combined, Total Convenience, 52 we 23/24 February 2019, value and units). "Take-home and impulse are equally very important to the convenience channel," says Hambling. "Impulse delivered 47.2% of ice cream sales in convenience last summer and take-home delivered 52.8% (Nielsen GB, Scantrack Take Home, Total Convenience, 28 w/e 6 October 2018 Value)."
Within convenience, wrapped handheld ice cream (singles and multipacks) represents 66% of all ice cream sales (IRI 52 weeks value sales to 2 February 2019 convenience channel), while tubs account for a third of all category sales, valued at £138m, states Mars Chocolate Drinks and Treats.
General manager Michelle Frost says: "It's clear that wrapped handheld products are key to driving growth in the ice cream category, and in convenience in particular."
The number one best-seller within impulse is pretty much unanimous among every retailer C-Store speaks to.
"Magnums are always best-sellers," says Londis Hemingbrough owner Angela Chilvers, who sells five different impulse varieties of the chocolate stick in her South Yorkshire store.
"Magnum is by far the biggest out of anything," says Richard. "I wouldn't be surprised if 75% of what we sell are Magnums. We stock a few Cadbury and Nestlé lines and we still sell Cornetto cones, but it's nothing like the sale of Magnums. The best-sellers change every year when they bring out new ones."
Magnum is also a best-seller for Simply Fresh Faversham owner Sandeep Bains, who is keen to start selling the brand's latest line in his Kentish store. "On a good Sunday we can go through a case of Magnum. If you're stocking four types of Magnum obviously you want to keep the white and classic, and the other two you can rotate. People enjoy that, it keeps it fresh."
Harj adopts a similar strategy. "New products always do well," he says. "We have four variants of Magnum – the chocolate and the double chocolate, the white and whatever the npd is for the year."
Magnum is the UK's number one ice cream brand with a 17% share of the ice cream category in the UK, according to Unilever. 2019 sees the launch of Magnum white chocolate & cookies and will be supported by a £5m media value marketing spend.
The product is available in a 90ml impulse stick (rrp £2), 3 x 90ml (rrp £3.69), 6 x 55ml (rrp £3.93) and a 440ml tub (rrp £3.85).
But the new Magnum isn't the only npd that retailers are getting excited about this season. Thanks to a collaboration with Unilever, Ferrero's Kinder brand has made its way to the freezer with a stick (rrp 80p or £3.50 for a 10-pack), sandwich (£3.50 for a pack of six) and Joy ice cream (rrp £2.50). All products are small portions, containing 100 calories or fewer and featuring Unilever's 'Responsibly Made For Kids' logo.
Kinder Bueno is also making its ice cream debut in the form of a cone featuring hazelnut ice cream and a milk chocolate sauce filling. A single cone retails at £1.40 and a four-pack is £3.50.
Dave Hiscutt has already seen success with Kinder ice cream. "The Kinder Bueno cone went really well. In the first week I sold a case and a half," he says. "Selling 45 units of any type of single impulse ice cream in the middle of February is definitely good."
Meet demand for non-dairy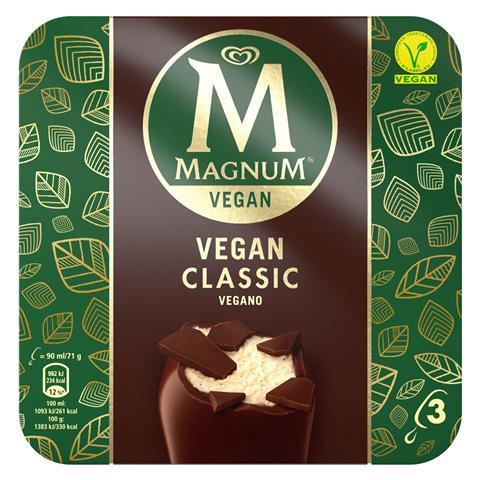 Magnum Vegan (rrp £3.69 for three x 90ml) is set to appeal to both vegans and those looking to take "a flexible approach" to their diets.
The ice cream is made with pea protein and the product has been certified by the European Vegetarian Union.
Unilever is also investing in its low-calorie Breyers range with a new dairy-free variant, which will be supported by a media investment of more than £3m, including TV, social media and video on demand.
The firm claims that Breyers dairy-free chocolate & hazelnut (rrp £4.99) has been developed in response to the number of those now following vegan and dairy-free diets (54% of the population purchased a Free-from' product during January – March 2017. Kantar World Panel 4 April 2017).
Emma Jenkins of Milverton Stores in Taunton, Somerset, has witnessed good sales of non-dairy ice cream. "Within take-home pots of ice cream we've got a few non-dairy lines in from Alpro – soya, vanilla and almond chocolate. They're selling very well not just to non-dairy consumers such as people who are lactose intolerant, but also to people who just like the flavour. It's possible people are buying them for health reasons. They are slightly less fattening and have less sugar and they taste nice."
Dave Hiscutt at Londis Westham Road in Weymouth, Dorset, has also seen success with Free-from ice cream. "Last year I introduced the Swedish Glace cone, which is dairy-fee, lactose-free, nut-free and gluten-free. When we first started stocking them we stuck it on Facebook and we got a huge amount of praise from parents. We've also listed the Magnum Vegan this year.
"If you've got 15 facings, by taking one out and sticking a dairy-free in, you're suddenly satisfying a huge amount of people and a completely separate customer base. As long as you're communicating to customers externally, then it's worthwhile."
In the public's eye
Emma Jenkins of Milverton Stores in Taunton, Somerset, is going all out to give the new lines good visibility. "We're going to be getting three new Kinder lines in. We have a Wall's cylinder freezer, which we'll dress up and put the Kinder stuff in."
Sandeep is confident that the brand extension will be a big hit. "The new Kinder lines will definitely do well," he says. "I've had a chat about this with other retailers. Kinder's a massive brand." But he claims he will consider stocking it only if the margins are high enough.
"Being a seasonal line we have to make sure we get the most out of it in terms of profit and cash," he says. "It's no use me sticking something in the freezer that's only getting me 25-30% profit on return. I won't look at anything below 40%. I've got to be maxing out what I'm getting back out of the area when the time is right."
When it comes to impulse ice cream, he is convinced that customers are not overly concerned with price. "This is something that we can get away with charging a little bit more for. It's definitely an impulse purchase. We don't have competition on our doorstep, so we can get a premium out of it and if you buy smart you can really maximise your profit," he says.
He claims that certain ice cream lines are interchangeable. "Sometimes you might be taking out a good selling line and replacing it with another because you're getting a better margin. There's a core range you have to keep in all the time, but there are other things you can rotate," he explains.
"Ice cream is impulse driven, so provided there are enough options, people generally won't turn away because you didn't have the specific product they wanted. You need to cash in on ice cream. It's one way of making money in a period where we're being squeezed on margin everywhere."
Dave also tweaks his range according to which lines return the best margin. "We work with Wall's fairly closely. We have a decent rep that always helps with category advice. You don't just go with the Wall's planogram, though – yes, they're the market leader and yes, we need their ice creams in the freezer, but if I'm getting a particularly good margin on another line, then I need to stock that. I'm very aware of what the costs are at the time and what the margins we're achieving are and if there are particularly decent margins going I'll stock up."
Harj regularly chops and changes his impulse range depending on what deals are available. "Kit Kat Cone is a good seller, plus Cadbury Flake, but that's a duplication of Kit Kat, so we dip in and out – whichever one we can get the most margin out of," he says. "You only have a certain amount of space to sell it from depending on how big your impulse freezer is. We make 50-60% margins. It's such a profit driver, especially when the sun comes out."
He agrees with Sandeep that retailers can afford to charge more for impulse ice cream. "Single-unit ice cream definitely drives value. Don't undersell it," he says. "It's a high-margin, impulse purchase item, so you don't have to sell it cheap. People don't care about price when buying on impulse. You don't have to stock the whole range – look for margin and look at your area."
Conversely, value is a much higher priority when it comes to take-home ice cream. "Packed ice cream is price sensitive," says Harj. "If mum is filling her shopping basket, she wants a value range to take home for the freezer. It's not cheap and cheerful, but it has to be a value offering."
For this reason, he stocks products across a range of price points. "You have to have a value offering – a vanilla tub for £2. But there's no reason why you can't have a clotted cream vanilla for £6 a tub next to it because people treat themselves."
He also stocks Ben & Jerry's, but refuses to be a victim of deep discounting. "Ben & Jerry's tubs are price-driven, but you don't have to deepcut it," he explains. "We've been buying it on promotion and selling it at £4 a tub so we're making 40% margin. We ran that for three weeks."
Emma stocks either Ben & Jerry's or Häagen-Dazs based on what is on offer. "I kind of cycle through Ben & Jerry's or Häagen-Dazs depending on what's on promotion through Nisa and make sure I have a couple of flavours as well as the own label. They don't sell at full price, so it's not worth stocking them [at other times]. The margins on promotion aren't great, whereas the margins on own label are permanently good, so as long as you can get volume it makes sense to do that."
Make the most of your freezer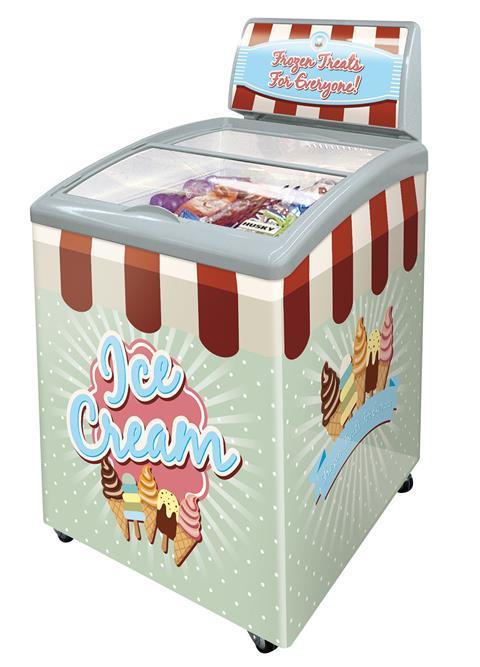 Ensure good visibility for ice cream in a bright, modern, attractive freezer – retailers may want to consider upgrading to a Husky ice cream freezer or a Husky PRO upright glass-door freezer, suggests Consort Foods sales and marketing manager Dean Hanson
Keep it clean – Hanson tells retailers to ensure that the freezer is clean and regularly defrosted as this will not only attract more sales, but also lengthen the life of the appliance and reduce running costs
Consider upgrading to new equipment – modern commercial fridges and freezers use less energy than old equipment, resulting in lower electricity bills. Husky also recommends you check with the seller that their equipment complies with the new 2020 regulations on refrigerant gases
Make use of POS – Unilever's Partners for Growth (PfG) claims that simply letting people know you stock ice cream could increase sales by up to 15%. Using bright and branded point-of-sale material, such as pavement signs, flags and branded waste bins, creates awareness outside the store so retailers should position these where passers-by can't miss them
Watch the weather forecast – PfG warns retailers to keep a close eye on the upcoming weather, claiming that sales can increase by 400% on a sunny day. Retailers can keep up to date with the latest forecast on the Partners for Growth (PfG) website, or look out for its Tweets on Twitter.
Multipacks in demand
It's not just own-label tubs that perform well for Emma, she has also seen success with multipacks. "We've recently switched from Heritage to Co-op own label," she says. "Things like four of the cones or three of the Magnum-type ice creams are our best-sellers. They easily outsell the branded versions by four times as many, unless the branded multipacks are on a half price deal, which we get through Nisa twice a year. If they aren't on deal they really don't sell very well at all as the own label is a perfectly adequate substitute and much cheaper. Own label is £1.09 and a Magnum multipack is £4.09."
Dave also claims that the big brands don't sell in take-home when off promotion. "We tend to steer away from stocking Ben & Jerry's and Häagen-Dazs because everyone's doing them and they're always on promotion. If you haven't got them on promotion, you aren't going to sell them."
Instead, he has opted to stock Marshfield ice cream. "We do a 125ml tub and a 500ml tub and some limited-edition 1ltr tubs. We make roughly 30-35% margin.
"Marshfield isn't available in supermarkets so it's a non-comparative type product and it's sought-after – we've become a destination for it. I can sell it for £3.99 all day long and people are happy to pay that, whereas if I buy Ben & Jerry's off promotion the rrp is £5.20. No one ever buys Ben & Jerry's for more than £3.
"Rather than swapping in and out and being led by supermarkets I've gone for a completely non-comparative product. That gives us a USP."
Lickalix goes plastic free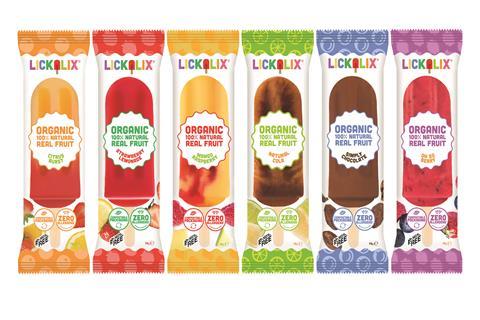 Lickalix, the organic lolly company, says it is the first iced treat company in the world to introduce plastic-free, compostable packaging, with the Plastic Free Trust mark awarded by campaign group 
A Plastic Planet.
The firm claims that its lolly packaging can be composted in a food waste bin and will decompose within 12 weeks, compared with the 400 years it takes plastic to break down.
The packaging will also be marine compostable, which means that the packaging will organically decompose if it ends up in the ocean.
Lickalix founders Karis and Dominic Gesua say: "Retailers can benefit from our plastic-free ice lolly packaging because it's compostable, the products are more profitable than other competitors', customers demand it which leads to increase in demand and footfall, and it's what consumers want."
The Lickalix range is sold in multipacks, rrp £3.99. Stockists include Budgens and Spar retailers, including Eat17.
Take-home tactics
The fact that take-home ice cream is a more considered purchase means that indulgence is not the only factor at play. While consumers still buy ice cream largely for its indulgent qualities, a growing number are also looking for healthier variants.
"More and more people are talking about low fat and low calorie," says Dave. "Across the industry people are making healthier choices and looking harder at what they're doing, but equally people also want to have a treat."
Sandeep concurs. "People want to have ice cream and they don't want to feel bad about it." He claims that suppliers are on the case. "Healthier options are definitely coming," he says. "We sit on a panel with General Mills and have heard what they're trying to do with Häagen-Dazs. There's definitely healthier alternatives coming – dairy free, less sugar."
He claims that it's worth making space for better-for-you options. "Retailers should be on the ball with that and look out for those things because this summer people will definitely be moving across to alternatives."
Indeed, General Mills has already taken a major step in this direction with its Gelato Collection. Says marketing manager Kat Jones: "While an appetite for truly indulgent ice cream remains strong, demand for lower-calorie ice cream is on the up. Most brands don't offer both, which is where we differ – with the introduction of the Gelato Collection we're opening up Häagen-Dazs to shoppers looking for the perfect permissible treat."
The caramel swirl and chocolate drizzle ice creams have a very low air content, contain 150 calories and boast 30% less sugar and 50% less fat than standard ice cream. Available in a minicup format, it has an rrp of £4.99 for a pack of four.
Unilever is also targeting health-conscious consumers with Ben & Jerry's Moophoria and claims that the low-calorie ice cream segment is growing by 1,563% year on year (Kantar, MAT, 7 October 2018). Salted caramel brownie and chocolate cookies & cream (both rrp £6) are the latest additions to the range.
Emma predicts growing demand for healthier ice cream options. "I think there'll be some switching to healthier products – you see that there's lots being brought out and I am slowly introducing them to see how they go."
Unilever's Partners for Growth suggests that high affluence stores should consider adding healthy options such as dairy free, vegan and low fat, while low affluence stores should focus on core family brands, kids' ice cream products and multipacks.
A breakdown of impulse ice cream sales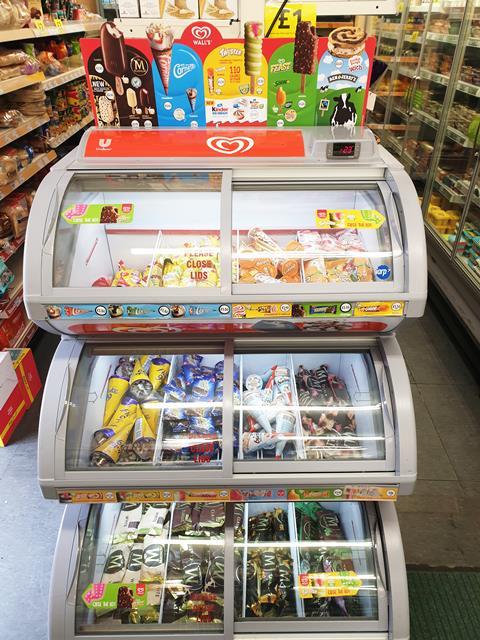 Chocolate Sticks - 38%
Lollies & Kids - 33%
Cones - 14%
Bars - 10%
Refreshing Treat - 5%
Source: Nielsen GB, Scantrack Eat Now, Total Coverage, 28 w/e 06.10.2018, Value & Unit Average.