Wilson Rea, owner of Keystore More in Lanark, Scotland, is pleased that the schools in his area are back open for a new term because trade from parents and children helps sales of food-to-go.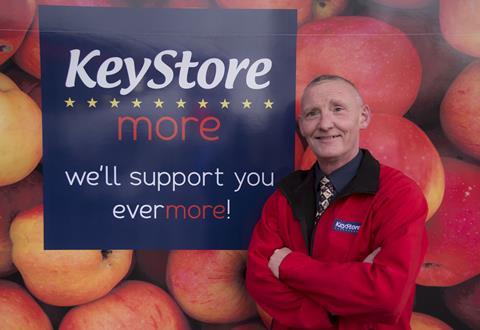 He says: "The kids are back at school where we are so everything is going back to normal and we are getting into the routine of normal trading. We had a bit of a quiet spell earlier this month when all the locals went away on holiday for a couple of weeks.
"It is much better for us when the schools are open again because our food-to-go goes really great. Our filled breakfast rolls are our top sellers - we sell thousands of them per month and our customers can use Keystore's 'Whip Me Up More' app to order hot food and drink for collection in store at any time of day.
"Sales of food-to-go now make up 14% of our business and we have a good relationship with our main suppliers so we can get them to make up themed dishes like a bean and potato pie for the autumn or a special pie for Christmas that is filled with turkey, gravy and stuffing.
"These kind of pastries and pies are quite traditional and perfect for when the weather gets a bit colder. I always try and get things in that people can't get anywhere else because this helps to create a unique selling point for our store.
"In the morning, we get the workers coming in for our food-to-go as well as our regulars. Local kids also come in for the milkshakes and hot food and we get a lot of white van men coming in at lunchtime.
"We also get parents coming in at weekends that can't be bothered to cook and want something to grab and go. We've found that once people know about our breakfast offer then they will come back more often.
"Over the next few weeks, we are introducing a Tango Ice Blast machine in the store to go alongside our slush and milkshake station so hopefully that will go down well with all our customers."
Star performers: "Tobacco and cigarettes is still our top selling category followed by food-to-go."