Being new to store ownership isn't holding back this business duo, whose combined talents have helped double sales at their first store and expand with a second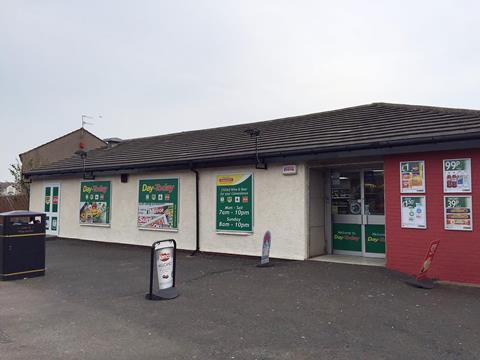 Mandi Duncan started working at the Day-Today Barassie store, in South Ayrshire, as a Saturday girl nearly 19 years ago, and certainly never imagined she'd end up buying the business from her boss. But 18 months on from doing just that, she has come to discover she makes a very successful businesswoman.
In that time her achievements have included doubling sales in the store in under a year and taking on a second store, in the nearby village of Doonfoot.
"It's crazy to think how long I've worked here, because it's easy to forget, but when I started working here my youngest son was just two years old and now he's a grown man," she recalls.
Mandi bought the Barassie store with co-owner Ross Macpherson, who has 23 years of experience in convenience wholesaling. At the time he was working for United Wholesale and was the store's business development manager.
"The partnership was a match made in heaven," Mandi explains. "He had a lot of contacts and good relationships with suppliers, and neither of us wanted to take on the venture on our own."
It was a big step, too, given the pair barely knew each other before they partnered up to buy the store. They were put together by the previous owner.
"It was so nerve-wracking not only to buy a store, but also to become business partners with someone whom I really didn't know that well at the time. But, thankfully, it's just worked perfectly right from the off."
Day-Today Barassie
Store size: 1,100 sq ft
Members of staff: 10
Weekly turnover: £18,000
Services: National Lottery, ATM, PayPoint, Zapper
Ross couldn't agree more. He explains: "I was visiting the store once a week and I knew that the store had previously been very high-profile, but that it had gone downhill and all the fresh produce had gone. I knew it could be a really good community store.
"It is a perfect partnership because I have a good understanding of management, and Mandi can deliver it. Mandi is the creative mind who can always think of interesting ways to get the community involved. I know what the trends in the market are and have made sure we invest in the right areas."
As soon as they took over the store, the two invested £47,000 in new fridges, freezers and shelving. They also set about creating a food-to-go section and improving the computing and till systems.
Mandi says the opportunity to make improvements has been refreshing. "It could be frustrating when you could see how things could be done better at your place of work, but I wasn't in a position to be able to put my ideas into play," she explains. "It's been great to be able to run with my own ideas and see how successful they've been."
The duo completely remerchandised the store and increased shelf space by raising shelving units two shelves higher, allowing them the scope to bring in on-trend and locally-sourced products.
One of the main areas to concentrate on was alcohol. They increased the gin range from two to 40 in the Barassie store and 60 in the Doonfoot store.
Ross has sourced 14 more prosecco lines from Italy to bring the store's range to 21. They have also added a sizeable craft ale selection, and Mandi makes up a lot of her own gifting sets such as boxes containing a small bottle of prosecco and prosecco truffles for £10, or a bottle of gin and some chocolates for £20.
She adds: "By making up these gift sets, which are always really popular, you can slightly manipulate the basket spend and encourage shoppers to spend more than they planned while also providing them with a really helpful solution to their needs."
Mandi says the plan has always been to make the store a "destination for anything". "I want people to feel they can come here to pick up a really lovely gift, but also they know they can pick up their dinner here, and that they will be offered a great choice of alcohol. I want it to be a convenient store for every shopper.
"We've had shoppers come in and say 'it's great now I can actually come in and buy dinner for tonight' – it's something they could never do before as we just didn't have the fresh or frozen range. We've more than tripled the frozen range and I would like to expand it further."
Also new to the store is a £1 bay, a protein section, a state-of-the art touchscreen coffee machine, and a pasties selection with an in-store microwave. This is particularly popular as there's a development of about 750 new homes going up just around the corner and consequently the store sees a steady flow of builders coming in for their coffee and breakfast.
Indeed, it was a builder who informed Mandi there was another shop in nearby Doonfoot that was in need of a revamp. "He suggested that the store could be great if it had the right ownership and said we should make the owner an offer, so we did, and it worked," Mandi explains.
"We got the store about seven months ago and used the Barassie store as a blueprint and implemented a full range review.
"It was another nerve-wracking venture. With the Barassie store, I've always lived in the area and everyone knows me and wants to support me, but in the Doonfoot store people didn't know me so I knew I couldn't rely on my connections. It's been a great boost for me to see it's worked out so well."
Ross points out that the Doonfoot store is also sited just half a mile from a new and popular Co-op store, so the competition felt pretty fierce to begin with.
"They are a strong competitor for us, but what they can't offer is the connection with the community that we do. While the Co-op store does give money to local charities, they can't offer the same personal touches that we can."
Mandi organises a host of community events and initiatives, and she advertises this work on the store's popular Facebook page. She is certain her efforts help to boost interest in the store. One example was the store collecting all the donated gifts for the community's 'Secret Santa Knock and Run', in which a local group knocks on doors, leaves a present, and runs away.
For Valentine's Day Mandi made a balloon arch over the door and all the staff dressed up as French people, wearing onions and berets. For the Golf Open they hung golf clubs up and put grass with a putter hole outside; if kids could putt a hole in one they got a sweet.
"Customers love the service they get here. The staff go on day trips to visit our local suppliers so we can tell shoppers exactly where things such as the cheese, milk and meat have come from. We take photos when we visit and post these on social media just to make shoppers aware that we're in touch with the local community and we care about supporting local companies.
"Previously the Barassie store had four members of staff; now it has 10 and we wouldn't want to cut this back at all. I know that with costs rising many retailers are looking at cutting their wage costs, but it's essential to keep customer service high here and so we don't want to make cuts to the service we offer."
Ross believes that customers enjoy coming to the stores because the staff are so positive and cheerful. He explains: "We make sure to treat the staff well so that everyone is happy to come to work, and customers can feel that when they walk into the store."