Energy drinks account for one in three on-the-go soft drinks sold in convenience in GB1 and are the largest soft drinks segment2. Is your fixture meeting its full potential?
With energy drinks now worth a staggering £667m to the convenience channel3, retailers are being urged to seize the sales opportunity they represent – and, as the driving force in the sector, Monster is there to help.
Up by 18% in value and growing faster than all its competitors4, Monster has delivered two-thirds of the energy sector's £72.5m growth over the last year in GB5.
Now, along with its manufacturer and distributor in GB, Coca-Cola European Partners (CCEP), Monster is helping retailers to get in on the action, and has rolled out an exciting new retailer support initiative – Sales Supercharged – to do just that.
The initiative is designed to help retailers identify which segments and variants to stock, how many of them, and how to bring the energy drinks category to life in-store. Let's take a look.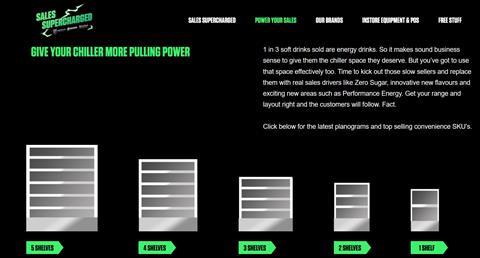 1. Getting your range right
More than 20 years on from the first energy drinks hitting the market, the segment boasts a growing variety of flavours, juice blends and nutritional formulas, which is extending its reach to more consumers, on more occasions.
And, as one of soft drinks' most active categories when it comes to innovation, there's a balance to find between stocking core best-sellers, and making space for new and exciting launches.
The original Monster Green variant is still the third-biggest soft drinks SKU in convenience6. Alongside it there's the well-established Monster Ultra range – number one7 in the zero-sugar energy segment – and the Monster Juiced range, now worth an incredible £92m8.
And don't overlook performance energy – a new and profitable sub-segment where the Monster portfolio is already making waves, having grown at a rate of 62.7% in GB over the past six months9. Reign Total Body Fuel is now the biggest performance energy drink in GB, and four times bigger than its nearest competitor10.
All these trends are key to allocating space for energy drinks.
You might want double facings of best-sellers to avoid running out, and remove any lines that aren't selling so well, to make space for new launches.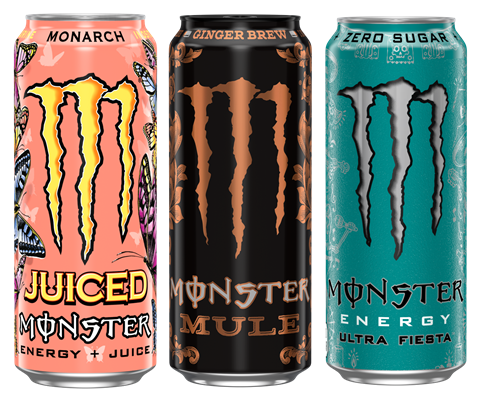 72% of the energy sector's growth over the last year has come from new products11, and more than half of that has been down to Monster. Available now, new additions to the Monster range for 2021 include Monster Mule, the first ginger-flavoured energy drink in GB, Monster Ultra Fiesta Mango and Monster Juiced Monarch.
2. Helping your shoppers to shop
The diversity of the energy sector is increasing its appeal to more shoppers, as long as they can navigate the fixture and find what they want.
Retailers should group brands and different sectors together, with clear signposting to highlight segments like Traditional, Zero Sugar, Flavoured and Performance Energy offerings.
And don't forget price-marked packs (PMPs).
35% of consumers say their income has taken a hit as a result of the coronavirus pandemic12, and many remain focused on saving money as a result. PMPs have a key role to play in delivering visible value, and can reassure shoppers that they can get the products they want, at an affordable price13.
500ml packs of Monster are all available in PMPs and plain packs. The Monster Energy original and Monster Juiced ranges have a PMP of £1.45, and the zero-sugar Monster Ultra range has a PMP of £1.35. Four packs of Monster Green also come in a PMP at £4.59, and the newly launched Monster Ultra White PMP four-can multipack is £3.99.
The recommended prices on all of CCEP PMPs are intended only as a guide for retailers, and they are free to set prices as they wish. Plain packs are also available.
3. Location, location, location
Energy drinks are big drivers of impulse sales so it's important to have them in several locations around your store.
Shoppers will expect to find on-the-go packs alongside the rest of your soft drinks and food-to-go offering – and, importantly, they'll expect to find them chilled.
68% of consumers prefer cold drinks14, so make sure they've got easy access to chilled cans. It can also be worth allocating secondary space in smaller chillers near the till point. Monster-branded equipment can become a standout feature in your store, talk to your CCEP rep to find out more.
The rise in home-based consumer occasions over the last year has converted into increased demand for larger pack formats like multipacks of cans. These can be displayed at the ends of aisles for customers looking to buy now and enjoy later.
Monster multipacks grew by 46% in 202015, and the Monster Ultra White four-pack is the number one low-calorie FC energy SKU in GB16.
4. Give energy drinks more life in-store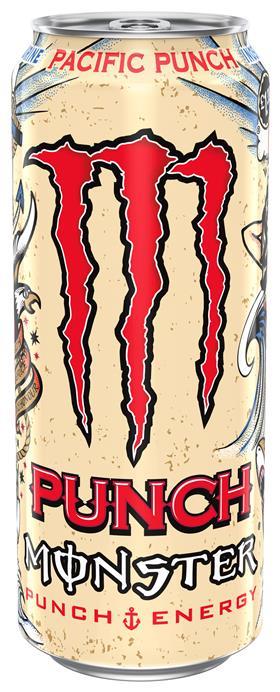 Energy brands aren't shy. Just look at some of the artwork on the cans – like the tattoo-inspired designs on Monster Juiced Pacific Punch, or the street art -style butterflies on Monster Juiced Monarch.
But why stop there? You can bring the fixture to life even more with impactful promotions and/or eye-catching POS. Who would say no to a money-can't-buy prize from Monster? Head to CCEP's trade website MY.CCEP.COM, to check out what Monster POS is available.
To find out more, take a look at the video below and/or head to salessupercharged.co.uk for more tips, trends, inspiration, and chances to win free stuff for your store.
Monster Sales Supercharged Film from Mercieca on Vimeo.

Sources
1 Nielsen: IC Energy drinks, Units Sold in Symbols and Indies YTD w.e 03.10.20
2+3 Nielsen, MAT Total Impulse VAL w/e 05.09.20
4 Nielsen, Home MAT Total Coverage incl discounters, VAL w/e 05.09.20
5 Nielsen Home Total coverage incl discounters last year to w/e 05.09.20 (Energy Growth +£72.5m /Monster Growth +63m =86% of the total growth number)
6 Nielsen, MAT Symbols and Indies, w/e 05.09.2020 Monster Green 500ml is the 3rd biggest SKU in value
7+8 Nielsen, Home MAT Total Coverage inclu discounters, VAL w/e 05.09.20
9 Nielsen, Home Total GB 24 w/e 08.08.20
10 Nielsen, Answers Value Sales Total GB Yt,d w/e 05.09.2020
11 Nielsen, Home MAT Total coverage value MAT, w/e 03.10.20
12 YouGov Survey, 26.05.20
13 HIM Focus on price-marked packs 2018
14 Lumina Intelligence Convenience Tracking Programme, Q1 2020 to end of March
15+16 Nielsen, Home MAT Value Total Coverage inclu discounters, w/e 05.09.20