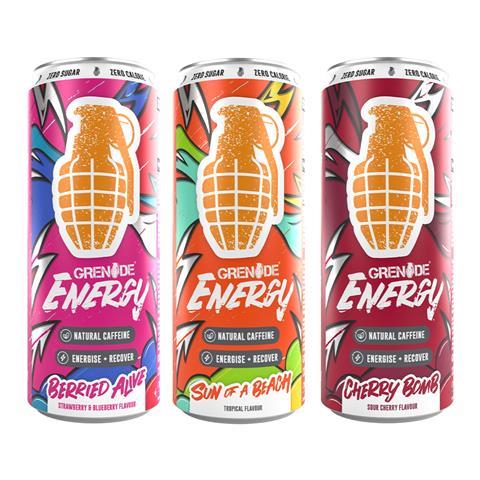 Grenade has added three new flavours to its energy drinks lineup. Cherry Bomb (sour cherry), Sun of a Beach (tropical pineapple, orange and coconut), and Berried Alive (strawberry & blueberry) will retail from £1.99, first launching on Grenade.com on 15 March, 2021, before being listed by Amazon, Motor Fuel Group, and GAP in April, and then Tesco in May.
The launch will be promoted by UK dance group Diversity, which has a long-term partnership with the brand, in a new performance later in the year.
Powered by caffeine derived from natural coffee beans, Grenade Energy is free from preservatives and artificial colours, and the firm claims it packs the same punch as two espressos.
Each zero sugar, zero calorie can of Grenade Energy also contains plant-based BCAAs, studied for their role in muscle recovery, plus electrolytes and B vitamins to fuel people through the day.
Grenade head of product Rob Page said: "Grenade Energy marks a step change for the energy drinks market, comprising natural or plant-based ingredients wherever we can – and not compromising on taste."
Grenade Energy originally launched in November 2019 promising to "give consumers the ultimate energy fix that comes at no cost to their healthy and active lifestyle".