Within biscuits, like many other categories, consumers are consistently drawn to brands they know and trust. Find out how to boost your biscuit sales through different approaches to merchandising the category and maximising the opportunity afforded by NPD.
Trends
Covid-19 prompted a shift in shopper behaviour, with brands that catered for at-home occasions rising in popularity compared to those for on-the-go opportunities, which were understandably limited due to the pandemic restrictions, notes Levi Boorer, customer development director at Ferrero UK & Ireland. This saw a shift towards multipacks in place of single-serves, offering better value to shoppers, who were buying the majority of their treats to enjoy at home.
Now that the market has opened up and people are on the move again, retailers need to be looking at different ways in which they merchandise biscuits and ensuring they cover all the bases, he notes. For example, small portion wrapped treats will be important in encouraging responsible treating, believes Boorer. However, multipacks will continue to retain importance as consumers seek out affordable options for home consumption, particularly in the current inflationary market.
Best advice includes stocking a range of formats, for both at-home and on-the-go, he says. Meanwhile, strategic placement of snack options such as biscuits next to a hot drinks machine, for example, will encourage impulse purchase with a tea or coffee, catering to consumers' affinity for this popular combination.
As for offers, retailers should also incorporate snacking products such as biscuits into their meal deal fixture, alongside a main – salad, sandwich or pasta – and a drink, offering it all at a set price. And don't forget that consumers will be looking for variety when it comes to snack options, he adds.
Trust in brands
According to a report in Convenience Store earlier this year1, citing figures from Kantar, the biscuit category is worth £270m, up 18% year on year, and there has been a resurgence of on-the-go formats as restrictions ease.
Within biscuits, like many other categories, consumers are consistently drawn to brands they know and trust.
Having established a very strong position across chocolate, sugar confectionery and spreads, Ferrero has ambitious plans to become a major player in total sweet packaged foods, reveals Boorer.
"With 49% of shoppers visiting the biscuit aisle2, biscuits naturally form a key pillar of those growth ambitions," he says. "Now, more than ever, shoppers have a functional approach to their visits and have a clear idea of the products they need before entering the store. Products from trusted, well-loved brands can help to generate impulse purchases as part of those visits."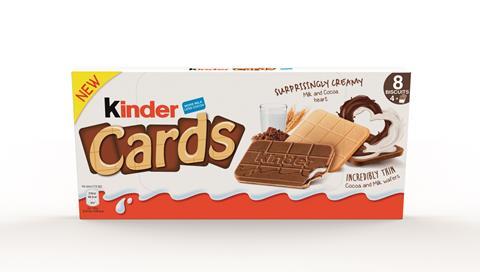 NPD
"With Nutella B-Ready already a firm favourite in the category, Ferrero's high-profile introductions of Kinder Cards and Duplo into the UK market last summer marked the logical next step in this journey following successful performances of these brands in Ireland and across Europe," explains Boorer.
"Each of the products in our biscuits range are available in single-serve and multipack formats, helping us to meet changing shopper needs and offering the right balance between on-the-go and at-home consumption.
"Expanding Ferrero's presence in the biscuit category, the launch of Kinder Cards brought the brand's distinctive milk and cocoa taste to a new sector," he says. "Available as single-serve packs of two cards, as well as a multipack of four (eight cards), Kinder Cards is designed to appeal to existing shoppers of the fixture, as well as attracting new ones. Thin and individually wrapped, they are ideal for the family to enjoy, and support retailers looking to drive sales for both on-the-go and at-home consumption, catering to changing demand throughout the week."
Meanwhile, Duplo brings Ferrero's expertise in hazelnut and chocolate to the category, with the product set to reinvigorate the UK's chocolate biscuit sector following a successful performance across other markets in Europe, he adds. Early consumer testing in the UK and Ireland showed that Duplo has a wide appeal across age groups, particularly among adults aged 24-453, due to its nutty taste and creamy texture.

"Featuring two layers of crispy wafer, sandwiched between a smooth hazelnut centre and coated in milk chocolate, each biscuit bar is 100 kcals to provide an on-the-go treat.
"The initial positive consumer response already shows a strong opportunity for retailers to shake up their chocolate biscuit fixture with this launch. The varied product formats and pack sizes give Duplo appeal across a number of different shopper missions, both enabling retailers to offer something new as on-the-go purchases return, as well as allowing consumers to manage their treating ahead of time and around the working week with our larger multipacks."
For more information on Ferrero's biscuit products, click here
Source
1 https://tinyurl.com/yckzscfr
2 Shopper intel / Biscuits / 2018
3 CPT Research

Present in the UK since 1966, Ferrero is a leading family-owned global company and is the third-largest player in the global sweet packaged foods market. Its unique and iconic brands are well-loved throughout the UK and include Kinder, tic tac, Ferrero Rocher, Thorntons, Nutella B-Ready and Nutella. The success of each brand is based on quality products which are carefully crafted and supported with significant investment, to deliver great tastes for customers and strong profits for retailers.