Summer is the time to tempt shoppers with your ice cream offering, but with ever-changing demands and freezer space often being limited in stores, how can you win with shoppers in this category and what are the biggest opportunities this year? Ferrero UK explains how premium options and innovation can help draw shoppers in and reveals a summer competition for convenience retailers.
It's no surprise that summer accounts for almost half of annual ice cream category sales (Kantar), but there is still an opportunity to drive further sales over the coming weeks.
The UK ice cream market continues to grow and is the largest category within frozen at 21.5% share, worth £1.3bn (Circana). While all year round there may be appetite for ice cream tubs, catering for the 'big night in' with family and friends, summer is where the impulse occasion comes to life.
Last summer, chocolate ice cream sticks grew to an impressive £26.4m and 98% of sales were incremental to the category (Kantar), demonstrating the importance of a solid core range with big name brands which will grab shoppers' attention.
Atul Sodha, owner of Londis Harefield, is looking to new product innovation to bring in the crowds this summer: "We see that premium ice cream, and especially NPD in this area, helps bring in shoppers and gets them to see the store as a destination to pick up something to treat themselves.
"We'll be using social media to highlight premium ranges, such as Ferrero's ice creams, to get people in the door this summer. When we use our social channels in this way, it also helps gain tangible responses that we can track and then adjust accordingly. We make sure that our impulse ice cream freezer is in prime position near the till too, so it's unmissable and as the warmer weather kicks in, we can encourage customers to try something new."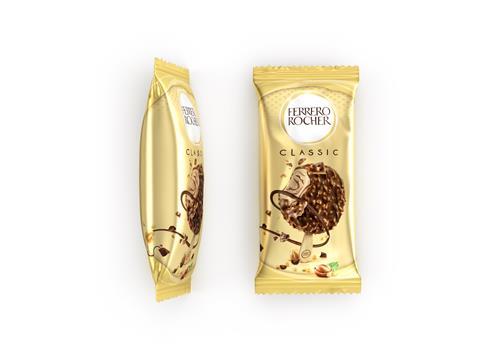 This year, Ferrero UK rolled out the unrivalled taste of its chocolates in an ice cream stick format, with three flavours comprising of Ferrero Rocher Classic, Ferrero Rocher Dark, and Raffaello. The NPD is set to appeal to shoppers looking for a more premium treat this summer and has brought the trust and popularity of its confectionery offering into the UK ice cream market for the first time.
Jason Sutherland, UK & Ireland sales director at Ferrero, at Ferrero UK, comments: "This is the first summer for our ice cream range and we're looking forward to this being an opportunity to drive further awareness among both retailers and shoppers alike.
Our competition is a chance for us to encourage trial in-store with stock up for grabs, plus a grand prize which will support our winner to connect and engage with their community. Having our best-selling boxed chocolate available in an ice cream form (Nielsen) is a chance for retailers to use the well-known brand name as a signpost for premium ice cream and encourage their shoppers to trade up."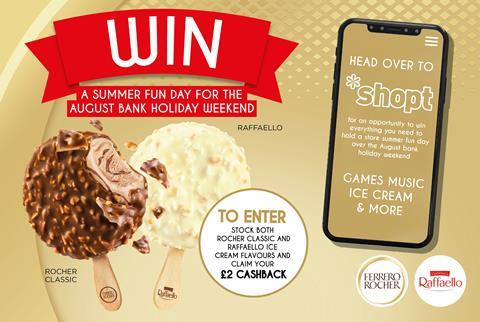 Ferrero's ice cream range can also help to drive cross category purchase across confectionery and ice cream, providing retailers with a strong opportunity to attract existing Ferrero shoppers to the ice cream freezer, as well as recruit new ones.
Top
tips for ice cream sales this summer
Prioritise premium offerings
Ice cream continues to prove a treat for many shoppers, so ensure that you are prioritising products that will attract and engage. Shoppers will continue to demand products from brands they know and love, and Ferrero ice creams provide the perfect balance of premium ice cream with the brand's popularity in confectionery
Single serves cater to multiple shopper needs
The chocolate ice cream stick format continues to prove to be the popular option in this channel, as it taps into multiple treat occasions. Ice cream sticks offer retailers and shoppers an on-the-go ice cream solution, catering to impulse purchases and hot weather peaks in demand. Ice cream sticks are also often available in multipack format, with consumers buying to enjoy as an at-home treat option
Attract shoppers through social media
Social media channels are a great way to keep your shoppers updated, particularly when demand typically peaks on summer days. Share new additions to your freezer across social platforms, and encourage footfall to store
Retailer competition
Ferrero UK has launched a summer competition set to drive further awareness and uptake of its ice creams which launched earlier this year. Exclusive to existing and new users of the retailer rewards app *shopt, the competition offers the chance for one store to win a grand prize of their very own summer bank holiday celebration package, including everything retailers need to hold a store summer celebration over the August bank holiday weekend.
To enter, all retailers need to do is ensure they are stocking both the Ferrero Rocher Classic and Raffaello ice cream singles and submit a photograph of the products in store within the *shopt app, which will allow them to redeem their £2 cashback reward. By doing this, retailers will then subsequently be entered into the prize draw.
For the chance to win, simply download the *shopt app from the app store and follow the directions on screen. Entries open from 24th July 2023 until 21st August 2023. For full T&Cs click here.

Present in the UK since 1966, Ferrero is a leading family-owned global company and is the third-largest player in the global sweet packaged foods market. Its unique and iconic brands are well-loved throughout the UK and include Kinder, tic tac, Ferrero Rocher, Thorntons, Nutella B-Ready and Nutella. The success of each brand is based on quality products which are carefully crafted and supported with significant investment, to deliver great tastes for customers and strong profits for retailers.
View full Profile