This Christmas, Ferrero is giving one retailer the chance to win a store makeover worth £4,000, including bespoke category advice and a community event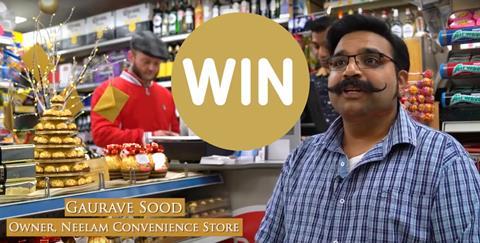 Ferrero is sharing the Christmas spirit this year, bringing back its Sparkling Store Makeover competition. One lucky retailer has the chance to win a sparkling store makeover worth £4,000. As with last year's competition, the prize includes festive decorations tailored to the store and a community event to bring local people together.
New for this year, Ferrero's category management team will also help the winning retailer to maximise sales in the final run up to Christmas, offering best practice tips and display materials to make the most of the biggest confectionery occasion of the year.
Levi Boorer, Customer Development Director at Ferrero, said: "Creating theatre around key seasonal occasions is an important way to drive additional sales and footfall. It creates a point of difference to other stores, and helps retailers to give something back to their local community and loyal customers.
"We know that retailers are often too busy to make the most of the greater consumer demand in seasonal confectionery, so this year's prize winner will also benefit from our expertise and guidance to maximise sales of Ferrero's core range and seasonal editions this Christmas."
Last year's winner, Gaurave Sood from Neelam Convenience & Post Office in Uxbridge, said: "We learnt a lot about the importance of creating in-store theatre following the collaboration with Ferrero. I urge all other retailers to enter and take inspiration from this competition – we saw some amazing results at Christmas because of the makeover."
The competition runs until November 19. Entries will be accepted in one of two ways (T&Cs apply):
1. Visit the competition page on YourPerfectStore (log in may be required)
2. Post a video nomination of yourself on Twitter, describing your perfect Christmas and nominating other retailers to share their perfect Christmas. Simply use the hashtag #YourPerfectChristmas and tag @FerreroYPS to enter.