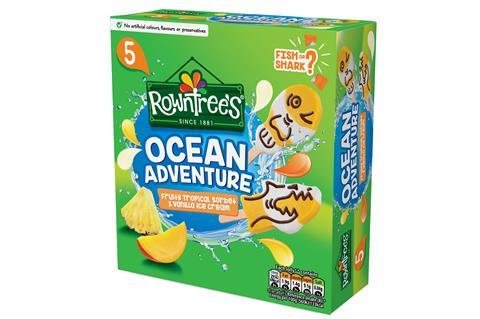 Froneri has added Ocean Adventure to its Rowntree's ice lolly range.
The Ocean Adventure ice lollies combine vanilla ice cream and fruity tropical sorbet, topped with milk chocolate décor to create fun fish and shark characters. They contain 69 calories per lolly and over 10.5% fruit juice content from concentrate.
Rowntree's hope's to take their shaped lollies to the next level with Ocean Adventure, using innovative chocolate decoration technology making every pack unique.
Rowntree's is first to market this new technology, with each fruity 5-pack (rrp: £2.20) containing both fish and shark character shapes with unique "personalities" in every pack.
Brand Manager, Jelena Aleksic, of Rowntree's said: "We're so excited to be the first to launch this product to market. The development of the product tested extremely well in research and showed us that not only children love our Ocean Adventure lollies, but adults do, too. Research showed that 8 out 10 would purchase" (Happy Thinking product research 2021)."