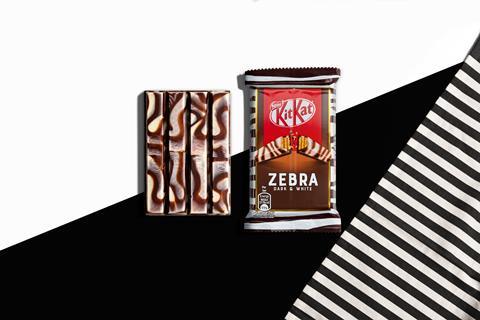 Four finger KitKat Zebra (rrp 85p) comprises crispy wafer on a dark chocolate base, topped with marbled dark and white chocolate.
Assistant brand manager for KitKat Callum Smith said: "Now over 85 years old, KitKat's unique mix of heritage and innovation has helped to make it one of the UK's most iconic confectionery brands. We know how much people love to discover new KitKat flavours, and we think Zebra is an innovation they will go wild for!
"KitKat Zebra brings you the best of both worlds - combining rich dark and white chocolate with our crispy wafer – and we hope fans will agree that it tastes as good as it looks. All we can say is, stripes are definitely in this season!'
KitKat Zebra is the latest in a long line of new flavour launches from the brand. Last year's KitKat Gold, originally launched as a limited edition, has proved so popular that it is now a permanent addition to the range. Other recent innovations include KitKat Green Tea Matcha and KitKat Ruby.
This year, KitKat is also offering consumers the chance to instantly win £10,000 with its Win a Break from Bills promotion. Seven of the original eight top prizes are still available. The brand is also giving away £50 online every hour (between 9am and 7pm) from now until the 28 March. The Break from Bills online promotion is running across KitKat 2-finger and 4-finger singles and multipacks, KitKat Chunky singles and multipacks and KitKat Chunky Duo.
Like the rest of the KitKat range, Zebra uses Rainforest Alliance certified cocoa that has been responsibly sourced as part of the Nestlé Cocoa Plan, and contains no artificial colours, flavours or preservatives.
KitKat was invented in York back in 1935 when the first four-finger bar was introduced as the Rowntree's Chocolate Crisp. The name 'KitKat' was adopted a couple of years later and the brand has gone on to become a worldwide success, with 17 billion KitKats eaten across the globe every single year.