Nestlé has expanded the Aero range with an Aero Caramel sharing bar.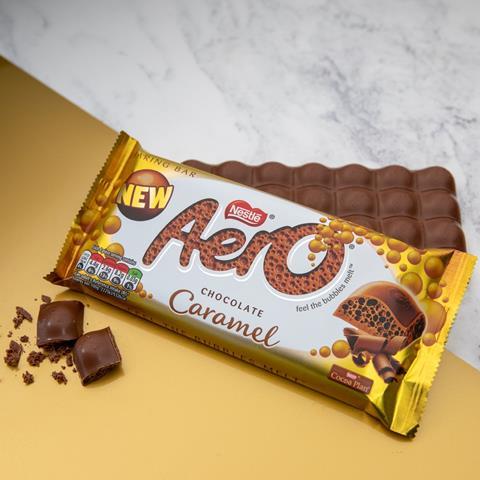 The 100g bar (rrp £1) contains caramel-flavoured milk chocolate made with cocoa responsibly sourced under the Nestlé Cocoa Plan. The product is being rolled out to the Co-op over the coming weeks and will also be available to the wider convenience sector.
Amy Kendall, assistant brand manager for Aero said: "The science and technology behind Aero made it unique from the start – but we continually look for new ways to innovate and delight fans. We believe that Aero Caramel is a delicious new addition to the Aero family, and we hope it will soon become another firm favourite."
Aero Caramel is being made at Nestlé's factory in York, which also produces KitKat, Milkybar and Polo as well as milk and peppermint Aero and Aero Bubbles.
Aero was first launched in 1935 as a peppermint-flavoured chocolate bar and this was followed by the milk chocolate format in the 1970s. Aero Bubbles were introduced in 2005 and last year Nestlé introduced Aero Bliss, a new premium version of Aero which comes as indulgent boxed chocolates that are perfect for sharing.