Lucozade Energy is promoting its soft drinks line-up throughout the summer with a new £2m marketing campaign - the first to focus on the brand's flavours range in more than eight years.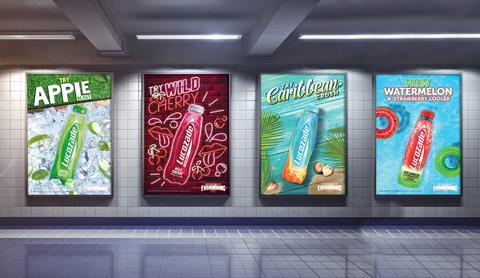 The multi-channel campaign includes nationwide outdoor and digital advertising, social media and in-store activations to drive awareness and summer sales of the Lucozade Energy flavours range.
In total, four creatives have been created to showcase the brand's wild cherry, apple blast, Carribbean crush variants as well as newest addition watermelon & strawberry cooler.
Bridget Hirst, brand manager for Lucozade Energy, said: "The campaign will showcase a variety of flavours from the Lucozade Energy range to help retailers drive additional sales over the summer season. Retailers should absolutely stock up on the full range now to ensure their chillers are ready for the demand."
Hirst added: "The Lucozade Energy flavours range has already contributed a significant £54m worth of sales to the energy category (EXT, IRI, MarketPlace GB, latest 52week data ending 28.04.19), showing just how important it is for retailers to carry a diverse selection of flavours in their chillers. In fact, 30% of new shoppers first buy into the brand through our flavours range (Kantar Worldpanel 52 we 24 Feb 19, Take Home Panel) so it's crucial for attracting new shoppers to the category, too."