You can't rely on a scorching summer to sell soft drinks, but you can keep up the heat by including healthy options and latest innovations.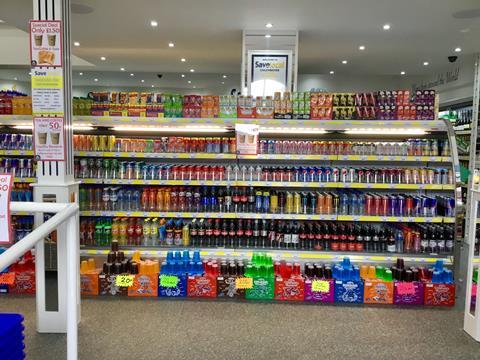 Last year was one of the hottest on record and we all know that demand for soft drinks only goes in one way when temperatures start to rise.
In fact, the summer of 2018 proved how popular the category can be, with the World Cup also contributing to a great uplift in sales as soft drinks delivered value sales of £2.2bn for c-stores (IRI Britvic Convenience 52 w/e 30 December 2018).
Unfortunately, there was one cloud on the horizon as last year's CO2 shortage also contributed to the pressure on soft drinks supply, causing issues for retailers. Among them was Tony Lipscombe, of Premier Neyland Supermarket, Milford Haven. "The CO2 shortage was a bit of a nightmare last summer and my supply from Booker definitely suffered as a result," he reports.
"At the time, it was a case of getting hold of any stock to try to fill the gaps. I had to use three different cash and carries for my supply.
"Soft drinks are always a great seller for us so it was frustrating that we couldn't make the most of the demand during last year's heatwave and World Cup frenzy."
Even with the industry-wide shortage of carbon dioxide, though, the soft drinks category stayed resilient and increased 8% year on year in the convenience and impulse channel (IRI Britvic Convenience, value sales, 52 w/e 30 December 2018).
Despite these results, Mark Bell, strategy and planning manager at Red Bull UK, warns that retailers can't afford to take their eye off the category this summer.
"Busier lifestyles and increasingly time-poor consumers mean that the market is looking for more all the time. Products that deliver added value for a range of summer occasions, such as multivitamins, protein or a functional energy boost, continue to be popular," he says.
"With the heightened importance placed on the health agenda over the past year and the Soft Drinks Industry Levy in place, consumers are swaying more towards sugar-free options. It is therefore imperative that operators offer a low-calorie alternative. Diet is worth £143m, which equates to 10.7% of the sports and energy category, increasing by 18.2% from 2017 (IRI £Value ROS Total Coverage MAT Data to 22 September 2018)," he adds.
Jerry Tweney, who runs Prestbury Village Stores in Gloucestershire, says he has been forced to change his drinks range to meet demand for low-calorie and low-sugar drinks.
He explains: "The change in the take-up of low-sugar alternative drinks is really noticeable now, and more and more people are looking for the diet option that doesn't contain sugar or calories.
"The sugar tax has certainly worked in getting people to change their shopping behaviour."
He says that new products such as Fanta Zero Grape and Coca-Cola Energy have really benefited from this change.
Amy Burgess, senior trade communications manager at Coca-Cola European Partners (CCEP), believes retailers like Jerry are right to respond to the growth in low-sugar drinks, and says sales figures back up the results seen in his store. She says: "The health and wellness trend continues to influence purchasing decisions and Fanta Zero is in growth and recruiting new shoppers into the segment, making it a must stock for our customers (AC Nielsen MAT Value Total Market 23 June 2018/CGA Value MAT 19 May 2018)."
Irn-Bru steels itself for sales with TV push
Barr Soft Drinks is investing £6m in its Irn-Bru drinks brand with a new 'Get Some Irn in You' shopper campaign.
The activity is designed to differentiate the brand from other carbonates, spearheaded by two new adverts.
The campaign will run across a number of media channels, including TV and digital platforms, targeted at 16- to 34-year-olds.
"Irn-Bru's success has been built on the back of award-winning adverts that consumers love and this campaign will be no different.
"We'll be encouraging people to have the mettle and confidence to go about their lives with a bit more attitude and to live life as they want to, by getting some Irn in them," says Adrian Troy, marketing director at Barr Soft Drinks.
"Not only will the new campaign entertain and engage consumers, it will help drive the overall carbonates category as we lead into the key spring-summer period."
Troy adds that retailers can now access a range of new POS materials to help them drive incremental sales during the marketing campaign.
Water works
One area of the soft drinks category that has seen a lot of investment over the past few years is water.
"Water does really well in our store and brands like Volvic have done well with their flavoured and added-nutrition products," says Jerry. "I think the trend for water goes along with people wanting to be healthier and have less sugar. During the summer, bottled water is also one of those products that is quick and easy to pick up."
Nichola Grant, channel marketing manager for Highland Spring Group, points out that a standout range of water in the soft drinks aisle can help retailers tap into current consumer trends.
"Bottled water's calorie-free status, along with the omission of sugar, preservatives and additives, coupled with its convenience and refreshing taste, provides health-conscious consumers with alternatives to fizzy drinks and sugary juices.
"Bottled water is also versatile, available in still, sparkling and flavoured varieties and various size formats, making it suitable for consumption at any time of day, in any environment."
The take-up of bottled water among consumers comes as no surprise to Tony, as the category has been a strong performer for him for a number of years. He says: "Water is a really good area for our store and we even see kids now drinking bottles of water instead of the sugary alternatives.
"I think their parents are encouraging them to drink more water-based drinks, because they are more concerned about sugar."
And the statistics from sub-segments within the water category mirror Tony's experience. Sparkling water, for example, is now worth almost £126m, following a value increase of 3.1% last year (IRI Performance Report 52 w/e 8 December 2018).
Tracie Horner, sales assistant at Eurospar Carrowdore in County Down, says much of the innovation in water is being driven by fizzy or flavoured options.
"We've just brought in a whole host of new flavoured waters and changed the planogram for the waters section to make room for all the different variants on the market. It seems to be the new trend in the market that suppliers and brands are trying to push for more flavoured and sparkling waters to be included in the range."
Grant argues that products such as sparkling water are fast becoming an everyday hydration option, rather than being seen as a drink for special occasions. "Retaining all the benefits of still natural source water, sparkling offers a little lift and added flavour," she points out.
She also suggests the increased demand for sparkling water could be attributed to the implementation of the sugar levy, or a shift in opinion towards its consumption and its premium cues.
Wilson Rea, owner of Keystore More in Lanark, believes water will continue to be a popular choice due to its health angle.
"I'm trying to keep away from as many of the high-sugar lines as possible and instead ordering in lots of bottled water and the zero-sugar versions of all the carbonated drinks. We get a lot of parents coming to the store and, from what we've been seeing so far, they are buying more healthy options."
Tracie and her team focus much of the promotional activity within the water category on multipacks. "If you want to sell more bottled water then the multipacks seem to do really well," she asserts. "I think people look at the value of the single bottle and recognise that it makes sense to go for the bigger packs. Shoppers are smart enough to see when a product works out cheaper. We do promote the sports bottles, too, but the multipacks are our main focus."
Tony employs a similar technique to drive sales in Premier Neyland Supermarket, offering customers a discount for buying their water in bigger volumes. He explains: "Wherever possible, I try to go for the multibuys. I always have Highland Spring and Buxton impulse bottles on promotion to encourage people to buy more.
"Even if people have come in for one drink they will look at the price and decide to buy another. Doing these deals does hit margins, but it helps to increase sales and volumes."
Sid Ali, owner of four Nisa stores in Aberdeenshire, likes how lots of the big brands, including Robinsons Refresh'd, have introduced promotions that encourage people to buy more than one drink.
He says: "I think the new multi-buy mechanic that a lot of the brands are doing, like two drinks for £2, really helps to drive sales. The price is also marked on pack alongside the standard pricemark so customers can see the value they are getting.
"The only thing I wish they would do is work together as a sector and run the same prices right across the range so that is clearer what people get from buying things like water in different bottle sizes."
With water delivering strong results across the convenience channel – up 11.4% year on year (IRI Britvic Convenience 52 w/e 30 December 2018) – Ammad Durrani, head of category and shopper development at Nestlé Waters, thinks retailers can boost sales further by focusing on their displays.
He says: "Driving the visibility of water in store is crucial in keeping it front of mind for consumers. One way to do this is to position bottled water near other on-the-go products, such as chilled food to go, coffee machines, or fresh bakery products. This will remind shoppers to stay hydrated while also helping to drive cross-category purchases.
"We also advise retailers to provide enough space for bottled water, recommending they allocate 20% of their soft drinks chiller space, as well as clearly segmenting bottled water into still, sparkling and flavoured."
Fresh flavour for Aqua Libra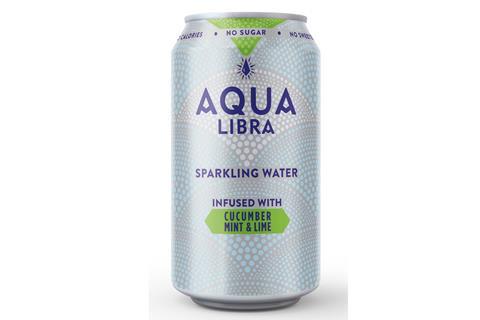 Britvic has introduced a cucumber, mint & lime flavour to its infused sparkling water brand Aqua Libra, supported by a new look across the range.
The product aims to appeal to consumers' changing tastes and drive growth in the water-plus soft drinks category.
Complementing the existing raspberry & apple and grapefruit & pineapple flavours, the on-trend variant comes in 330ml cans and will be supported by in-store activation, events sampling and digital activity this summer.
From this month, the wider Aqua Libra portfolio will also sport a new packaging design highlighting the zero sugar, sweetener and calorie content of the products.
Britvic out-of-home commercial director Rachel Phillips says: "Following the introduction of the Soft Drinks Industry Levy, we've seen a significant uplift in people switching from full-sugar drinks to low- and no-added sugar alternatives across the board, demonstrating that consumers are not afraid to try new low- or no-calorie drinks.
"Aqua Libra has no sugar, sweeteners and calories, and we are confident the new flavour will help the brand challenge the rules of soft drinks as it offers a drink that is as healthy as it is tasty."
Staying on-trend
As retailers look to make more of their soft drinks range, Emma Hunt, marketing director for Vimto Soft Drinks, advises c-stores to ensure they're meeting consumer demand for health and premiumisation.
She explains: "There is a higher expectation from consumers today that products will both be healthy and taste good. Stocking up on the most popular brands, as well as tapping into the latest trends, is essential when considering what to stock."
Sid says demand for functional drinks that offer benefits such as added protein, vitamins or minerals are beginning to hit sales of traditional lines.
He explains: "Regular Pepsi has really fallen away in our stores, to the point where sales are pretty low. The Max and Diet versions have kept on growing, but I think demand for better-for-you drinks is what has really driven the brand's decline."
Sid has recently started stocking Green Cola – a naturally sweetened cola alternative which is sweetened with stevia and caffeine sourced from green coffee beans.
"It is a bit early to see how well it is doing at the moment," Sid admits, "but it will be interesting to see whether this type of plant-based cola will take off with our customers."
Charlotta Oldham, senior marketing manager for Starbucks EMEA, agrees that demand for soft drinks that offer health benefits are on the up. "The trend for health and wellness continues to grow as consumers search for 'better for you' options," she says.
The demand for vegan products is another trend that shows no sign of slowing, she adds, "and offering a range of drinks that caters to this market is essential".
Tony sees CBD drinks as a major emerging market. He says: "At the moment we have just got the vapes, but I think soon all the brands will be coming out with their own CBD drinks. As soon as one of the products or the CBD category in general takes off, they will all follow."
Holly Sparrow, marketing executive for Radnor Hills, points out how important it is for c-stores to keep up with trends within the soft drinks sector. "It's really important to keep your products current and on-trend, as the market moves so quickly," she says.
"The market for zero-alcohol drinks with adult appeal is on the move, and bringing authentic, traditional flavours to the table is the name of the game."
Paul Hargreaves, ceo at Cotswold Fayre, argues that even retailers who are tight on space should make room for on-trend products within their soft drinks fixture.
"Soft drinks offer one of the best rates of sale per sku, so without question retailers should make room for a vibrant mix of artisan and mainstream products – including ambient and chilled."
Premium adult drinks look destined to grow, according to Hargreaves, and the good news is interest in these types of drinks is particularly prevalent during the summer.
Says Burgess at CCEP: "With many people hosting gatherings of family and friends, it's worth focusing more on adult soft drinks, as consumers look for a premium drink to make their gathering feel more sophisticated," she says.
Ribena blackcurrant ads burst onto TV screens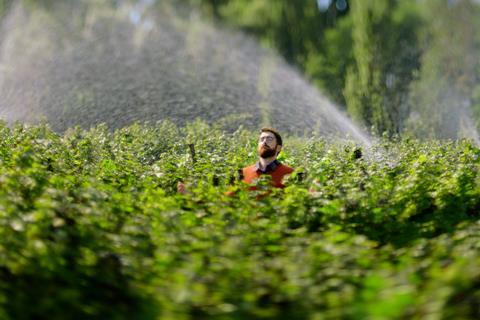 Ribena is following up the launch of its Frusion water brand with a multi-million pound marketing campaign to support its blackcurrant-based line-up.
On TV now, The Blackcurrant Artistry campaign is designed to tell the story of the craft behind Ribena. It also showcases the brand to all ages across video-on-demand, YouTube, out of home, social media, sampling and digital advertising.
By highlighting the natural credentials of Ribena across its ready-to-drink, cartons, squash and Ribena Frusion range, the brand hopes the campaign will build on success of the brand's previous activity.
Charlotte Flook, head of Ribena at Lucozade Ribena Suntory, says: "We've conducted extensive consumer testing on our new campaign, with really strong results. In fact, in testing this year's Ribena TV commercials are in the top 13% of all UK adverts for share growth potential, so the campaign is certainly set to drive the brand's sales for our retail partners throughout the summer and beyond (PLC Research 27 March 2019)."
Ribena is also launching a sampling and experiential campaign this summer that will run alongside the ads.
Flook adds: "By promoting Frusion as part of the wider brand message and emphasising our Blackcurrant Artistry since 1938, we are communicating our heritage, focus on innovating to meet consumer needs of today, and bringing new consumers into the Ribena brand."
Drinks to go
As consumers enjoy more frequent picnics and alfresco dining, Matt Gouldsmith, channel director for wholesale at LRS, believes the food-to-go shopper is crucial in helping retailers increase sales.
He explains: "Soft drinks are the most frequently bought item by food-to-go shoppers, with 27% of their total spend, so including best-selling brands within a lunchtime meal deal is a great way to grab shoppers' attention and encourage them to take part in the promotion (HIM CTP 2018).
"With 13% of convenience shoppers driven by food and drink-to-go missions, meal deals are certainly an important part of a store's offering (HIM CTP 2018)."
The demand for soft drinks and food to go has grown to such an extent that Jerry at Prestbury Village Stores has had to create a new dedicated bay for lunchtime meal deals and impulse drinks to bring the categories together.
He says: "We created the new bay by taking out some chilled and dairy lines and putting the soft drinks in the chiller alongside the Budgens meal deal.
"We get so much more passing trade now from builders and workers in the area, so we need to have drinks that they can take with them while they are out and about."
Jeeta Bhadal, owner of One Stop Woodhouse in Leeds, often runs cross-category offers for consumers buying a drink with their meal. "We find that most customers buy a drink of some kind with their dinner anyway," he says, "so it makes sense to do combo deals with those types of products."
Hunt also emphasises the need for retailers to include soft drinks within their on-the-go offer: "Soft drinks are a key part of the grab-and-go market, so it's essential to stock a variety alongside any food-to-go fixture which increasingly has a larger presence in convenience stores. Visibility is crucial for driving grab-and-go sales, so POS displays can really help, as can ensuring soft drinks are front and centre of your refrigerators, alongside quick and easy food-to-go options."
One of the key things that retailers need when they are running these types of promotions is good POS, and Tony believes c-store retailers are well supported when it comes to promoting impulse drinks. "Brands have all the resources available to us and are there to help us if we need anything additional on the fixture. They never complain about having their name on the fixture," he asserts.
7UP unveils limited-edition Fido Dido packaging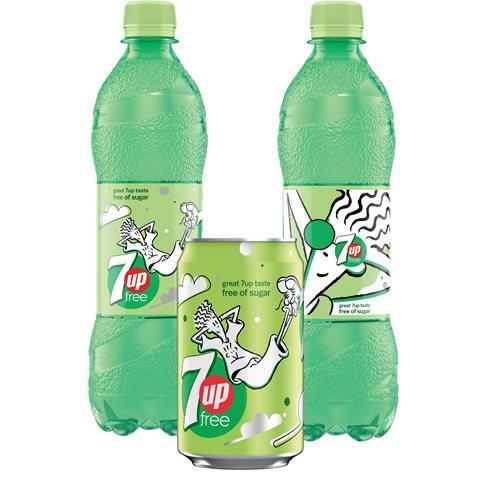 7UP is bringing back its brand mascot Fido Dido for the rollout of special-edition packs for its sugar-free lemon & lime drink.
Available now for a limited time, Fido Dido packaging will appear across all formats of 7UP Free. The activity is designed to introduce the 'King of Cool' character to a new generation of shoppers, bringing them into the category as part of the brand's Feels Good to Be Free campaign.
Rachel Phillips, out-of-home commercial director at Britvic, says: "The 7UP Free limited-edition cans will be available as part of our hugely successful 2 for £1 PMP deal within the impulse channel, providing retailers with an additional sales opportunity.
"The launch of the limited-edition packs also ties in perfectly with the brand's 90th anniversary celebrations that get under way this month. 7UP – and in particular Fido Dido as a character – embodies a feeling of being free to be yourself and we are investing heavily in the campaign to raise awareness among shoppers."
Phillips adds: "The launch will be supported with its biggest integrated marketing campaign in the UK to date, including TV launching in June and running for six weeks to support. 7UP, and Fido Dido will be front of mind for shoppers across the summer, a key period for retailers' soft drink sales."
The 7UP Free limited-edition Fido Dido packs will be available to c-stores until October and, in addition to the TV campaign, will be supported by outdoor, video-on-demand, digital, PR, sampling and experiential activations throughout the summer.
Frozen drinks
While food-to-go is a winner for soft drinks sales, retailers can eke more out of their soft drinks sales in other ways, too. For Sandeep Bains, owner of a Simply Fresh store in Faversham, Kent, it is encouraging customers to spend on slush.
He says it's a drink that can command a high price, but not all retailers are exploiting this. "Some guys out there are selling slush at 50p or 80p. It's ridiculous – slush is an impulse, novelty product that people are happy to pay for. You don't need to go too cheap on these things.
"We have a Snowshock machine with a regular cup selling for £1.50 and £2.50 on a large. There's guys out there selling at £1.20, or even less for a large cup. Fair enough there's still margin to be had even at that price, but why would you go down to that price when you don't need to?"
In order to maintain momentum into the summer and following his success with Snowshock, Sandeep is looking to expand his slush range further. "We're going to move our slush over to the front of the store to maximise those sales and we've just secured a deal with Tango Ice Blast," he explains.
"Sunder Sandher [One Stop retailer] has it and Sid Sidhu [Budgens retailer] has it. The Tango Ice Blast will also be located at the front of store."
Peter Campbell, md for Snowshock, believes slush sells better when located at the front of your shop and claims self-serve drinks machines sell up to 50% more than machines manned by store staff.
"We cannot recommend this enough," he says. "If you can, get it out on the shop floor and let your customers serve themselves, this really gives an uplift to sales and also saves manpower and reduces queues at the tills."
Tony sees the value in self-serve slush and does a storming trade throughout the year. His Premier store is located close to the sea and also benefits from a loyal following from local kids.
"We make so much from our slushie machine, because it offers such good margins. We probably could make more out of it, but I tend to stick to standard retail price because the kids who buy it haven't got the money to spend so much on slush," he says.
Sid recently entered the frozen drinks category, partnering with Eros Retail to bring the company's Skwishee machine into his soft drinks offering. He says the results have been fantastic, despite initial reservations about the venture when he was first approached by fellow Nisa retailer and Eros Retail md Harris Aslam.
"I really wanted to support Harris because I know him and his team really well," Sid asserts, "but I did think they were a bit mad setting up their own company.
"That said, the sales have exceeded all expectations and the product tastes fantastic. I like the way it keeps its flavour and is perfect for when people want something cold on a hot day."
He adds: "It's quite premium too, at £1.99 for a standard cup, but I think it is a lot better than slush because it is sugar free so is a better fit for kids, who are the main market for this type of product."
F'real expands range with new smoothie flavours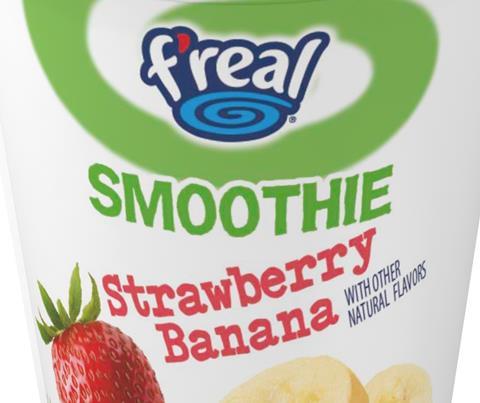 Self-serve milkshake brand F'real has added two new smoothie flavours to its frozen beverage range.
Strawberry & banana and mango & passionfruit join the brand's existing ice cream-based milkshakes which include vanilla, strawberry, chocolate and cookies & cream variants (rrp £3 per serving).
The smoothie drinks are offered as part of F'real's self-serve touch-screen milkshake and smoothie vending solution, offering c-stores a premium product that consumers can make themselves.
Made using fresh ingredients with no artificial colours or flavours, the brand's self-serve milkshakes and smoothies can be made in 60 seconds and in three different thickness options.
F'real machines are automatically sanitised and cleaned, with all ingredients pre-measured in a frozen cup. Consumers simply choose their preferred flavour, peel off the foil seal, then blend to their preference.
Says Emma Wood, head of F'real EME at brand owner Rich Products: "Our new strawberry & banana and mango & passionfruit smoothies bring top-selling varieties to the F'real offer, which will extend its appeal to even more consumers."
The future
With so much change in the industry, what's next for the soft drinks industry? James Logan, commercial director at Refresco UK, believes the impact of soft drinks on the environment and on people's health will remain key considerations.
He says: "The environmental impact of the category will be a key long-term trend, leading to changes in packaging formats. Health, wellbeing and fitness-related products such as protein drinks, especially in water and natural energy, will grow in popularity."
Hargreaves agrees: "Consumers are undoubtedly conscious of purchasing too much plastic and many producers are moving to 250ml cans to reflect this concern.
"Interestingly, cans were perceived as being far less premium than bottles a decade ago, but there is now much more acceptance of cans and cartons as an alternative to plastic."
Jerry has noticed an increase in demand for non-plastic formats such as cans and glass bottles in his store. "It is strange to think that some people called cans old-fashioned a few years ago and now they are the preferred format for consumers," he says.
"The change in demand might have something to do with all the talk around plastic. We even do glass bottles of milk now."
Whichever way the category will go, Hargreaves is positive about its outlook. "Soft drinks will always remain a buoyant and important category for retailers. However, the sku mix in five years' time is likely to look very different from five years ago."