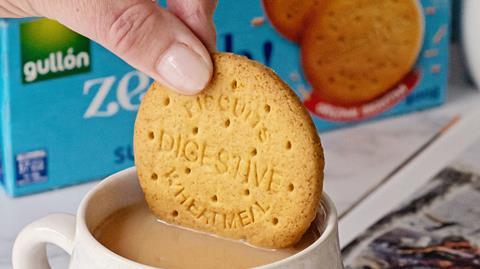 The latest addition to the Zeroh! collection of sugar free biscuits is the Digestive. This follows the recent launches of Choc Chip Cookie and Dark Choc Digestive.
"We pay just as much attention to what we put into our Zeroh! biscuits as to what we take out, and it is the wholesome ingredients that make our sugar free biscuits taste as good as they do," explained Gullón UK sales director Surb Kaur.
"We leave out sugar, saturated fats and palm oil, we minimise salt, and we add wholewheat flour and sunflower oil which contains high oleic fats. The result is a feel-good digestive which fulfils all the requirements of a comforting biscuit but without the unnecessary addition of unhealthy sugars and fats."
With eye catching packaging that immediately communicates the free from message, the Gullón range originates in Spain where it is a brand leader with over 50% of the market share.