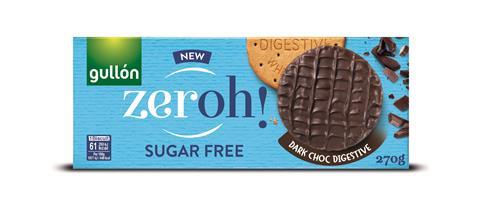 Zeroh! Chocolate Digestives (rrp £1.20 for 270g) are baked with no sugar, no palm oil and are low in salt. They are high in fibre and are made with sunflower oil, which contains high oleic fats. The dark chocolate used to coat the biscuits is also sugar free.
"Retailers are seeing a growing demand for low sugar, fibre rich products from consumers who are looking for a sweet treat but without the guilt trip," says Gullón UK Sales Director, Surb Kaur.
"Last year we saw our sales increase by 37% as more consumers tried our products and came back for more. Our repeat sales are high and we believe this is down to the superb quality of the biscuits, and the fact that once consumers have tried them they start to love the taste and don't miss the sugar.
"The healthier message is combined with really tasty recipes, so that the biscuits retain the feel-good factor. Our biscuits are a treat, but baking them without sugar and with good fats means that they are a healthier more wholesome alternative to the traditional biscuit."
The Zeroh! range originates in Spain where Gullón claims it is a brand leader with over 50% of the market share.